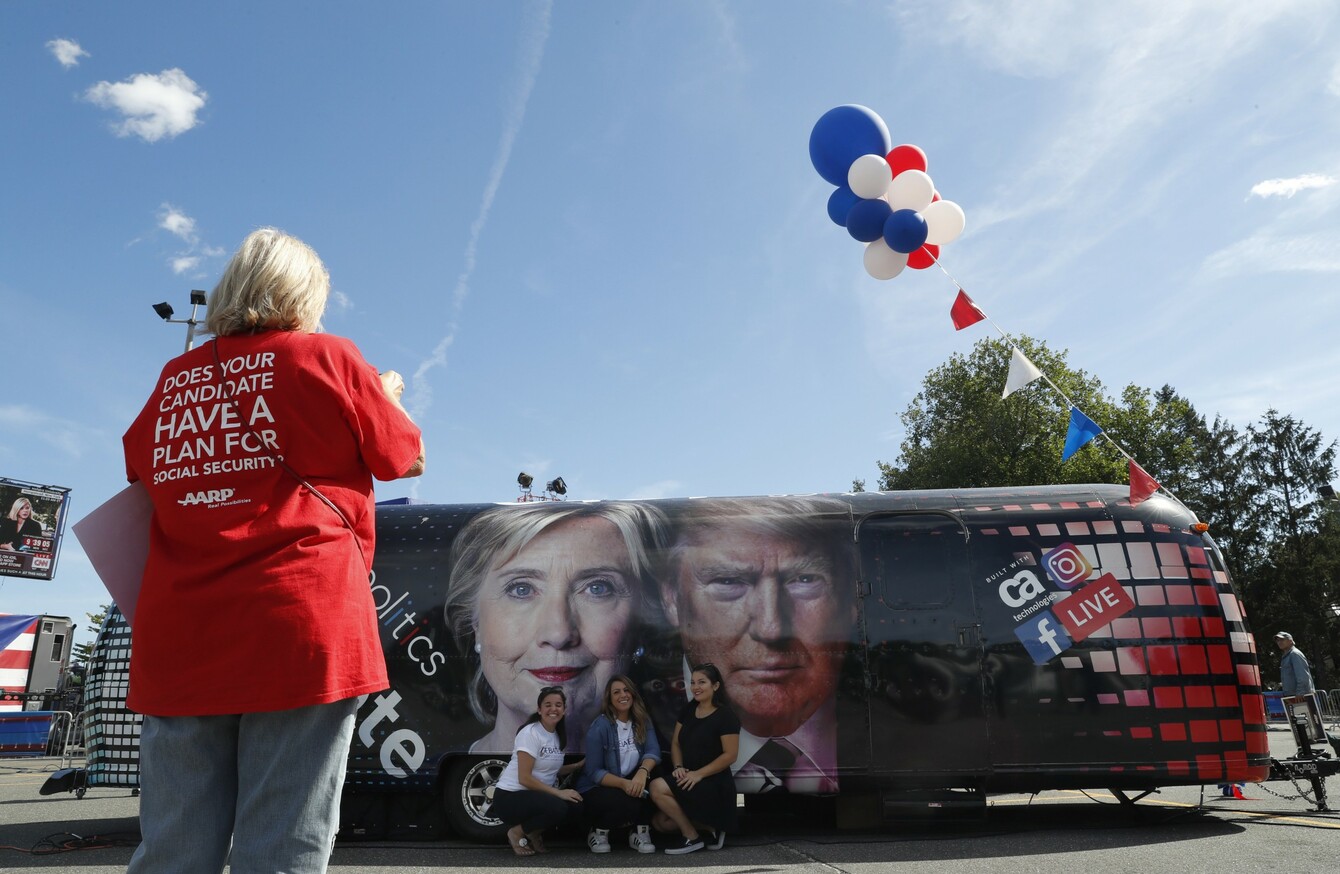 Image: Mary Altaffer
Image: Mary Altaffer
THE FIRST OF three televised debates between the two US presidential nominees concluded last night – but who hit the heaviest punches with American voters?
Televised presidential debates in America have been integral in the past in deciding who the public chooses as their US president.
The first ever televised US presidential debate was in 1960 which is said to have won the election for Democrat John F Kennedy - because the then Vice President Nixon began to sweat profusely under burning studio lights.
In last night's debate, the Democratic nominee Hillary Clinton, who joked earlier in the week that Donald would probably wear his "red power tie" to the debate, herself wore a 'red power suit'.
The Republican nominee, meanwhile, donned a blue tie to match his new style of public speaking which has become much more calm and measured in an attempt to seem more presidential.
The presidential nominees debated the American economy, foreign policy, Trump's tax returns, Clinton's emails, Trump's past controversial comments and Clinton's stamina – but no new insight was revealed into either side's policies, as the debate remained very personal.
In the immediate aftermath of the debate, commentators seemed to side with Hillary, saying that she came out with the strongest one-liners, but now that the dust has settled, who has really emerged as the winner?
Points for Trump
Although Hillary hit Trump with issues such as racism, sexism and his support for Russian President Vladimir Putin, for which he had no answer, a lot of voter polls say that Trump was the outright winner.
In Fortune magazine's poll, over 400,000 people polled said that Trump performed stronger on issues relating to the economy and security, while 52% of people said that Trump had "the clearest vision for America".
80% of those polled said that the debate had not changed their mind either way, although this poll allows any internet user to vote.
The Irish diaspora site Irish Central also ran a similar poll, which shows that 63% (2,225 votes) said Donald Trump won the first round, while 32% said Hillary Clinton had the upper hand.
In the poll run by Time Magazine (which is not representative of those who are registered to vote) the 1 million voters were split 50/50 down the middle when asked who won.
Points for Hillary
In American news site CNN's poll, a pool of over 500 registered voters said that Hillary came out on top. The survey, which asked voters "who did the best job in the debate" said that 62% voted for Clinton, 27% for Trump, with 6% saying both performed equally.
41% of these voters, however, identified as Democrats.
A post-debate survey by Public Policy Polling of 1,002 debate-watchers found that 51% of national voters thought Clinton had won, with 40% choosing Trump and 9% undecided.
Business news site Bloomberg has reported that financial markets also judged Hillary the victor of the first round.
Previous reports suggested that a Trump election victory may hurt bonds in emerging markets such as China and Mexico, while Citigroup Inc. has said it could sink equities and spur volatility in gold and currency markets.
However, foreign market increases don't count for very much on voting day.
One of the reasons given for the two vastly different poll results is that although Hillary dominated the last 30 minutes of the debate, a lot of people may not have watched the whole televised tête-à-tête.
Another reason is that Hillary's prepared zingers – such as "you live in your own reality" and "by the end of the night you are going to blame everything on me" – were delivered without enough feeling or immediacy; the preparation taking the heat out of what she was saying.
Incidentally, Clinton was accused of the same thing by Trump during the debate, to which she replied, "I think Donald just criticised me for preparing for this debate. And yes, I did. And you know what else I prepared for? I prepared to be president. And I think that's a good thing," before neatly shifting a piece of paper to the back of the pile in front of her.
The next televised debate will take place on the 9 October at the same time - 9pm to 10:30pm ET, or 1.00am to 2.30am GMT.
The third and final debate will be televised from Las Vegas on the 19 October, a few weeks before voting day which is on 8 November of this year.
The statistics in this article were accurate at the time of writing, but may change as the day goes on in the case of polls.