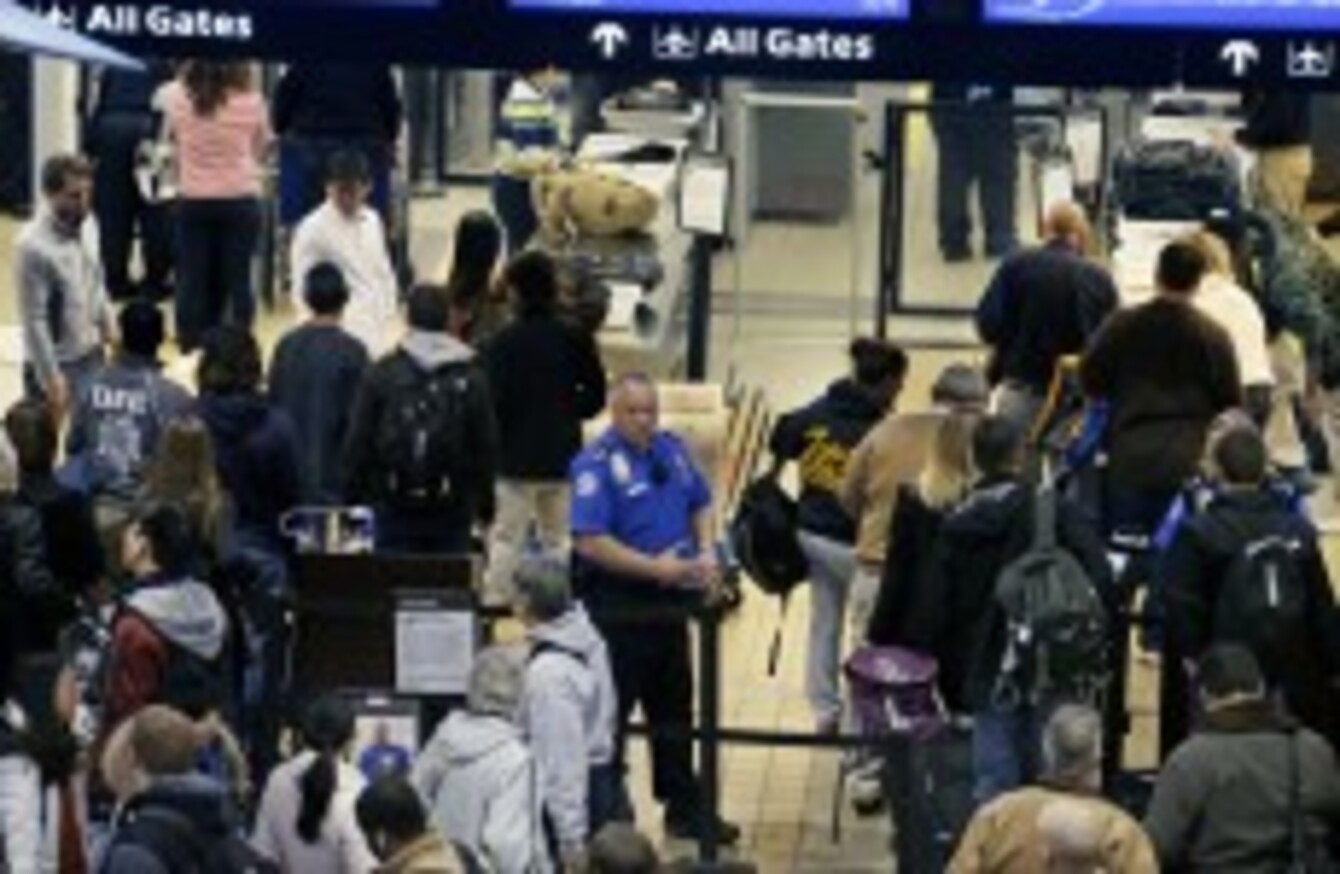 Image: AP/Press Association Images
Image: AP/Press Association Images
IT IS SOMETHING that vexes travellers constantly: airport security.
While nobody will argue that it's not necessary, fliers often complain about the uncertainty they face at different airports.
Should your shoes be on or off? Laptops in a separate tray or in the bag?
Sometimes, you'll be asked to do different things in the same airport.
Largely, the direction of aviation security is steered by the US. The US places requirements on countries who wish to send flights to the States to maintain security standards commensurate with the US.
That means that if the US doesn't want liquids, we don't get liquids.
The notion of securing an airport is a mammoth one. For example, Heathrow handles around 190,000 people every day, excluding staff.
That's in an area less than five square miles. So, the entire population of the county of Cork passes through an area the size of Fermoy every day.
No such thing as airport security
However, one expert believes that the entire industry is flawed. And warns it is just a matter of time before something disastrous happens.
Rafi Sela of AR Challenges has applied the strategic design to Ben Gurion Airport, Israel's busiest international airport.
Sitting in the middle of one of the most threatened nations on the planet and handling 14 million passengers, it is a tough ask. However, it is often called the most secure airport on the planet.
And while you may be imagining sniffer dogs and armed guards abound, Ben Gurion is actually so laid back that it's possible to arrive 25 minutes before an international flight and still have time for a giant Toblerone in duty free.
Sela says that this is because of something called Trust Based Security.
Whereas the aviation security industry currently treats everyone from a baseline of suspicion, the Sela advocates actively searching for suspects and assuming everyone else poses no threat.
"The only system that works is an idea that finds intent.
"The problem is that this is tricky because the staff are very well trained.
"The US decided they would look for water and breast milk and other stupid nonsense and they don't focus on the people carrying them.
"The TSA is an enormous organisation that is now looking for water and cologne and have forgot that they are looking for dangerous people."
That thinking, Sela argues, costs a lot of money and wastes a lot of time.
"99.9% of the flying public are benign fliers – they pose no threat.
You're looking for a needle in a haystack. And America are looking at each strand of hay. But if I use a fan or a magnet, I'll find the needle.
The Ben Gurion system can be applied across the world, Sela argues, but it will take a mindset change and a lot of redundancies in the US.
"Even in Israel, they've come up with automatic systems. You can come 25 minutes before an international flight and make your plane.
"That something hasn't slipped is down to luck rather than anything else.
"If you harrassed a passenger in Ben Gurion like you do in Heathrow, they wouldn't take it.
"I have a biometric passport in Israel and check in takes me 20 minutes. Our system can check backgrounds and can see if I'm stressed.
"Nobody wants to do it because the US would have to let 100,000 people go.
"The machine does the first cut. So if you're anxious, the machine will pick you up and point you out as unusual. Then the people will look at you and see that you're stressed."
However, he says that there is no cure-all.
"There is no 100% security. But the machine is better than people. Screeners get tired, you can only look at luggage for so long."