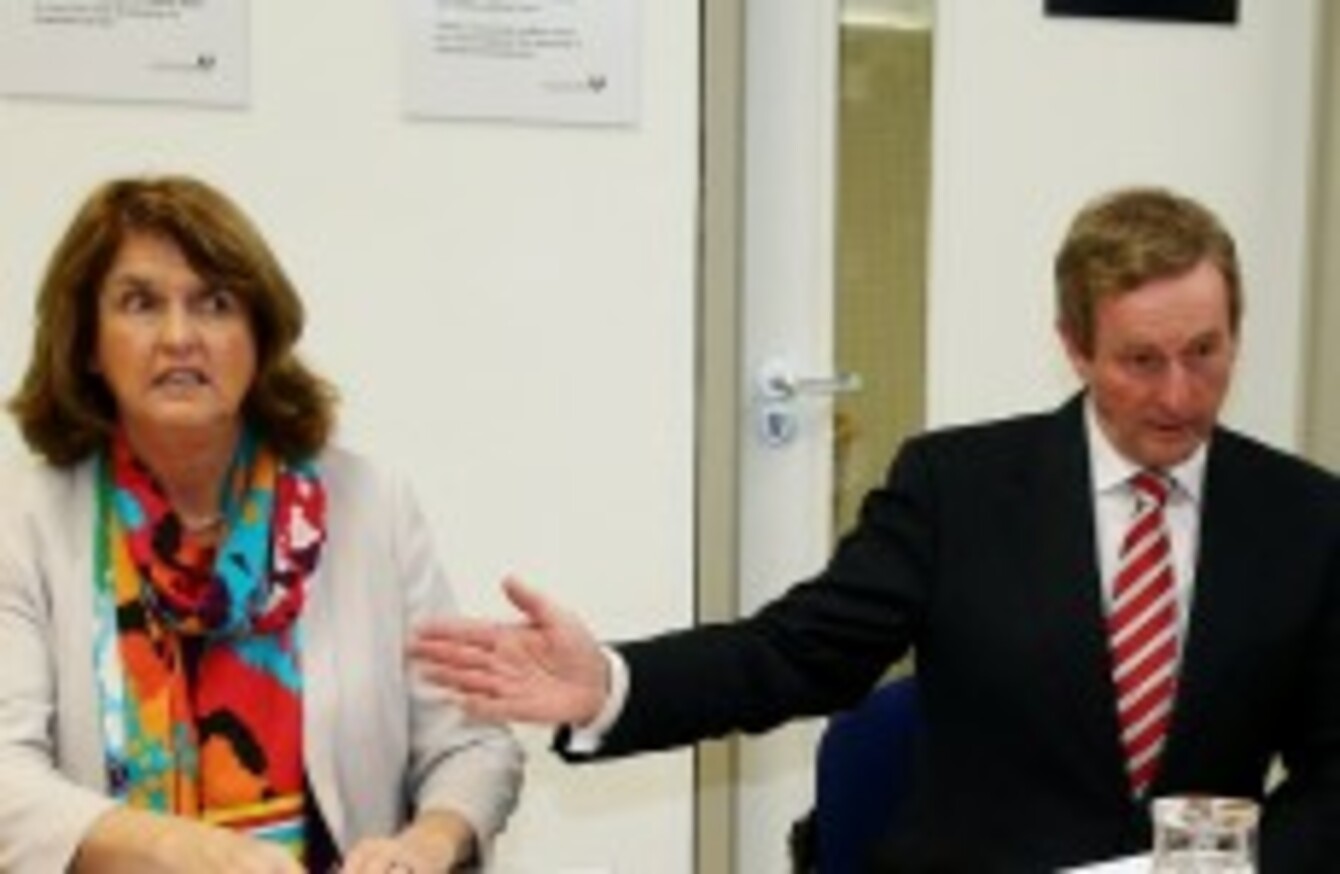 Joan Burton and Enda Kenny (File photo)
Image: PA Archive/Press Association Images
Joan Burton and Enda Kenny (File photo)
Image: PA Archive/Press Association Images
THERE IS NOW widespread expectation that the much anticipated Cabinet reshuffle will not take place until tomorrow at the earliest.
There are even some indications that it will be Friday before we learn who is getting what ministerial role, and what the government intends to do with its remaining time in office.
But the message emanating from government is: no panic, no rush, no big deal, everything's fine.
One figure close to the talks said: "Just a bit of work still to do." Another noted that the actual business of government has been preventing the Taoiseach and new Tánaiste from holding further talks, as they had to attend engagements in the Dáil and Seanad yesterday and today. "There's no particular rush," they insisted.
The reshuffle announcement was initially (but perhaps optimistically) expected on Tuesday, and was then pushed to today. It now appears Kenny and Burton aren't ready to announce their ministerial shake-up just yet.
Just the two of us
The two have been meeting alone for the past few days, with advisors purposely left outside the door during several hours of talks. There have been few if any leaks from the sessions and no indication of what ministers are going where. It's a tight ship, and purposefully so, to prevent grandstanding and negotiation through the media.
One of the chief complaints about Burton from those who have briefed against her in the past is that she is indecisive and procrastinates on decision-making. Could this be the reason for the talks not yet concluding?
Those close to her would argue that she likes to have a discussion and that's probably what's happening in these talks.
Even Burton herself said on RTÉ at the weekend: "I do like to have a discussion. There is an awful lot of people in politics who make the decision first and have the discussion afterwards.
"I actually welcome the discussion. That probably is a little bit different from the way, in particular, sometimes handlers like to handle things. They like the decision to come down and then have the discussion. I like the discussion."
The 'Jobs' job
It is known that Labour wants to take control of the Department of Jobs from Fine Gael —but then that much has been apparent for months, with Eamon Gilmore having made a push for the position before he fell on his sword last month. Beyond that there does not appear to be any other major disputes.
Fine Gael did not seem to raise any big issues with a document that Burton and her allies sent to the Taoiseach prior to negotiations getting under way this week.
As for the reshuffle itself and who goes where — we are operating in an information vacuum where very few solid details are known.
Even the ministers themselves are in the dark, many insisting they haven't got the call —even if many are wearing their best suits, best ties and have the shoes extra shiny today.
Indeed there is a notable improvement in the dress of several hopeful TDs roaming the halls of Leinster House in recent days.
Policies and logistics
Kenny and Burton are said to be largely agreed on a policy document that will be launched when the reshuffle is announced. It is currently being pored over by their policy advisors before being finalised.
Some of its provisions could have budgetary implications which means that the high-powered Economic Management Council – which consists of the Taoiseach, the Tánaiste, and the two finance ministers – will have to meet. This delays things further, but there is no indication of any huge dispute.
In addition the weekly meeting of the Parliamentary Labour Party has been suspended until tomorrow pending the reshuffle. The latest information is that Fine Gael's is still going ahead.
The logistics of announcing a Cabinet reshuffle means that Dáil business has to be set aside to allow Kenny to inform the house of the ministerial shake-up. Speaking a short time ago to TDs, the Taoiseach said there would be no change to the business of the house today (ie: no reshuffle announcement).
Once the house is informed, ministers — both newly-appointed and reshuffled — will travel to the Áras to get their seals of office from the President.
Michael D Higgins is on standby, but it's becoming increasingly clear that he may not be needed until tomorrow at the very earliest.
There was a buzz around Leinster House this morning in anticipation of what was to come but as the day has worn on TDs and nervous ministers are beginning to flag knowing they face another night of rumour and speculation.