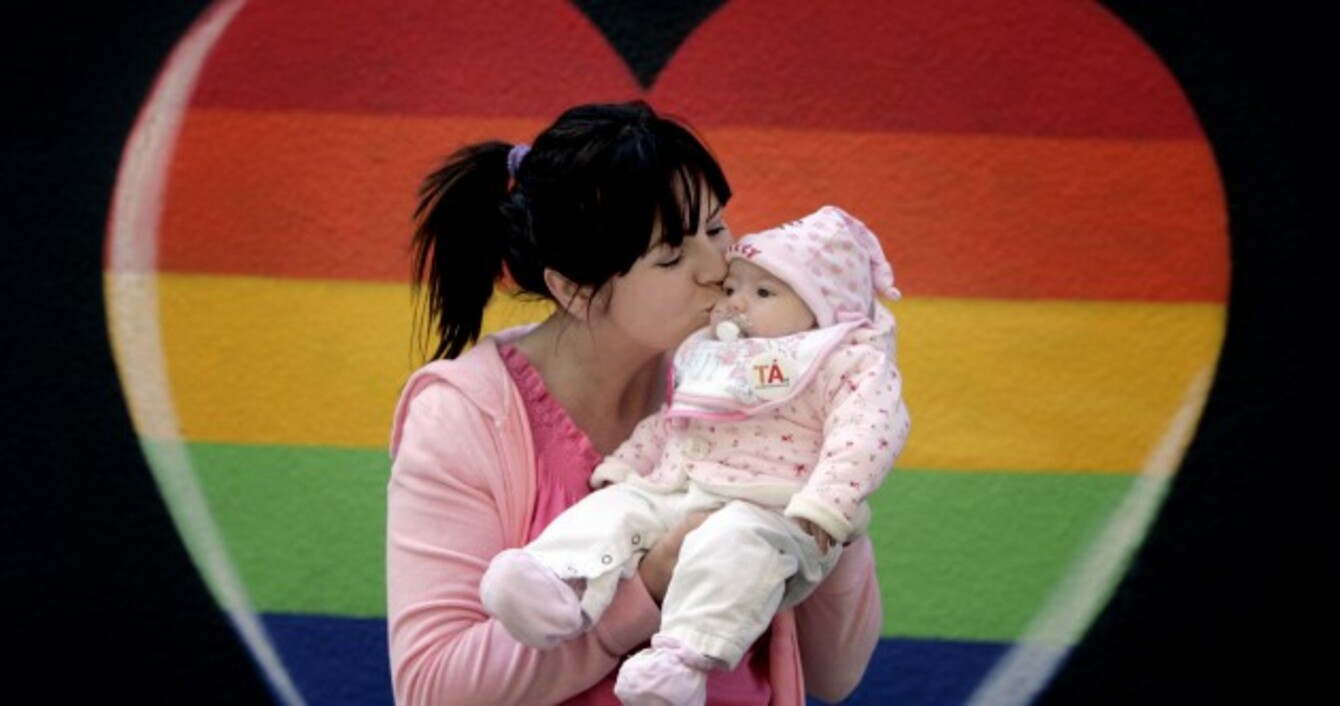 Laura Lea from Clonee, Meath with nine-week-old Aurora, at a Yes campaign event earlier this week.
Image: Mark Stedman/Photocall Ireland
Laura Lea from Clonee, Meath with nine-week-old Aurora, at a Yes campaign event earlier this week.
Image: Mark Stedman/Photocall Ireland
IRELAND HAS BECOME the first country in the world to pass a referendum on same-sex marriage with voters overwhelmingly backing the constitutional amendment by 62 to 38 per cent.
But how did we get here?
It's been a long and gruelling campaign that was more civilised than some feared but was not without its moments.
Though polls consistently indicated the referendum would pass that did not stop a relentless campaign on both sides of the argument. It also started the sort of national conversation we've not had in this country for some time.
But why did the people say Yes to same-sex marriage? TheJournal.ie has compiled a few reasons…
1. The Yes side knew it couldn't be complacent 
From the beginning of the year there was a realisation among all those campaigning for Yes that complacency represented their biggest threat. Polls in recent years had repeatedly shown strong support for same-sex marriage, but the referendum result could not be taken for granted.
In February, Equality Minister Áodhán Ó Ríordáin admitted there had been complacency and urged the Yes side to think about how it would feel if the referendum fell:
Source: Video TheJournal.ie/YouTube
2. Yes Equality 
This determination to see the referendum pass resulted in an excellent ground campaign by some, but not all, of the political parties and, particularly, the Yes Equality group. This national civic society organisation put a huge amount of work into campaigning all over the country, with those Yes badges just one of the many successful elements of its campaign.
Politicians from all parties were hugely appreciative of the work put in by Yes Equality and several we spoke to said the referendum could not have been won without the organisation. Joan Burton reserved special praise for the group in her speech last night:
A rainbow movement to help create a rainbow nation. So I want to thank Yes Equality, whose life-affirming campaign inspired so many to get involved. Just look at what you have achieved.
3. The increase in registrations  - and the youth vote 
As part of its work, Yes Equality helped secure the addition of around 68,000 people to the supplementary electoral register in advance of the referendum. Many of these were young voters who had never before participated in the democratic process, but were particularly energised by the issue before them.
Why? Quite simply because their friends were gay and it was an issue that directly impacted them.
4. Fine Gael came out strongly…
There was no commitment on same-sex marriage in the Fine Gael 2011 election manifesto. It's not unkind to say that the senior coalition party did not share the enthusiasm of its junior partner, Labour, prior to the referendum. We also heard lots of stories of rural Fine Gael TDs being reluctant to raise the issue on the doorsteps or just going missing altogether on the campaign trail.
But Fine Gael put forward some extremely effective spokespeople on this issue once the campaign started. Its director of elections, Simon Coveney, was honest enough to admit he'd changed his mind on the issue and his Prime Time appearance got people talking.
Jerry Buttimer, who was the party's first openly gay TD, always spoke passionately on the subject:
Source: Video TheJournal.ie/YouTube
Then of course there was Leo Varadkar. The Health Minister went public about his sexuality in January and drew widespread praise.
He was initially reluctant to get involved in the referendum campaign, but towards the end he admitted that losing the referendum would be worse than losing his seat.
By the end, he was pretty emotional:
Source: oconnellhugh/Vine
5. … and so did Enda Kenny 
The Taoiseach has come on an extraordinary journey with this issue. The man who often reminded voters he grew up in 1950s conservative Ireland was tripping over flower pots to avoid questions on this issue not so long ago.
As recently as December 2013, TheJournal.ie asked him whether he shared Eamon Gilmore's view that same-sex marriage was the "civil rights issue of this generation". His response was cagey and evasive and he pivoted back to his favourite subject, jobs.
A year later, he pledged to campaign strongly for a Yes vote having paid a visit to Panti Bar last December. But it was his speech to the Fine Gael conference in Mayo in February which really underlined the journey the Taoiseach had made.
https://vine.co/v/OQhthVJI2ib
Since then he repeatedly came out to bat for the Yes side – although he refused to do a TV debate – and by the end of the campaign he had to go as far as to reject suggestions he was on the verge of becoming "a gay icon".
6. There was a lack of political support for No… 
Just a handful of Oireachtas members publicly confirmed they were voting No and all of the main political parties campaigned for a Yes vote. As much as people may dislike politicians there's no doubt that they hold sway when it comes to influencing public opinion primarily because they dominate the airwaves during referendums.
Those silent party-affiliated TDs who declined to express a view may well have voted No, but they were not shouting it from the rooftops. Only Rónán Mullen, Mattie McGrath and Fidelma Healy-Eames were prepared to repeatedly argue in the media for the referendum to be rejected.
Others, like Michael Healy-Rae, confirmed they were voting No, but just wouldn't get into the reasons why.
7. … and the 'sky will fall in' argument didn't gain traction
Other prominent campaigners on the No side – Mothers and Fathers Matter, the Iona Institute and fringe groups like 'Lawyers for No' and 'Teachers for No' – repeatedly warned of the impact the passage of the referendum would have on children.
The adoption and surrogacy issues were never far from the debate either. The broad message of the No side was that there could be huge, unintended and appalling consequences if same-sex marriage was brought in. This is sometimes known as the 'sky will fall in' argument.
But we've been here before. Similar arguments were made in the divorce referendum in 1995 and when civil partnerships were being legalised five years ago. In both cases the dire warnings from those opposed didn't come to pass.
Fathers have not, en masse, upped sticks and left their children without a daddy, as anti-divorce campaigners warned. Similarly, civil partnerships have become a normal feature of Irish life.
8. The Daniel O'Donnell effect 
Dozens of Irish and foreign celebrities called for a Yes vote on Friday but none of them were perhaps as important as Daniel O'Donnell. In an interview with Ray D'Arcy a week before the referendum, he said: "I think everyone should be equal. I can't see what a Yes vote is going to do against anybody."
As we all know, the Donegal crooner holds a special place in the hearts and minds of a lot of older people in this country and they would, pollsters told us, have been more likely to vote No. But O'Donnell's endorsement of a Yes may well have swung more than a few of them to a Yes.
Broadly, there was a huge cross-section of celebs from of all ages and background who came out for a Yes vote and that didn't do the campaign any harm at all.