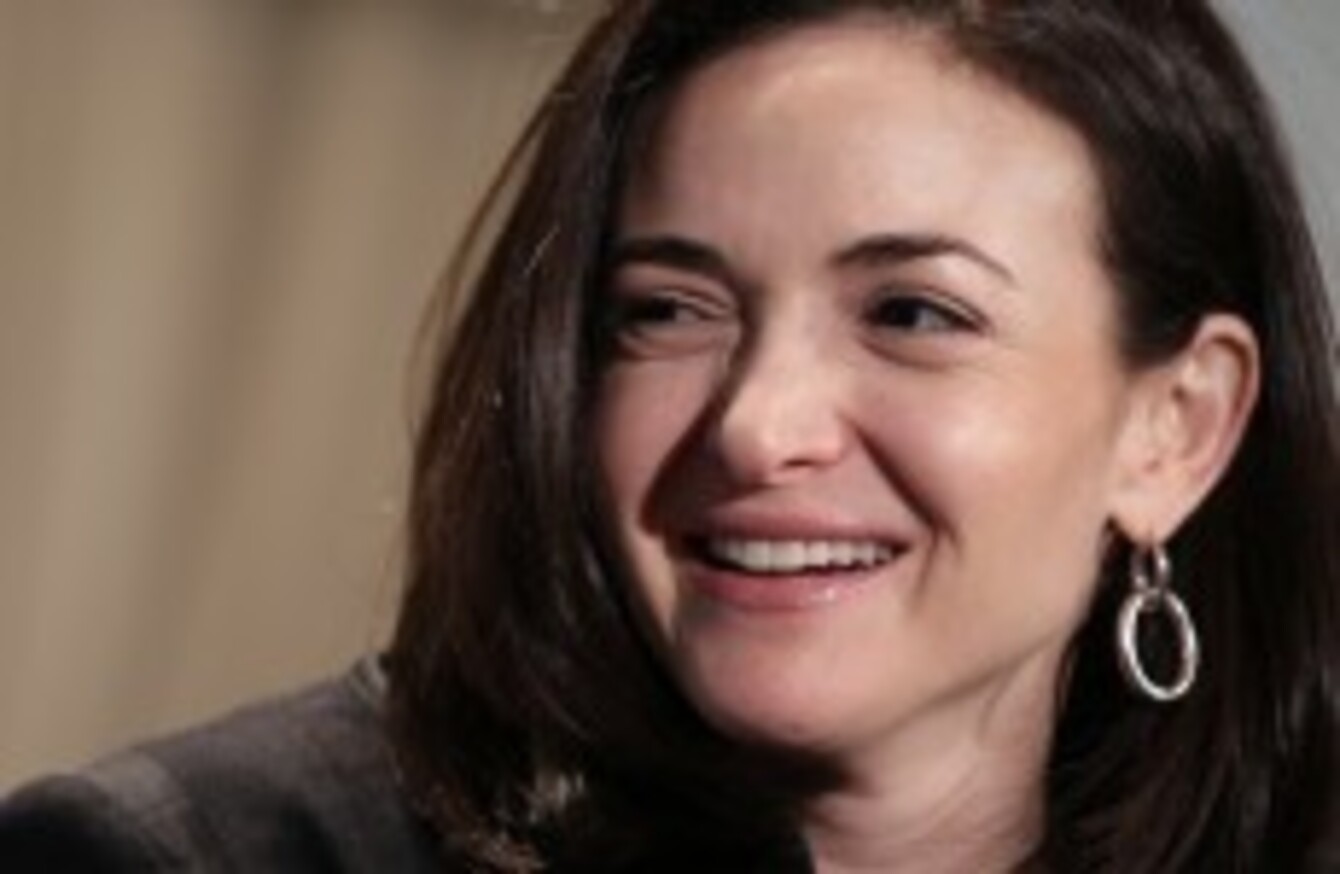 Sheryl Sandberg
Image: AP/Press Association Images
Sheryl Sandberg
Image: AP/Press Association Images
SHERYL SANDBERG THE chief operating officer at Facebook was in Dublin this week to promote her new book.
In a packed out room of mainly women at Facebook's European headquarters in Hanover Quay, the 44-year-old successful business woman entered the room to a rapturous applause, as people whipped out their mobile phones to take a photo of her.
So why do so many women adore her?
Despite being one of the most powerful business people in the world (Number 6 in the world according to last year's Forbes list) she is very personable.
Stepping up on stage with a big smile and a wave to the crowd, she said she was very happy to be in Dublin.
Success
Sheryl Sandberg first shot to fame following her TED talk and when she published her best selling book 'Lean In' in 2013, in which she addresses many of the inequalities she believes are in the workplace and at home, with her main focus being that women need to 'lean in' to their careers to get a head in the business world.
However, as well as her success as a writer Sandberg is an extremely savvy and clever business woman.
She is officially one of the youngest billionaires in the world, with her fortune this year surpassing $1 billion. Before Facebook, Sandberg was Vice President of Global Online Sales and Operations at Google, and prior to that she served as chief of staff for the United States Secretary of the Treasury.
As Sandberg began talking to Edel Coffey, who was interviewing her on stage, on things such as negotiating as a woman, gender quotas and equality in the workplace, the women in the room could not get enough of her, hanging on her every word like gospel.
But perhaps, that is it? The 'Lean In' book has been described as just that – the gospel for modern day women in business.
Cult status
A 'Lean In' movement sprang from the book, with over 16,000 Lean In circles around the world being established where women support and advise women on their careers.
Campaigns such as 'ban the word bossy' have come from what could be described as the cult that is Sheryl Sandberg – she certainly has a following of adoring fans and has definitely tapped into something that women feel is important and needs attention.
Source: Lean In/YouTube
During question time, one woman gets up and says she actually hadn't planned to stand up and ask a question, until Sandberg had said to the crowd to ask themselves, "what would you do if you weren't afraid".
Sandberg and the crowd nod their head, understanding it seems and encouraging the woman to ask the question she has been longing to ask.
However, some women are not so keen on Sandberg.
Real-world
Speaking to one woman at the event, she said that she thought the 'Lean In' book didn't take into account the real-world like the costs of childcare, stating that it is all well and good for her to say to get up from your desk at five and leave the office, when in reality if your boss gives you a look or tells you you can't leave, who in their right mind would walk out the door.
Another woman I spoke to described the book as a "self-help" book rather than a "serious" business book.
While another woman said Sandberg had hit the nail on the head by stating that women who do not have children do better than those that do, stating, "It's true, if you leave work for say two or three years after you have a child you may as well give up. When you return you are looked at like the old lady that used to work here a few years ago".
Equality
Addressing the crowd, Sandberg said that all she wanted was equality, not for women to be doing better than men, but for them to be on par with them in the workforce.
She argues that motherhood shouldn't have a penalty attached and that men should be partners, ensuring that women get to be the best that they can be.
#Open journalism No news is bad news Support The Journal

Your contributions will help us continue to deliver the stories that are important to you

Support us now
"Women should be able to have children whenever they like," she said, stating that she often had women asking her when was the best time "careerwise" to have children.
Sandberg has definitely hit a nerve with women with her thoughts and book – that is why she has reached cult status.
When the talk wraps up, there is a huge applause for Sandberg. She moves to the right of the stage and immediately the crowd gravitates towards her, as if she is a rock star, eager to get a closer look or perhaps even a word.
Sandberg hangs around, chatting to young college graduates who are asking for advice. She poses for photos and even selfies when asked.
She is being urged by her people that she has to go, but Sandberg stays on a lot longer ensuring she gets to everyone. "It's like a mob at a rock concert," I hear one woman say.
"She is just so great," I hear one young woman say. "She makes so much sense," says another.
One can only assume that that is why she is so popular.
She makes sense to women.
Sandberg seems to be vocalising a lot of things that perhaps women have thought but never actually had the courage to say.
Like a rock star, she is something that these women, and probably every career woman wants to be. A success.
She is saying a lot of things that women these days are feeling and instead of standing around the water cooler telling her friends that she wished it wasn't a man's world, Sandberg is attempting to do something about, said one woman at the event, which is why women around the world, Dublin apparently not excluded, adore her.