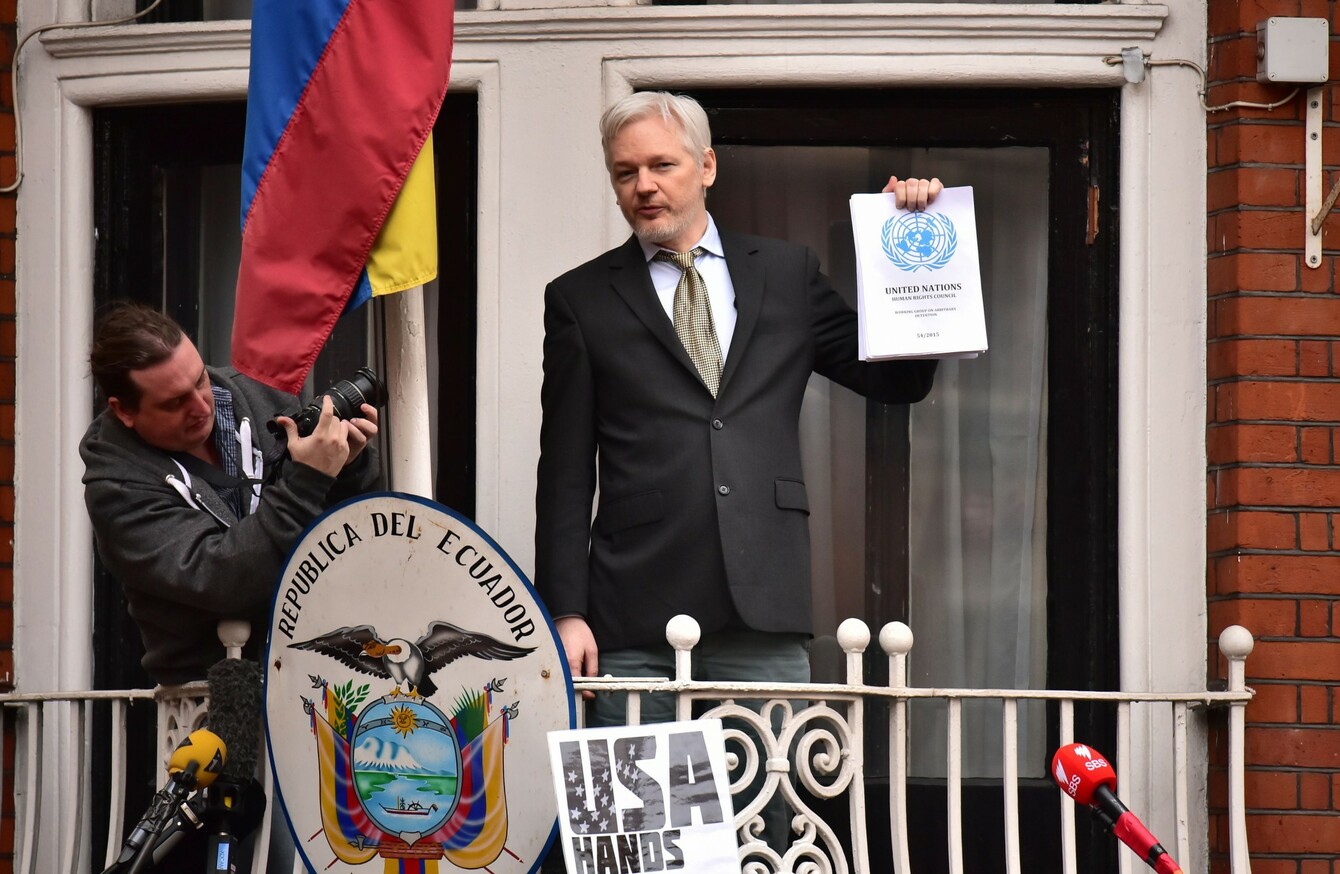 Julian Assange on the balcony of the Ecuadorean Embassy earlier this year.
Image: Dominic Lipinski/PA
Julian Assange on the balcony of the Ecuadorean Embassy earlier this year.
Image: Dominic Lipinski/PA
WIKILEAKS HAS CLAIMED an unknown state actor cut the internet connection of its founder Julian Assange, who is staying at the country's embassy in London, claiming the move was in response to the group's publication of documents related to US presidential hopeful Hillary Clinton.
"We can confirm Ecuador cut off Assange's internet access Saturday, 5pm GMT, shortly after publication of Clinton's Goldman Sachs speeches," WikiLeaks said on Twitter.
The anti-security website had previously said the internet connection had been "intentionally severed by a state party" in response to the Clinton leaks.
"We have activated the appropriate contingency plans," WikiLeaks wrote earlier on Monday.
Three paid speeches to Goldman Sachs by US presidential candidate Hillary Clinton were released by WikiLeaks on Saturday, followed by the publication of further documents on Monday.
Podesta emails
The Wikileaks claim follows the latest emails it disclosed after it hacked of Clinton campaign chairman John Podesta's emails.
The Clinton camp has blamed the Russian government for the hacks, a view shared by the US government, and accused the anti-secrecy website of seeking to help Clinton's Republican rival for the presidency Donald Trump.
Donald Trump had previously called on Russia to hack into Hillary Clinton's emails.
#Open journalism No news is bad news Support The Journal

Your contributions will help us continue to deliver the stories that are important to you

Support us now
Assange has spent more than four years living in Ecuador's embassy in London, to avoid arrest and extradition to Sweden over an allegation of rape.
The 45-year-old Australian and his supporters believe the allegation is a guise to have Assange extradited from Stockholm to the US where he could be tried for publishing government secrets.
Responding to the internet connectivity claims by WikiLeaks, Ecuador reaffirmed its 2012 decision to grant asylum to Assange.
"The protection of the Ecuadorian State will continue as long as the circumstances that led to the granting of that asylum remain," the foreign ministry said in a statement.
With reporting from Darragh Peter Murphy.