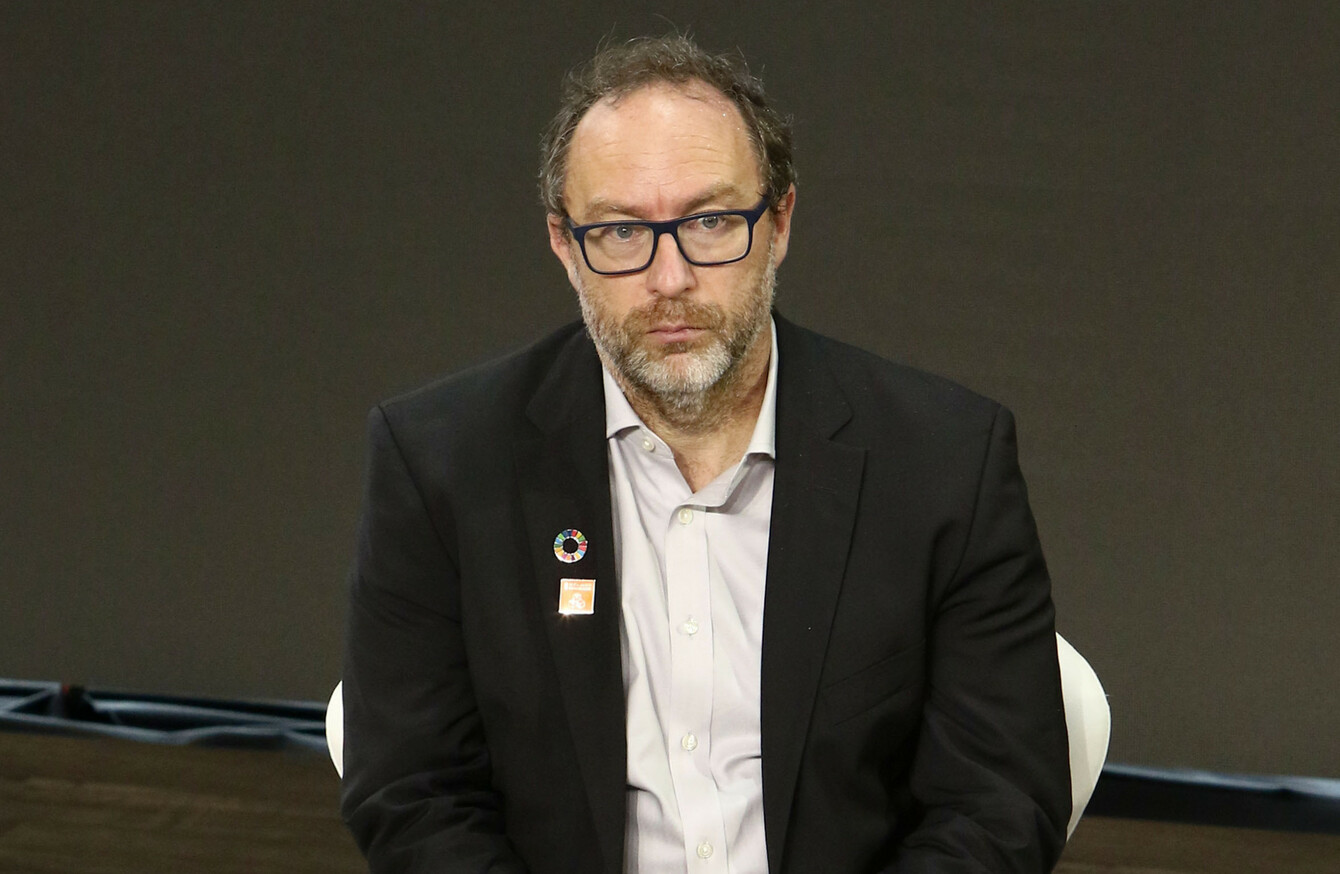 Wikipedia co-founder Jimmy Wales speaks during the Bill and Melinda Gates foundation Goalkeepers 2017.
Image: EMPICS Entertainment
Wikipedia co-founder Jimmy Wales speaks during the Bill and Melinda Gates foundation Goalkeepers 2017.
Image: EMPICS Entertainment
IN MANY WAYS, Wikipedia has been a roaring success.
In the 16 years since it's been in operation, it's evolved from an unknown site to the first point of reference for those looking to get a flavour of a particular topic, or find a starting point before digging into denser sources.
It's English Wiki-pages have over 32 million accounts, 5.5 million articles, and 1,200 administrators, according to the Wikipedia page on Wikipedia.
It has a community of people who diligently edit and correct the site that seems far-removed from the "horror" of comments sections.
But there's one aspect that it hasn't been able to 'fix' despite three years of trying – that 85% of its Wikipedia community are male.
In an interview with TheJournal.ie, Wikipedia's Jimmy Wales said that the statistic of 85%, which was something he expressed concern about back in 2014, remained the same despite surveys and efforts to balance the scales.
"It's hard to say, but yeah it's probably the same – I don't think we've made any real progress in that area.
"There are some initiatives that are helping, we think so but the numbers are kind of all mushy so it's hard to know."
Those initiatives include 'editathons' and outreach programmes to bring more women into Wikipedia – but they've had "mixed results" so far.
"…A big part of what we're doing is investing in what we call 'community health', by basically saying we need to make sure that Wikipedia is a welcoming environment for everyone and we get more people participating and to feel safe participating, which is really important."
He also praised a "great" Wikipedia community called Women In Red, whose name is based off the Wikipedia feature of words appearing in red if a page doesn't exist.
They put [entries] of prominent women in – female scientists are often overlooked in different historical eras, so that kind of thing is really helpful and it brings in a lot of participation by women.
"So that's something I would find interesting to do."
He says that the gender imbalance leads to gaps in the site's usefulness as an online resource – for example, he says their articles on early childhood parenting "aren't that good" in comparison to award winning science-fiction.
Wales is strikingly forthcoming about his own site, while remaining passionate about the ethos that's driven it forward from the start.
"Wikipedia used to be much more of a punchline of a joke and now, people say 'Oh, it almost has no errors'.
And what I'd say is, we weren't as bad as people thought we were and we're not as good as people think we are.
Surprisingly, he says that people do trust the site but should also keep their wits about them, and if something doesn't sound true, to check the citation.
"Wikipedia is pretty good, but it isn't perfect and in general, particularly if you see something that's surprising on Wikipedia check the source and make sure that sources are accurate. And if there is no source, come and tell us, or make a change, something like that."
Since the site's birth in 2001, the Internet and its online community has changed massively, especially the surge in trolls, hate-speech commenters and conspiracy theorists. Did the frequency of those factors, which has proven to be a huge problem for Twitter, been problematic for Wikipedia, who relies on internet users to shape the information it offers?
"No," Wales says.
"We haven't changed much and I don't think human nature has changed much.
From the beginning Wikipedia was always about putting together a high-quality community, so things like hate speech and conspiracy theories, we're warriors against those things constantly and always have been.
"We haven't really seen any material change."
He hasn't really noticed a particular habit about the Irish Wikipedia community either – many Wikipedians are the same, he says.
"There's a geek culture which transcends national culture."
About Jimmy
So what about the use of Wikipedia to make a joke?
Often, the edit function of the site is used to make a joke about a person or profile, which grabs people's attention, although it might undermine the site as a reliable source of information. Does Wales like the site being used that way?
"No, we don't approve of that, we frown on it.
"Occasionally I'd confess to chuckling at something if it's particularly clever, but usually it's not that clever, and you know I think the community is quite rightly not that tolerant of that kind of behaviour, but it goes with the territory.
If you're open to public participation a few people are going to come in with a bit of a humorous bent and you have to revert it and tell them don't do that again.
One of the edits that he admits was quite funny was during the 2014 World Cup, when US goalkeeper Tim Howard made a miraculous save.
The Wikipedia page of the US Secretary of Defence was changed to Howard's name and image, which Wales says he enjoyed.
Somebody changed the photo of the US Secretary of Defence to his photo and it was reverted within minutes but it was noticed and I was like ok well that's actually kinda funny.
Despite his criticisms of humourous edits, and his new project WikiTribune in the works, Wales still finds the time to edit and create new entries on Wikipedia.
One of his most recent entries was for the new head of Transportation for London (TFL), which he says will be in the media a lot over the next few months.
"I created a new article because I saw a news story that Uber is being banned in London – which is quite a big deal if you live in London.
"I saw a quote from the head of TFL Transportation for London and I looked at Wikipedia and he wasn't listed, but I saw that his predecessors were listed. So I said ok traditionally we have an article on the head of TFL and they're usually 'Sir something or other'."
So he started a short article about him.
I still enjoy it, it's exciting to find oh here's a prominent person who will be in the news a lot over the next few months because this battle with Uber is going to be a big thing and we didn't have something I thought 'Oh people will want to know this'.
Perhaps a clue into one of the subjects WikiTribune's first articles will tackle, too.