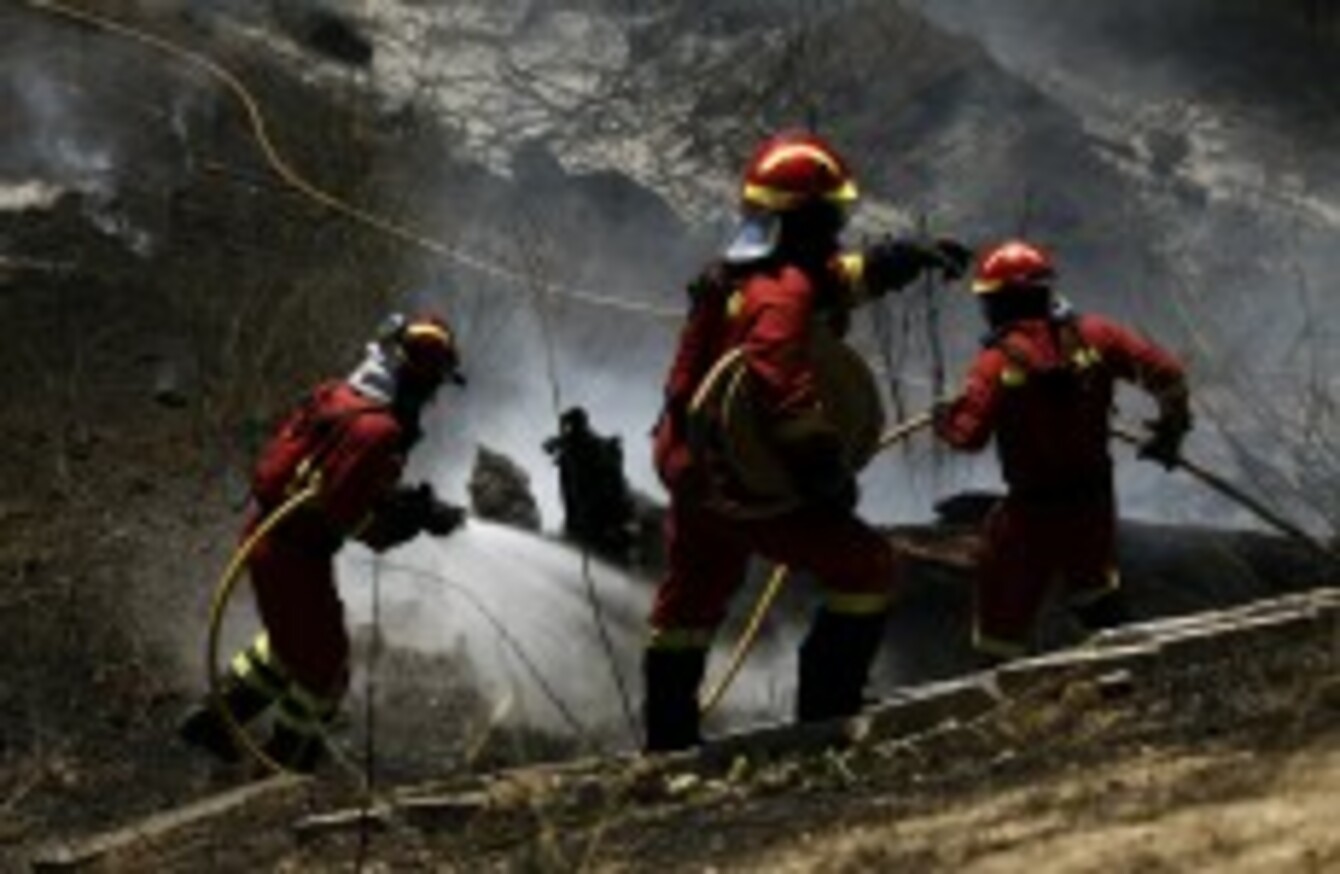 Firefighters carry fire hoses as they work to extinguish a forest fire outskirts of Cebreros, Spain, Sunday 4 August
Image: Andres Kudacki/AP/Press Association Images
Firefighters carry fire hoses as they work to extinguish a forest fire outskirts of Cebreros, Spain, Sunday 4 August
Image: Andres Kudacki/AP/Press Association Images
FIREFIGHTERS AND LOCAL residents struggled today to tackle raging wildfires that have consumed large swathes of forest in Portugal and Spain and cost the lives of four emergency workers.
Firefighter death
A volunteer firefighter who tackled the same blaze as a female colleague killed last week in the mountains of central Portugal has died from his injuries, his commander Carlos Coelho said.
The 23-year-old's death brings the number of emergency responders killed in Portugal's August fires to four.
More than 800 firefighters were mobilised in Portugal to tackle the blazes, which have intensified overnight due to high winds.
A spokesman for Portugal's emergencies agency repeated his call for France to remain in the country after two French planes were dispatched to drop water on affected regions this week.
"The French mission is supposed to be completed Thursday, but we asked for an extension. We are waiting for a response," said Miguel Cruz, spokesman for the Civil Protection Authority.
Two Spanish planes had also helped Portuguese authorities take on the fires but returned home at the weekend.
'Difficult situation'
Cruz said Portugal would not ask neighbouring Spain for more help because of their own "difficult situation", as firefighters and water-dumping planes battled a large wildfire in Spain's northwest that drove residents from their homes, according to officials.
The blaze, one of hundreds to ravage Spain's parched land over the summer, broke out late yesterday near Oia, a village on the Atlantic coast near the border with Portugal.
Firefighters backed by aeroplanes and helicopters were battling to curb flames that ravaged 1,200 hectares as they spread, the regional government said in a statement.
An alert was declared after the fire came close to some houses and residents were evacuated, an official in the Galicia region rural affairs ministry told AFP, but no one was reported hurt.
"The situation has improved since last night," the official said. "We are not aware of the fire reaching any houses, although there were some evacuations."
Spanish newspapers said the number of evacuations was at least 176.
The ministry said firefighters had controlled four other fires in the region in recent days, which burned thousands of hectares between them.
The central government said it had sent firefighting planes and personnel to the Oia fire and two others, in the Asturias region and the Tarragona area west of Barcelona.