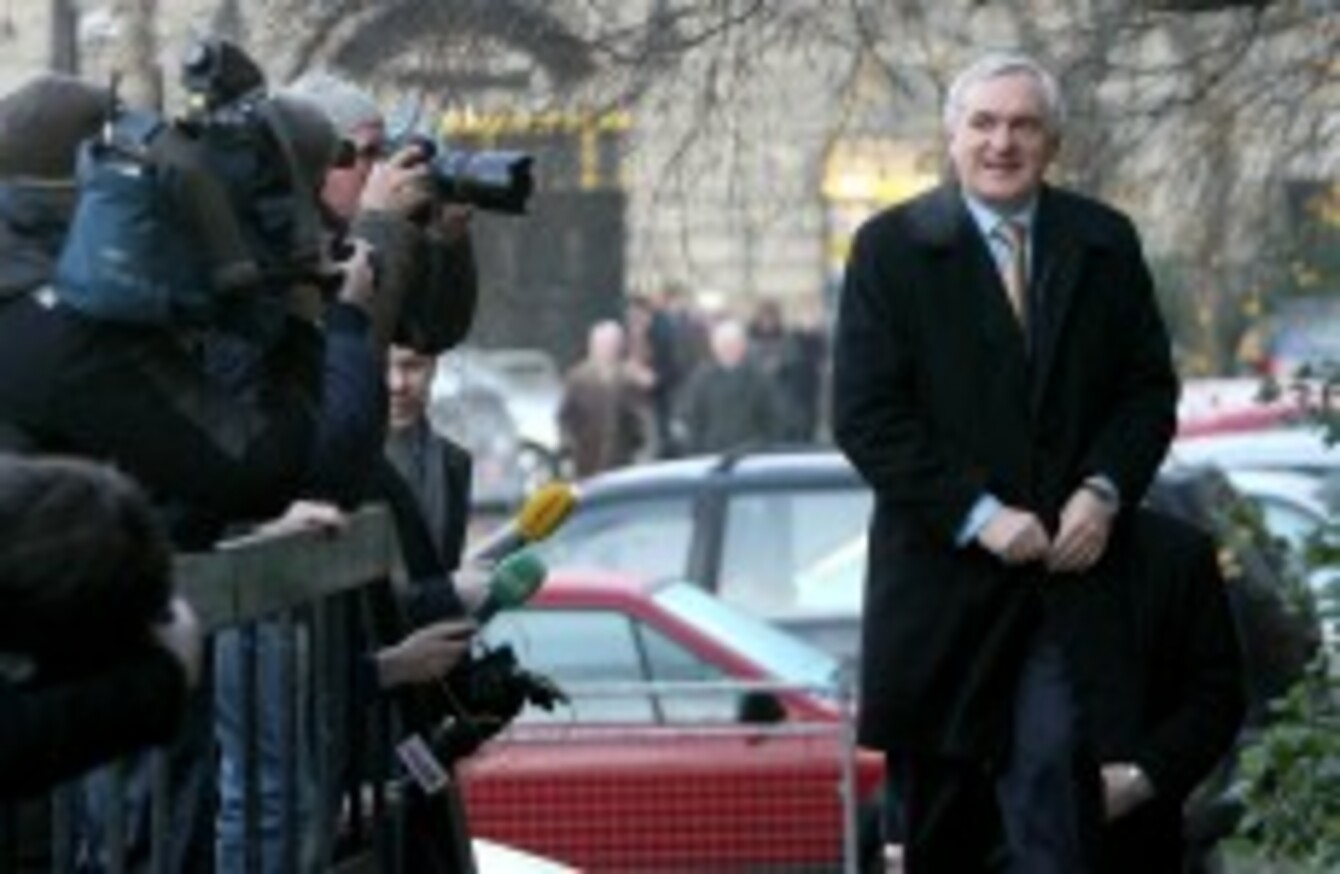 Bertie Ahern arrives to give evidence at the Mahon Tribunal in December 2007
Image: Niall Carson/PA Wire
Bertie Ahern arrives to give evidence at the Mahon Tribunal in December 2007
Image: Niall Carson/PA Wire
SINCE IT STARTED in 1997, the Mahon Tribunal has heard evidence from ex-Taoisigh, whistleblowers, property developers, gardaí, planning officials and politicians as it has investigated corruption in planning matters in Dublin.
From Bertie Ahern saying he would never answer questions about his Holy Communion money to the property developer Bailey brothers laughing at the idea of getting a receipt for a payment they'd just made, the Tribunal has provoked and uncovered a huge wealth of outlandish,unexpected and frankly bizarre quotes.
Here we've put together the best quotes about the Tribunal from the past 15 years.
I'm not answering what I got for my Holy Communion money, my Confirmation money, what I got for my birthday, what I got for anything else, I'm not into that.
- Bertie Ahern in September 2006 responded to a leak from the Mahon Tribunal which suggested that he was going to be investigated for payments he had received in the 1990s.
I was surprised to see cash on the table. It wasn't something that I would see every day.
- Celia Larkin gives evidence to the Tribunal about seeing bundles of sterling cash on a desk in St Luke's, Bertie Ahern's constituency office in Drumcondra.
I've looked up every tree in north Dublin.
- Bertie Ahern defends Ray Burke's appointment to Cabinet in Ahern's first government in 1997 after questions about Burke's suitability were raised.
The reason I probably can't give you a better reflection of what I was doing on the 19th of January is because I didn't do it. I am sure there are some mornings you get up and you think I might do this or I might do that and then you don't do them, so it's hard to remember.
- In September 2007, Bertie Ahern during his evidence to the Tribunal explained why he couldn't recall the events of a certain day using his own brand of logic.
Will we fuck.
- Whistleblower James Gogarty told the Tribunal that he had accompanied property developer Michael Bailey in 1989 when the builder had given then-TD Ray Burke an envelope filled with tens of thousands in cash for a planning decision. Afterwards Gogarty had asked Bailey if he would get a receipt for the money. Bailey's response, above, was succinct.
The Tribunal is unanimous in its view that your conduct of a few minutes ago was disgraceful, is absolutely unacceptable and is obstructive to the Tribunal's work… you are not permitted to shout or to roar or thump the table at either the Tribunal or at a witness.
- The chair of the Tribunal criticises Liam Lawlor for his cross examination of a witness.
Mr Burke did not purchase his home at Briargate Malahide Swords from Oakpark Developments limited in 1973 in a normal commercial transaction.
- The second interim report of the Tribunal dryly notes that former minister Ray Burke's acquisition of his home amounted to a corrupt payment to him from Tom Brennan and his associates.
There is nothing in the law or the Constitution that you should, you know, follow the normal issues. Some people put their hair yellow, some people wear rings in their nose. It's not the normal thing.
- In December 2007, Bertie Ahern offered this explanation to the Tribunal as to why he didn't have a bank account when he was Minister for Finance.
It was a political donation for my personal use.
- Bertie Ahern again in February 2008, this time explaining a donation of £5,000.
The Tribunal continues its work more than four and a half years after its inception [in part] because of the failure of persons who have been required to provide information to the Tribunal, either documentary or otherwise, to provide such information expeditiously, or, in some instances, at all.
- The second interim finding of the Flood Tribunal – as it was known then – in 2002 spent six pages documenting the list of witnesses who had obstructed and hindered the Tribunal in carrying out its work.
We have a former Taoiseach who has gone into the tribunal essentially giving the John Gilligan defence, that he won the money at the horses. Now this is defence for drug dealers, this is a defence for pimps. This is not the kind of thing that should be tolerated from a former Taoiseach and a former member of this house but we do nothing. We wash our hands, we say it's a matter for the tribunal and there is no accountability, there is no ethics, and we ask ourselves why people have such a low opinion of politicians
- Leo Varadkar, speaking under Dáil privilege in June 2008, made one of the strongest attacks by any politician against Bertie's evidence at the Mahon Tribunal.