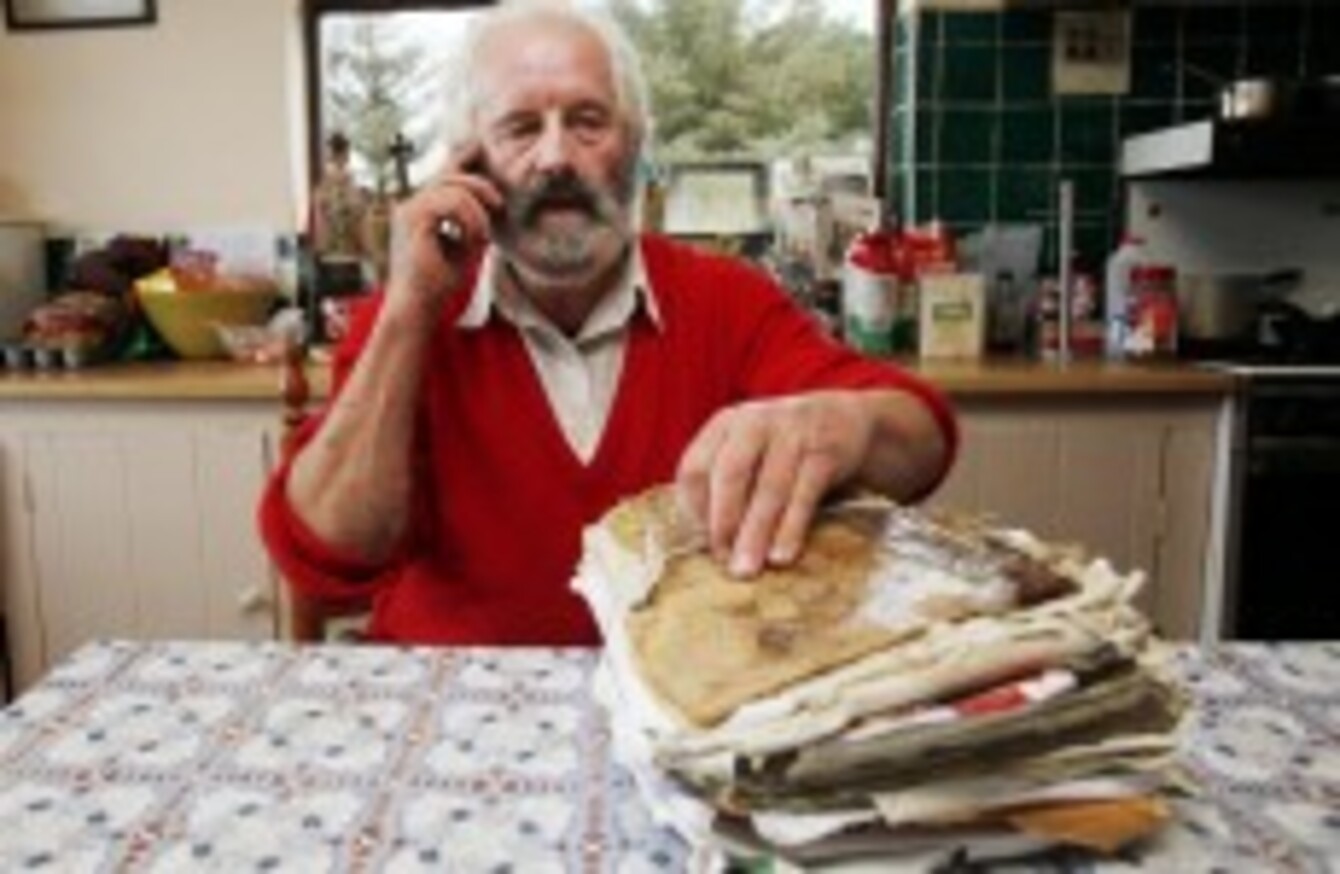 Willie Daly with his 150-year-old "lucky book" that has been passed down to him from his father and grandfather.
Willie Daly with his 150-year-old "lucky book" that has been passed down to him from his father and grandfather.
"WILL YOU MARRY me?" is the first question many men ask women they fancy at the annual Lisdoonvarna Festival in Co Clare. "And they mean it too," says Willie Daly, one of Ireland's last traditional matchmakers.
He told TheJournal.ie that "they weren't mad", it's just men and women become much more open about their feelings at the festival. "If you like someone, you should just let them know."
Since he started out as a matchmaker 45 years ago following in his father's and grandfather's footsteps, the third generation matchmaker has set up around 3,000 marriages. Willie has also passed his skills onto his daughters Claire, Gráinne and Marie.
Willie carries around what he calls his "lucky book", which is about 150-years-old. He explains, "If you touch the book you'll be married and in love inside of six months. If you are already married, you will recreate the honeymoon period you first had".
To become a matchmaker, there needs to be a "longing to do it and you need to have the gift. There's also knack of knowing what people would suit each other."
Lisdoonvarna
Willie will be in high-demand over the next month at the infamous Lisdoonvarna Matchmaking Festival, which began last night. Music and dance can start as early as 11.30am everyday and go on until all hours.
"It's very social," says Willie. "In the beginning it starts fairly slowly then it heightens up in the night. It's a great opportunity for people to meet others."
More men than women attend the festival. "Rural Ireland can be a lonely place. There's a lot of lonely men, farmers left behind, while a lot women are based in the cities, so the festival is a great place for them to meet up".
From Monday to Thursday the crowd is older and are aged between 40 right up to people in their 80s but from Friday to Sunday there's a younger crowd of between 19 to 38.
Up to 40,000 people from around the world are set to descend on the small town in the west of Ireland to find love over the five weekends.
This year, Willie is expecting more English men than usual to come over to find love across the water following his appearance on the ITV travel show, 'Jimmy Nesbitt's Ireland', earlier in the year.
"English men love Irish women. It's because they are natural, voluptuous, are very good looking, have lovely eyes and are great fun," he said.
Willie doesn't mind that he'll be busy for the festival. "People come up to me on the street and ask me to introduce them to this one and that one… I don't mind though".
"Love is waiting there for everyone, it's there just waiting to be found," he said. "When it is, it's a lovely feeling."
Willie's Tips for Love:

"This thing about people needing to know someone… Love is an impulsive thing. If you don't act on that impulse you won't do it at all."
"I believe in love at first sight and if there's that magic in it then don't be afraid."
"If you see someone you like just say it. No point in looking back and wish you had done something. Don't be afraid to tell him that they look beautiful or good looking and that you'd like to get to know more about them."
If you need Willie Daly to help you find love, see here.