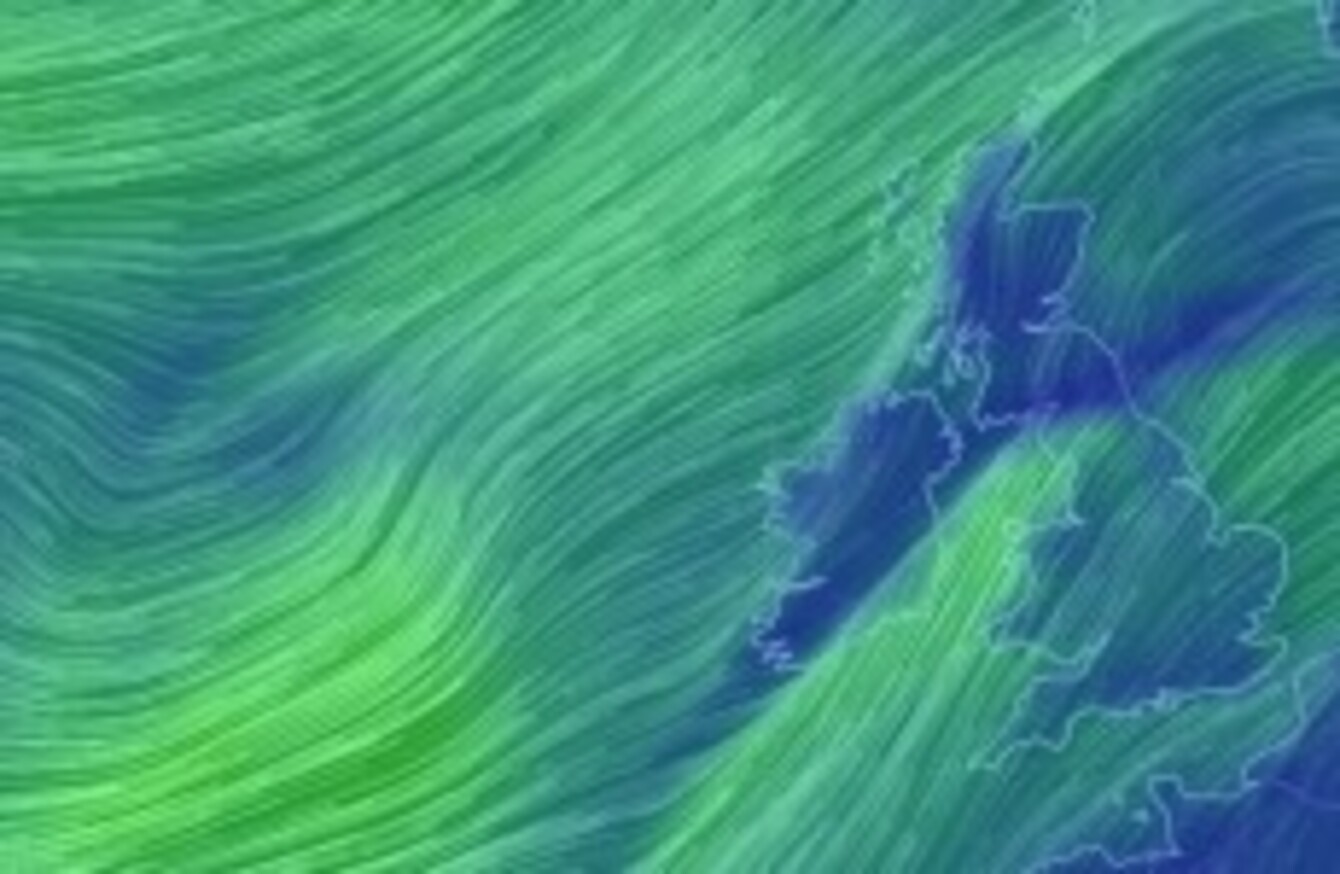 Image: Earth Wind Map
Image: Earth Wind Map
Updated at 2.40pm 
WARNINGS ARE NOW in place for all counties in Ireland, as the first bad bout of winter sweeps in. Advisories issued for the west coast and south of the country first thing this morning were updated later on to take in Leinster and the east.
At the moment a Status Orange warning is in place for counties Donegal, Galway, Leitrim, Mayo and Sligo.
It begins at 9am tomorrow morning will be in place until 6am on Friday.
Here's what people in those counties can expect, according to Met Éireann:
Southerly winds, later veering southwest then west, with mean speeds of 55 to 80 km/h, will gust between 100 and 120 km/h. Winds will be strongest near coastal areas, peaking Thursday evening into early Thursday night.
A less-serious Status Yellow warning (winds of up to 55km/h, gusting to 100km/h) is in place for Roscommon, Cavan, Monaghan and all of Leinster and Munster. 
"Winds will be strongest near coastal areas," residents are being warned.
According to the weather service's national outlook "some damaging gusts" are possible.
It will be largely dry to begin with tomorrow, despite all that wind "but rain along south and west coasts will become widespread by early afternoon, clearing to showers later in the evening".
Source: Video TheJournal.ie/YouTube
What's in a name? 
The weather system has been named by the UK Met Office as 'Storm Abigail' – but so far, forecasters from Met Éireann haven't been using that name either online or on their broadcast bulletins.
The storm naming system – a joint UK-Ireland project – has been worked on since late last year, and full details of the plan were unveiled in September. The names to be used were published in October.
Met Éireann weren't able to confirm why the name's not being used this morning – but we're expecting an update from them later today.