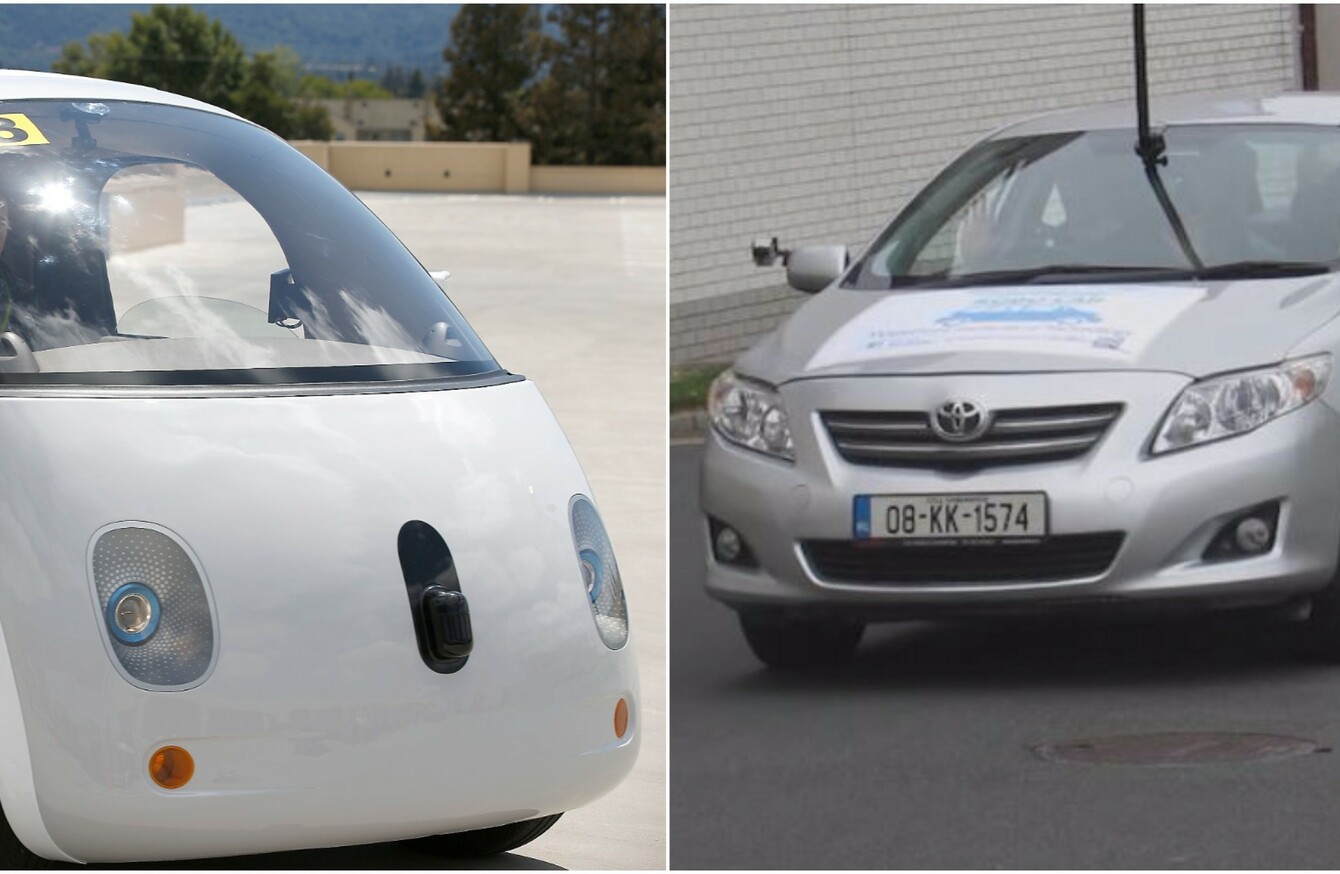 Image: AP Photo/Tony Avelar & Ann Power/WIT
Image: AP Photo/Tony Avelar & Ann Power/WIT
EIGHT ENGINEERING STUDENTS from Waterford IT managed to build a self-driving robotic car.
The team, consisting of final year electronic engineering students, got a Toyota Corolla to safely complete a test drive on the campus by itself.
Advanced robotics lab lecturer, Jason Berry said that since it was a new project – every final year class does a different project to the ones before it – the task at hand and a 12 week deadline was initially daunting for the students. They picked self-driving cars as a project since that's what many applied robotics labs are focusing on.
"At the beginning, it was quite daunting and they found it tough going," said Berry. "A lot of confidence is required as an engineer, just to be confident that you will figure it out and you will get it working".
The team of eight was split up into four groups handling vision (using a camera and computer vision software), acceleration, steering and braking. At the end of it, the car managed to complete the route on the first attempt although a few tweaks were still needed.
"When we first did the test, it went up the road, but it was swerving left and right but not actually hitting the curbs," said Berry. "It got up the road, but it looked like the person driving was having a bit of a bad day".
We brought it back then and tweaked a couple of the software numbers just to make the turns less aggressive… The second time, it drove straight up the road [without trouble].
Since the team didn't have the budget to match other self-driving car projects, it had to look for other ways to develop the steering that would be effective and meet its deadline. The solution was to look at another vehicle: tractors.
Looking at how autonomous tractors worked on farms, the eventual solution was to hook the electronics into the power steering.
By injecting a voltage into the car management system to make it think somebody is trying to turn the wheel, the car's power steering would kick in and turn the steering wheel, something that was "much more simple, intuitive and cost effective".
We don't have the budget that the likes of Google have but what we do have is a lot of imagination. While technically the design seemed quite complex… like all good pieces of engineering, the solution turned out to be a simplistic one.
Source: WIT Marketing/YouTube