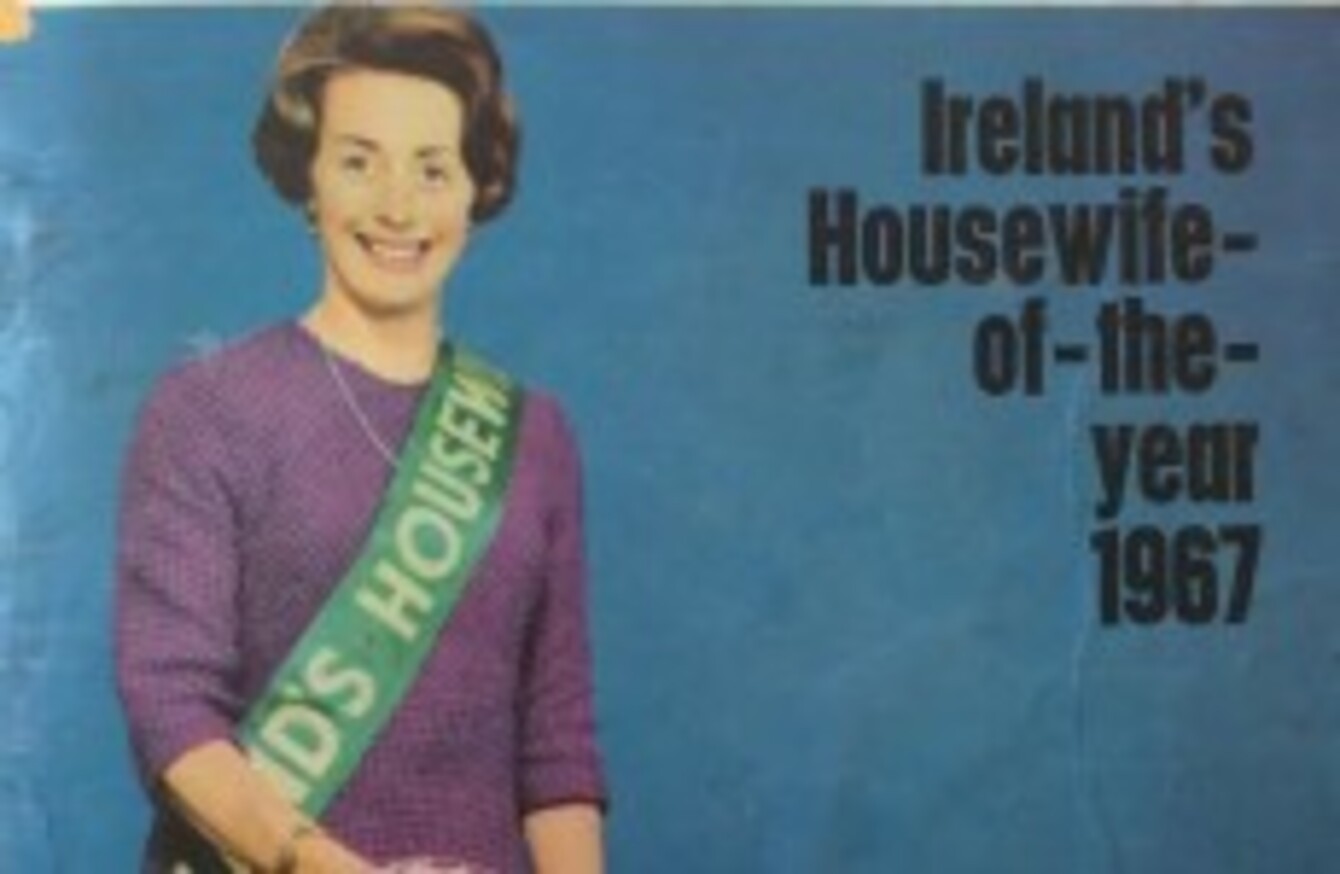 Kay Johnson from Limerick, the winner of the inaugural 'Housewife of the Year' competition, on the front cover of Woman's Way in 1967.
Image: Reproduced with the kind permission of Woman's Way
Kay Johnson from Limerick, the winner of the inaugural 'Housewife of the Year' competition, on the front cover of Woman's Way in 1967.
Image: Reproduced with the kind permission of Woman's Way
"IT SHOULD BE remembered that the bride requires more time to reach a climax than her husband and in the early days it is extremely difficult for the man, much as he would wish to do so, to wait."
That was the advice given to newlyweds in a 1966 column in Woman's Way, the biggest-selling Irish women's magazine of the time.
Two years later, still long before contraception was legalised in Ireland for family planning purposes, Woman's Choice, another female-focused magazine, launched what it called a 'factual' series of articles about the pill.
Rarely talked about
In earlier decades, sex was rarely talked about as something that women should enjoy, according to Dr Ciara Meehan, the curator of a new exhibition on women in 1960s Ireland. There was no sex education in school, never mind talk of female orgasms.
Modern Wife, Modern Life, which was launched earlier this week in Dublin's National Print Museum, looks at the changing lives of Irish women through magazines, photos and everyday objects.
Woman's Way, Woman's Choice and Woman's View were not just the three most popular Irish magazines of the 1960s. They also responded to and shaped the social changes that swept the country over the course of that decade.
Their editorials and features on sex, work and equal pay "anticipated the issues that we now associate with the second wave of feminism in the 1970s", Meehan says.
Materialism
The exhibition also examines how the idea of the 'ideal' wife promoted in traditional marriage manuals came to be blended with the image of the 'modern' wife, whose reputation was bound up with her home and material possessions.
Advertisers, who glossy magazines were so dependent on for revenue, "sold the message that to be a good, modern wife you had the latest, cutting edge-technologies", Meehan says.
But were the magazines themselves read by women of all classes? "Absolutely," Meehan tells me. "They were read for aspirational reasons, and to find out what society expects of them."
Woman's Way, she says, was selling 280,000 copies annually by 1966.
"That was a big circulation number for the time, and reading figures would have been higher again because of hand-to-hand passing. It was outselling every imported British title aimed at a female readership."
Fashion
Most rural and working-class women couldn't afford fridges, washing machines or dishwashers, of course. Their homes may not have even had running water or electricity at the time, Meehan points out.
But they were at least able to replicate the designer brands showcased in their favourite magazines, which balanced high-end fashion advertorials with guides to upcycling old clothes.
"The magazines were a lookbook for those women, telling them what's on trend at the moment," Meehan says. "With their own fabrics and sewing machines, they could create the looks themselves."
Discussion and debate
Women's magazines were also interactive, publishing letters from and debates between ordinary readers, Meehan says.
So-called agony aunts like Angela Macnamara and Sheila Collins became household names, advising women about the most intimate aspects of their lives.
"A lot of older women write to advice columnists asking about how to locate themselves in this changing Ireland with new codes of conduct. You get a very strong sense of inter-generational difference in the letters pages."
It was a decade of huge social change – and when church figures objected to the more racy content published in glossy magazines, their only recourse was to submit their own columns to the offending publication.
In the papers of Archbishop John Charles McQuaid, Meehan says, there are several letters from mothers calling on him to ban magazines they say are corrupting their daughters.
"They could well have been shut down a decade earlier when he had that kind of power," she points out. "But by the 1960s, a secretary is writing back to say His Grace isn't in a position to do anything about it."