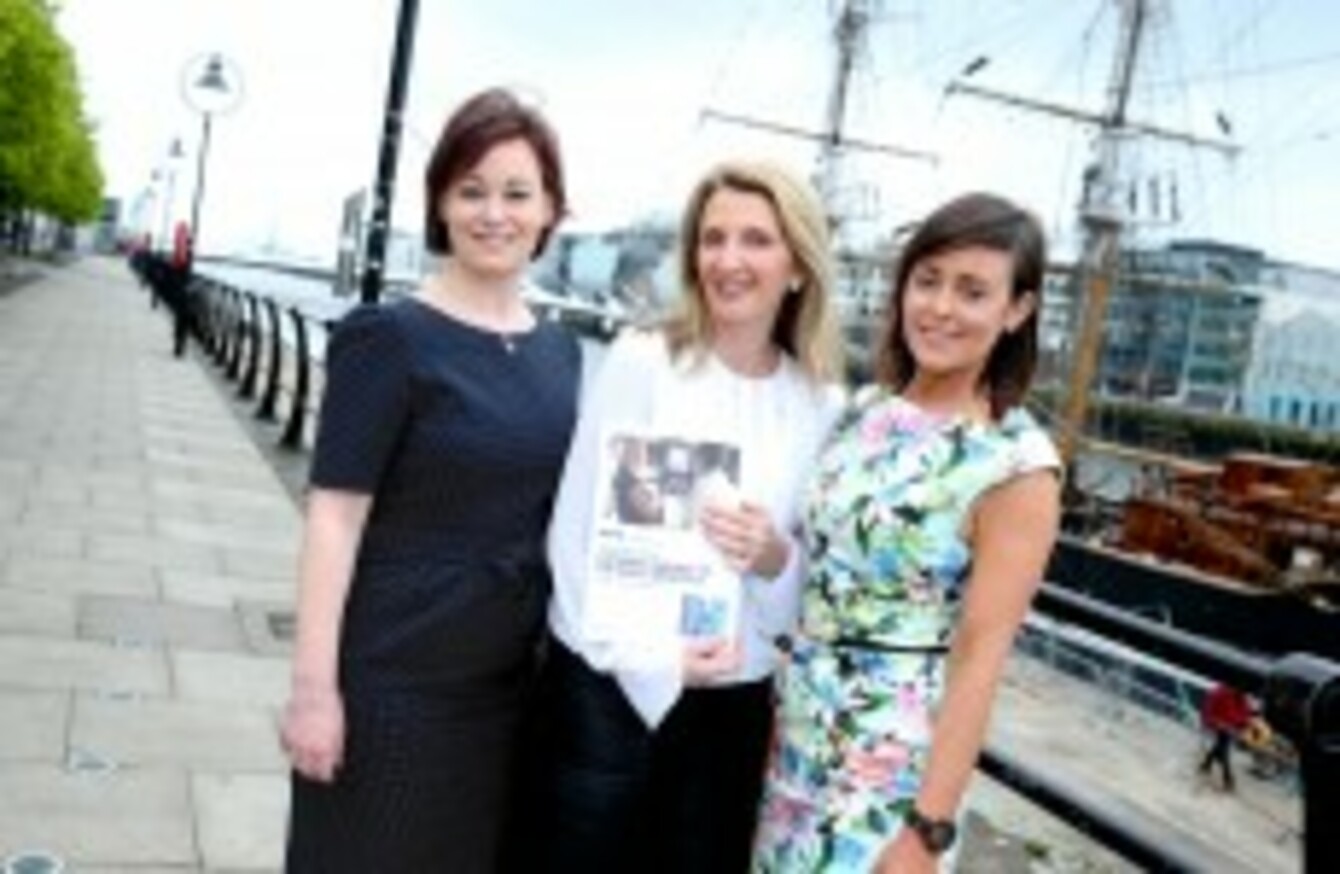 Report launch
Image: Maxwell Photography
Report launch
Image: Maxwell Photography
THREE QUARTERS OF the women working in Ireland's IT sector "fell into" the career, a new survey has found.
'Women in IT – Untapped Answer to the Skills Shortage' also reported that six in ten women in the industry don't have a computer science degree.
A third of those surveyed cited a lack of educational support as a barrier to a career in IT.
The report was commissioned by recruitment company Hays and surveyed 150 women –  ranging in age from 18 to 64 years – who work in start-ups, SMEs and large national and multinational corporations.
Last year a Fastrack to IT skills audit revealed that 4,500 jobs in the sector are currently unfilled in Ireland, and 10,000 more potential jobs are under threat in the short-term, thanks to a skills shortage.
Richard Eardley, Managing Director of Hays Ireland, said the report was commissioned to "try to understand why women are underrepresented in IT".
Are there barriers that exist? Are there perception issues?
Eardley said it didn't "stack up" that an industry which is worth €70 billion in exports to Ireland annually had to rely on people "falling into the career".
He noted that the sector needed to move away from the image of "geeky, nerdy guys in t-shirts coding in rooms" and show the "other realities that people aren't aware of".
Other findings in the report include:
23 per cent of women have experienced sexism in the workplace
44 per cent said they found no hindrance to their career progression
66 per cent believe there is a positive work-life balance in the industry
Ireland is the second-largest exporter of computer and IT services in the world.
Sexism
Jean O'Sullivan, Manager of Female Entrepreneurship at Enterprise Ireland (EI), said she had not experienced much sexism herself, but recalled one incident when a colleague told her:
Now Jean, you'd want to start thinking about not having more children if you wanted to keep a seat at the top table.
O'Sullivan noted that men in both Ireland and Europe were "twice as likely" to create a new business than women.
She said that only seven per cent of EI investment went to female-led companies in 2012, but said there was about a 400 per cent increase in the number of women coming to the organisation for finance since they launched an awareness campaign.
During a panel discussion at the launch, Hilary O'Meara, Head of Technology at Accenture Ireland, stressed the importance of women stepping forward to mentor each other.
Women have an obligation to support other women … Women don't push themselves as much career-wise as men do – that's just a fact of life.
O'Meara said that flexibility in the workplace was needed for all employees.
"Flexibility is not just for women or women who have children, it's not gender-speicific. Social responsibility and care giving is for everyone," she stated.
Elena Martines, Scientific Programme Officer at Science Foundation Ireland (SFI), agreed with the need for flexibility but said: "If decisions are made when flexible workers are not in the workplace, it doesn't work."
She also noted the importance of sending a strong message to women that "it's OK" to take maternity leave.
In February, SFI launched an award that enables women to remain or return to a career in one of the 'STEM' subjects: science, technology, engineering and mathematics.
O'Meara added that "the [IT] stereotype is broken" and encouraged girls to "embrace subjects [like science and maths]".
"Don't be afraid of them because a stereotype says you should be," she advised.
Coding in schools
This year, coding will be introduced in primary schools in the UK.
Speaking at the launch, Joe Costello, junior minister for trade and development, said the government was looking into the possibility of a similar scheme here.
He said that the junior cycle reforms proposed by Education Minister Ruairi Quinn would include a focus on ICT skills and coding.
#Open journalism No news is bad news Support The Journal

Your contributions will help us continue to deliver the stories that are important to you

Support us now
Costello remarked that the lack of women in top positions wasn't an industry specific problem, noting that just under 16 per cent of TDs are female. He added that the number of women sent on government trade missions was "very limited indeed".
The junior minister said the technology industry was one that continued to grow despite the recession, adding that nine of out the top ten US IT companies have bases in Ireland.
Less than a quarter of the current IT workforce in Ireland are women.
Costello said that increasing this figure would "make a real contribution to the skills shortage" in the industry.
He added that the government remained committed to creating and filling 44,500 ICT jobs by 2018, as part of its Action Plan for Jobs, saying he wanted to see full gender equality in the sector.
'Societal Impact'
Brian MacCraith, President of Dublin City University, said that when young people are deciding on careers they are "driven by societal impact rather than personal advancement" and "the usefulness of what we're doing rather than the 1s and 0s".
MacCraith said DCU could double the number of people in its computer-related courses but said students simply "don't survive" in these programmes due to a lack of foundation knowledge that should be provided in primary and secondary schools.
He said that the push to grow ICT education in schools "cannot be sustained unless we are supporting the teachers".
Dublin is "fast become the world capital for data analytics" but most people don't know what it is, according to MacCraith.
He said parents and teachers needed to be made aware of the vast amount of jobs available in the sector as "if [students] don't know about these jobs they certainly won't be applying for them".
McCraith praised the CoderDojoGirls coding initiative for girls at DCU, saying part of its success was that participants are not aware they're "going through formal learning" due to its interactive nature.