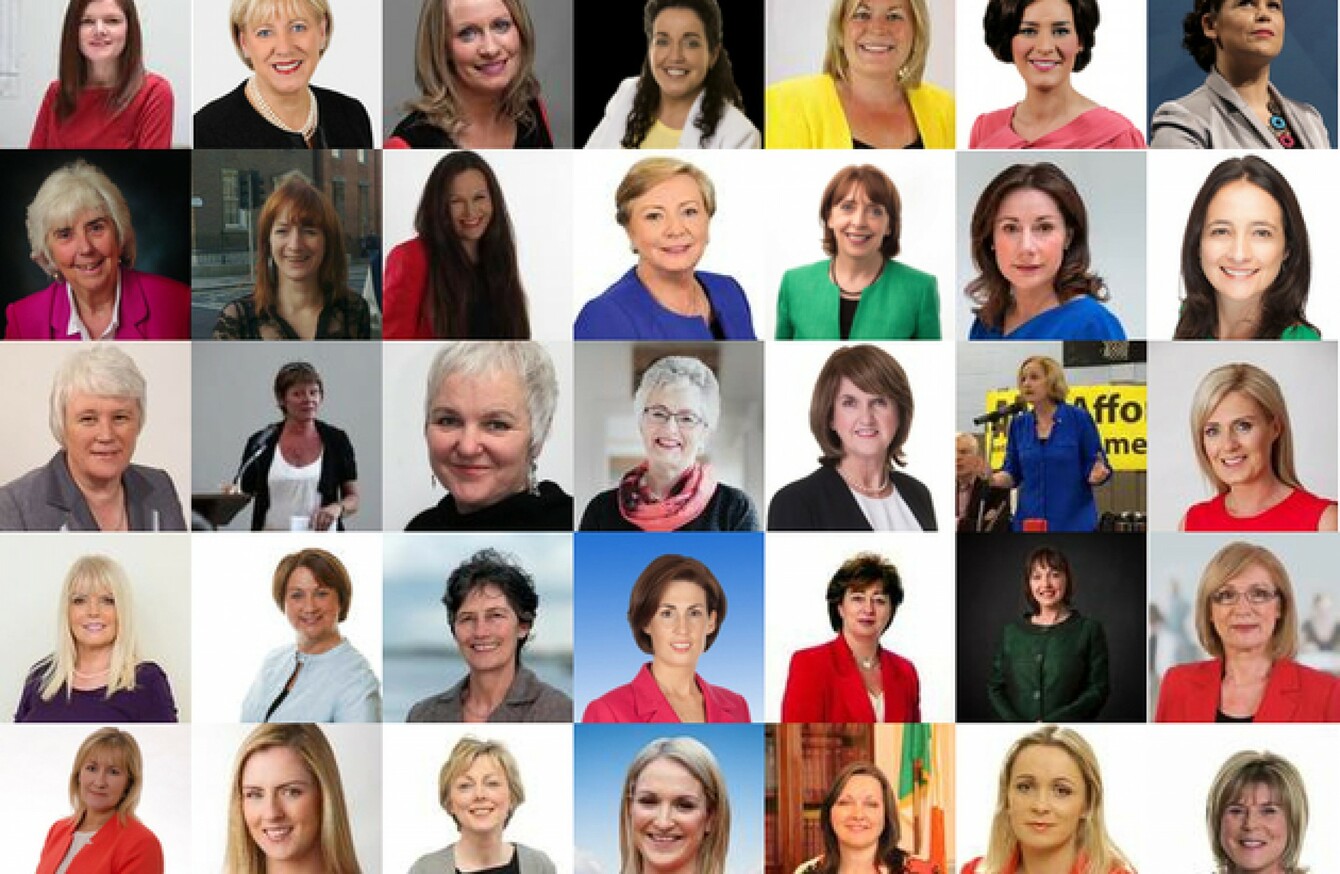 Updated 9pm
THERE ARE MORE women in the Dáil than ever before, with 35 women TDs taking 22% of the seats in the last election.
That's a 40% jump on the previous Dáil – where just 16% of the seats were filled by women.
While gender quotas have been largely attributed to this rise, Women For Election, which gives training and support for women who want to enter into politics, says this wasn't just down to quotas.
Of the 194 women elected in the last election, half of those had been through the Woman for Election programmes. A spokesperson told TheJournal.ie:
The rise wasn't just about the quota, it got the conversation started. We also had a nearly 30% increase in female independents running.
"We came across lot of women who wanted to get involved in politics but had never even told anyone before. When they came to the courses they met other women with the same ambition – it's really about signalling that this is a reasonable ambition."
The gender quota means a party's state funding can be cut by half unless 30% of their general election candidates are women.
Fianna Fáil went from electing no women whatsoever in 2011 to electing six last year and Sinn Féin tripled their female contingent in the Dáil, from two to six.
Fine Gael didn't elect any more women but the reduction of their seats from 76 to 50 meant women made up a higher proportion of their TDs.
'Anyone planning on running needs to be thinking about it now'
The spokesperson added that the barriers to women entering politics can be broken down to "the five C's" – culture, childcare, cash, candidate selection and confidence.
They said that Ireland has traditionally always had a male dominated culture and that childcare is something women have predominantly taken care of.
The issue of childcare affects women at a certain point in their lives. There are a lot of women coming through our programmes who have reared their children and have huge experience in public services because of that.
"In Ireland, women traditionally had less access to cash and to the people who could raise it."
Regarding candidate selection, the organisation has heard examples of cases where women have arrived at candidate selections, expecting to be selected based on feedback from the common active members, but their opponent within the party would sign up a huge number of new members who would arrive in on the day and their votes would skew the selection.
"The final C – confidence, is often that women don't see themselves as being qualified whereas men don't see to have that same concern.
Women always want to know what qualification then need and how can they become qualified. They don't recognise their experience of life and in the community and a desire to be a public servant. Men don't feel the need to be qualified in the same way – women need to recognise their strengths.
"In the past, the larger parties didn't create an environment that is supportive to women."
Looking ahead 
TheJournal.ie asked the three biggest political parties in the country about their plans to encourage women to run for the next election.
A spokesperson for Fine Gael said, "The introduction of gender quotas by the Fine Gael Labour Government was a landmark moment in increasing the participation of women in politics.
Fine Gael currently has more women elected to the Dáil than any other party but there is much more to be done to encourage women into political life. We are working to encourage and support women at all levels of the Party including through mentoring and training.
A spokesperson for Sinn Féin said, "We have consistently been among the highest parties in putting women forward for elections, both North and South of the border. 35% of our candidates in the last general election were women."
Meanwhile, a spokesperson for Fianna Fáil said, "Fianna Fail is committed to ensuring the equal representation of women at all levels of Irish society and not least in national and local government.
"We will continue to support our elected representatives and prospective candidates and provide both general and focused training similar to the Campaign Bootcamps we rolled out prior to the last election."
The spokesperson for Women For Election added, "Anyone planning on running in local elections needs to be thinking about it now."
Women For Election run one day training programmes for women interested in politics and a three day programme for women who want to be a candidate.
The organisation hopes to train 300 women in 2018 in the run up to the next election. The courses run in Dublin, Galway, Cork and Limerick.
It's launching a crowdfunding campaign to raise €50,000 to support its work training more women to run for public office.