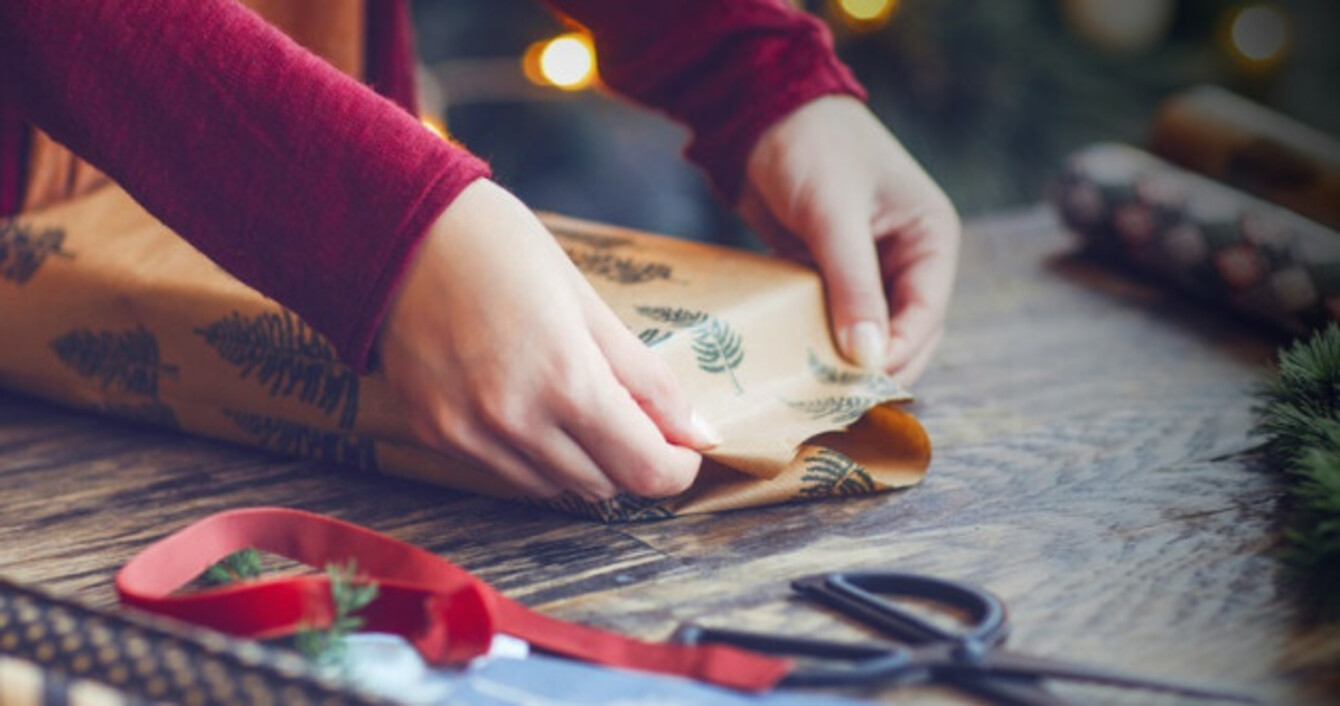 Image: Shutterstock
Image: Shutterstock
MANY PEOPLE THINK that the present buying is the most difficult part of Christmas but for some, it's the present wrapping that gets them all flustered.
It's often left as a last-minute task, but with some advance planning, you can entirely remove stress from the equation.
Cat Lawlor is an award-winning Irish baker, but one of her not-so-hidden talents is that she is an expert at wrapping Christmas presents.
With her keen eye for detail as a baker, she uses this time of year to indulge in the art of wrapping, even if she's left a little bit heartbroken when her friends and family rip open their presents without noticing the effort she has put in.
I sat down with Cat to get down to the nitty gritty of cheap sticky tape, colour coordinating presents, thin paper versus thick paper, whether are not gift bags are cheating and the wonder of the double bow.  
1. The tape
Picking out the right kind of sticky tape is essential when it comes to wrapping presents, Cat tells me. While you shouldn't spend a fortune on tape, it's important that you don't go for the cheap stuff and that you come armed with the right tools:
If you get the little tape dispenser that's much easier because if you start breaking off loads of pieces and sticking them on your counter, then they just glue to your counter and leave marks.
Cat recommends Scotch tape above all other sticky tape, and suggests a limitation of three pieces of tape per present – one on the bottom of the present and one for each side.
The three-piece rule only applies if you've got the right tape, however. "The cheaper the tape, the worse it is. If you have good quality tape, three pieces is all you'll need."
2. The wrapping paper
Choosing the right wrapping paper comes down to many things – the price, the colour, the pattern – but there's one instruction that Cat insists upon. Do not be fooled into thinking that textured or glittery paper is a good idea.
This is a rule I've broken myself. I once fell for a roll of glittery black paper, thinking my Christmas presents would be the most beautiful ones sitting under the tree, but the texture of fancy paper means that tape does not stick to it.
In fact, the thinner the paper is, the better it is for wrapping, as Cat tells me.
"Some brands do full glitter wrapping paper, which looks amazing, but tape doesn't stick to it. It looks great but everyone can open their presents in two seconds because the tape just lifts off," she says, shaking her head.
So thick is bad. Thin is good. Any glittery, textured surface is bad.
Cat's pro tip? "Leave the glitter to the ribbons."
3. Ribbons, bows and double bows
Cat puts ribbons and bows on everything. From curling techniques to colour coordination, she uses those final flourishes as a way to let her creativity really shine through. The fancier ribbons, she says, aren't good for curling so, unlike with tape, she tells me to go for the cheaper option in the ribbon department.
You know those ribbons in the wrapping boxes that look like they're wound round each other? There's a sort of plastic film on them. They're the ones you use to curl. All you do is pull them out straight, take a sharp scissors and scratch the underneath of them. They curl right up.
Cat is so at ease with tying ribbons and bows that she compares it to tying shoelaces. But if you struggle with keeping your bows and ribbons taut as you tie, she suggests a clever alternative:
Tape the ribbon on the bottom side [of the present] or use a stick of glue. Think of where your ribbon is going, use a line of glue and stick the ribbon to the actual wrapping paper so it won't move and you won't ruin the ribbon. 
Not content with letting the curl of the ribbon do all of the work, Cat talks me through the concept of the double bow:
If I have two ribbons, let's say a tartan one and a glittery gold one, I'll tie a bow with the tartan one and then I'll tie the gold one over it.
4. Your wrapping theme
Now, this might sound a little bit OTT but if you set a theme for your wrapping, you can dazzle your loved ones with some aesthetically pleasing packages. Cat likes to work with a new theme each year, mixing and matching her paper and ribbons from various sources:
One year I might do icy colours with blues and silvers and snowy stuff and the next year, I'll do traditional wrapping with parchment paper, reds and greens.
"This year, I'm doing Harry Potter and Disney wrapping. Some people will get their presents all dolled up in Minnie Mouse paper, with the name tags cut out into the shape of a mouse face, and other will receive presents in the Gryffindor colours, with Golden Snitch name tags."
Last Christmas, Cat incorporated her baking skills into her wrapping, using iced sugar cookies in place of paper name tags. "I have these really nice stencil letters so I pressed the name of the person onto the cookie. I tied the cookie up in a little bag and attached it to the ribbon."
5. The hard-to-wrap gifts
While it's easy to work with a three-piece sticky tape limitation for square packages, not every gift comes in such a simple shape.
If you're giving someone a bottle of wine or a picking up a teddy for a niece or nephew, don't resort to using a gift bag (it's cheating, apparently) and use Cat's tips instead:
I use cardboard boxes from stuff I ordered online. Wrap the whole box – the inside as well – and put the stuff in. If you get a person a few things, you can put them all into the box and then seal it. You could even add some confetti in, like Rowan Atkinson in Love Actually.
If cutting paper is not your forte, then there's one wrapping cheat you have Cat's permission to use: using a long ruler or a really big book to mark out straight cutting lines on the back. "That way, you're not wasting loads of paper."
6. How to do it (where and what technique)
Present wrapping is a mammoth task, requiring the right tools and plenty of space. Before you start cutting, taping and curling ribbons, clear some room and create a dedicated wrapping station:
Use a big kitchen table or countertop and put your paper, your tape and your frills in order, so you can wrap first and then do all your ribbons and bits last. And definitely don't do it on the floor because your legs go numb.
With a dispenser of top-quality tape, sharp scissors, cheap, non-textured and thin wrapping paper and an array of cheap and colourful ribbons by your side, there's little room for error in your wrapping this Christmas season.
Just don't leave the wrapping to the final hour. "That's why so many people hate it because they don't appreciate it," says Cat earnestly. "They dump it to the last second."
Want to win an Aldi festive food and wine hamper worth €100? Enter this week's Aldi Christmas Magazine competition right here.