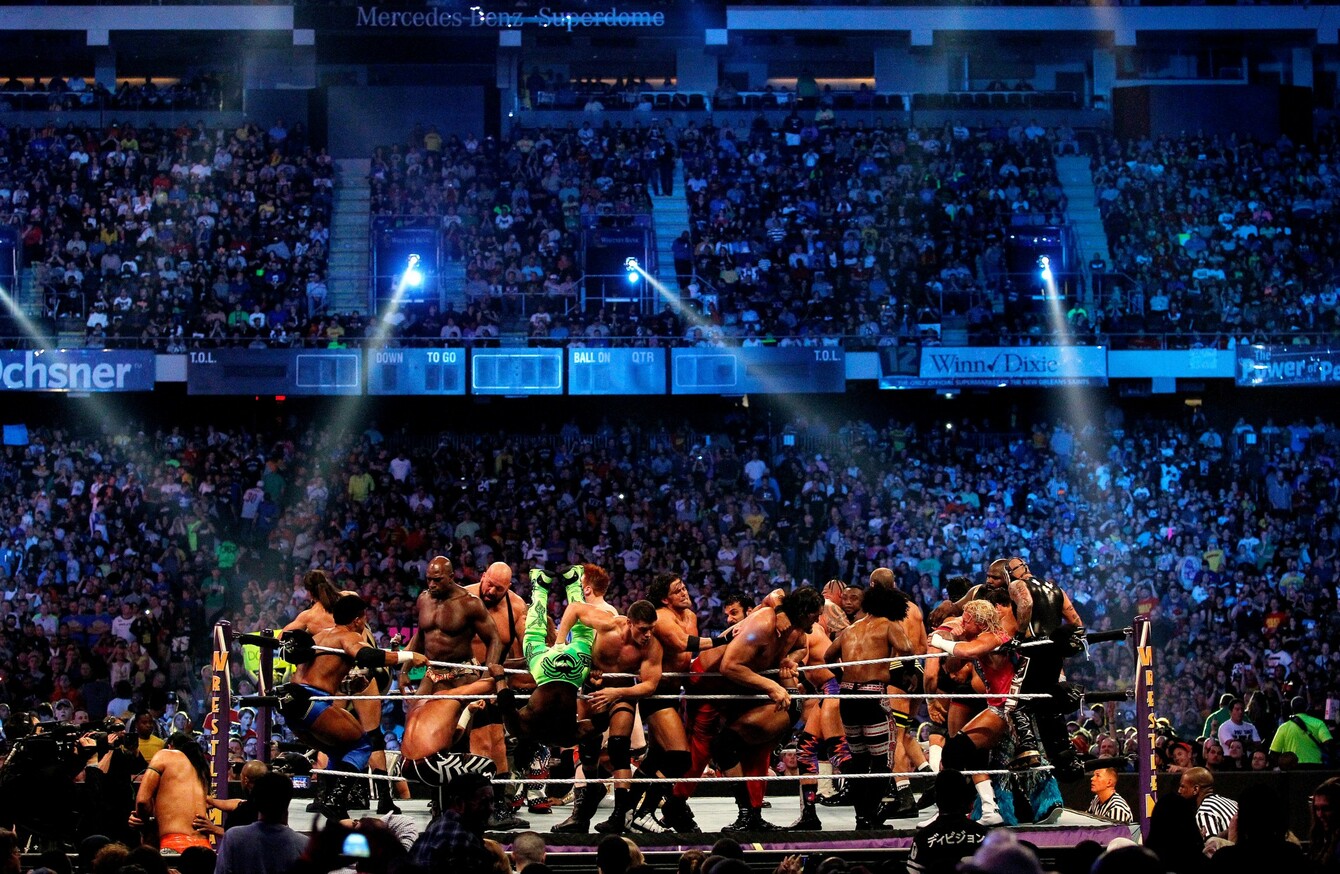 Image: AP/Press Association Images
Image: AP/Press Association Images
A GROUP OF over 50 former professional wrestlers and referees are suing sports entertainment giant World Wrestling Entertainment (WWE).
A lawsuit in the name of Joe "Road Warrior Animal" Laurinaitis and others alleges that WWE is liable for neurological damages they have suffered since leaving the industry.
The case, filed in Washington DC, contains the names of dozens of others, including "Superfly" Jimmy Snuka, "Mr Wonderful" Paul Orndorff and Chavo Guerrero Jr.
The complaint says that WWE and its owner Vincent McMahon "routinely failed to care for" the plaintiffs' health in "any medically competent or meaningful manner".
It further alleges that WWE classified them as independent contractors rather than employees in order to shift liability for their injuries.
It said the company owes each plaintiff a "legal duty".
"WWE placed corporate gain over its wrestlers' health, safety, and financial security, choosing to leave the plaintiffs severely injured and with no recourse to treat their damaged minds and bodies."
The complaint says some of those involved have chronic traumatic encephalopathy (CTE) a condition seen in many American football players, caused by repeated blows to the head.
It adds that WWE has a "superior knowledge of medical science of head trauma in athletes" and that WWE had scripted matches in which neurological damage was unavoidable.
"Each of the Named Plaintiffs as a WWE performer sustained neurological injuries by simply participating in WWE matches.
WWE wrestling matches, unlike other contact sports, involve very specific moves that are scripted, controlled, directed and choreographed by WWE. As such the moves that resulted in Named Plaintiffs' head injuries were the direct result of the WWE's action.
The retired performers allege that the company has "fraudulently misrepresented and concealed from the Plaintiffs the nature, extent of the occupational long-term neurological injuries that are present in each of the Named Plaintiffs as a consequence of their wrestling careers".
Benoit
It references the Chris Benoit case, in which the then-wrestler killed his wife and child before taking his own life. Benoit was later found to have severe CTE.
"Instead of upholding its duty to its employees, WWE placed corporate gain over its wrestlers' health, safety, and financial security, choosing to leave the Plaintiffs severely injured and with no recourse to treat their damaged minds and bodies.
"WWE refused to provide health insurance to its employees, employee benefits, and payments to Social Security."
It then calls the company "more akin to a 19th century carnival" where McMahon "exercised near total control".
WWE has donated millions to the Concussion Legacy Foundation, headed by former wrestler Chris Nowinski. The complaint says that the foundation has "despite studying 187 brains for CTE since 2013,
not studied a single wrestler's brain".
"Over 100 wrestlers have died in this time period."

Parties
Among those accusing the WWE of negligence, Laurinaitis claims that he suffered multiple concussions under WWE's "ironfisted direction". His tag partner, Michael "Hawk" Hestrand died in 2003 of a heart attack aged 43.
He specifically recalls at least four major concussions he suffered while performing in WWE. In one instance, he was double suplexed in 1992 while performing with the Beverly Brothers and suffered an impact which herniated two discs in his neck.
"He was "powerbombed" by Shawn Michaels in 1997 immediately after returning from neck surgery. Laurinaitis has had at least 11 surgeries from the cumulative effects of his wrestling career."
"Superfly" Jimmy Snuka, who was recently found mentally incompetent to stand trial for murder, says he has depression, anger, mood swings, headaches, dizziness, severe loss of memory and confusion.
Orndorff, who headlined the first Wrestlemania, says he " gets easily confused, is clinically depressed, paranoid, repeats himself constantly and has severe mood swings".
Another plaintiff, "The Natural" Butch Reed said he recalled being "kicked so hard you were paralysed for a few seconds!.
The preferred WWE medical treatment was "Take yourself up, spit on it, put a band aid on it.", "If you could put your boots on you needed to be in the ring, otherwise there was no payday.