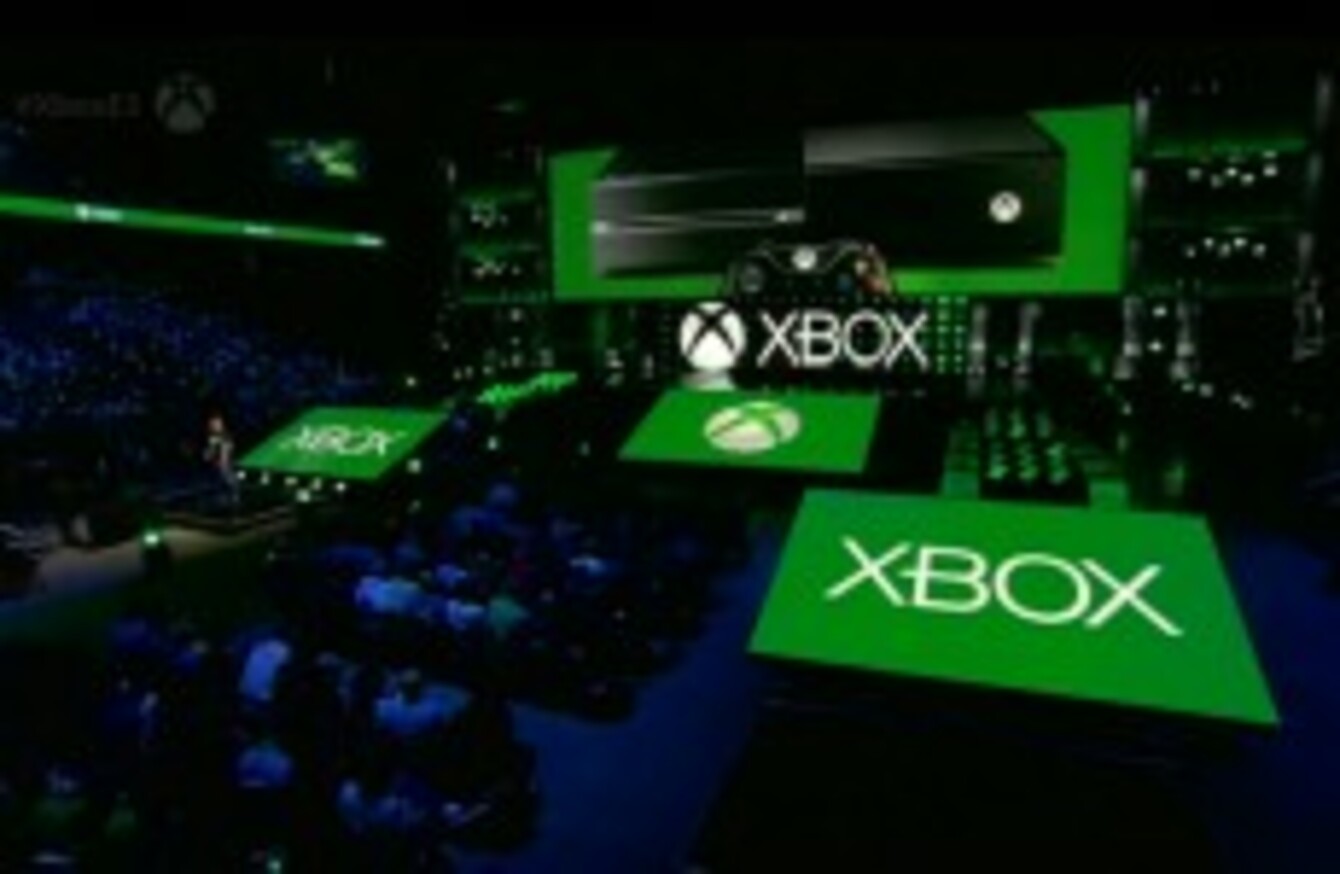 Image: Xbox
Image: Xbox
CONSIDERING THE AMOUNT of flak Microsoft has received about its lineup since the launch of the Xbox One, ensuring that there were both exclusive and high-profile games in the pipeline was a necessity.
It kicked off E3 with a 90 minute keynote which did just that, ranging from fan favourites to more original content, all without mentioning the Kinect. Here's a quick overview of the more eye-catching announcements.
Call of Duty: Advanced Warfare
Release Date: 4th November 2014
Kicking off proceedings with a tried and trusted series, the eight minute demo revealed what's shaping up to be a graphically impressive game. The detail to objects is impressive, and the series will be throwing more futuristic technology such as drones and mechs into the mix.
Source: gamespot/YouTube
Assassin's Creed Unity
Release Date: Not announced
Taking place during the French Revolution, the big draw to Assassin's Creed Unity is that you can create your own brotherhood with three other players.
The playable demo showed four players infiltrating the home of an aristocrat during a major riot and while it didn't show much in the way of stealth, there was enough on show the potential for strategy.
Source: AssassinsCreed/YouTube
Halo – the Master Chief Collection
Release Date: 11th November
One that got many cheers from the crowd, The Master Chief Collection brings remastered versions of the first four Halo games for the Xbox One. That includes multiplayer as well, where there are more than 100 maps from each game on offer, and players will be able to switch between the new and original graphics for each map.
The collection will also include Halo Nightfall, a TV series which will tell the story leading up to the next game Halo 5 Guardians. The multiplayer beta version of Guardians will be arriving at the end of the year.
Source: SingleHaloClips/YouTube
Evolve
Release Date: Autumn
From the creators of Left 4 Dead comes a 4 on 1 first person shooter taking place in dark caverns. You can choose to be the soldiers, each one with their own jobs, or play as the monster instead and take all four down.
Source: gamespot/YouTube
Forza Horison 2
Release Date: 30th September
Featuring a massive open world and some impressive weather features, Forza Horizon 2 will feature 200 of the world's greatest cars racing in 1080p detail. In a nutshell, if you like cars and you haven't Forza Motorsport 5 yet, hold out for this.
Source: IGN/YouTube
Sunset Overdrive
Release Date: 28th October
By far the most outlandish and zany of all the previews, Sunset Overdrive takes place in a stylised overworld that combines mutants, explosions, carnage and parkour to create one of the more original announcements out there.
The game will also include an eight-player online mode called Chaos Squad, and players will be able to fully customise their player.
Source: gamespot/YouTube
Fable Legends
Release Date: Not announced
Similar to Inside, gamers can play as a team of four heroes or as the villain. The difference is that while playing as the heroes take the form of a traditional third-person hack 'n' slash, the villain's game plays out as a real-time strategy game, where you place units, monsters and traps while the heroes invade your dungeon.
#Open journalism No news is bad news Support The Journal

Your contributions will help us continue to deliver the stories that are important to you

Support us now
Source: Pixel Enemy/YouTube
Inside
Release Date: Not announced
Coming from Playdead, the team that made Limbo, what was offered from the preview is a dark and atmospheric 2D adventure game that could be just as unsettling and grim as Limbo.
Source: IGN/YouTube
Rise of the Tomb Raider
Release Date: Not announced
The sequel to the rebooted series showed off very little, but expect the themes of trauma and recovery to feature prominently as Lara Croft copes with the events of the first game. The game promises to take players to multiple locations around the world while retaining the survival-action gameplay that made the reboot so popular.
Source: RabidRetrospectGames/YouTube
Crackdown
Release Date: Not announced
With cheers equal to what the Halo series received, the return of Crackdown didn't reveal much but what you can expect is a neon city and some very over the top set pieces, most likely involving explosions and destruction.
Source: Pixel Enemy/YouTube
Other games that were announced included Tom Clancy's The Division (a tactical shooter set in an abandoned New York), Dragon Age: Inquisition (a fantasy dragons game), Project Spark (Microsoft's ambitious world creator game), Happy Wars (a online multiplayer action game), Ori and the Blind Forest (a picturesque 2D platformer), Scalebound (another fantasy dragons game but with headphones), and some gameplay footage of The Witcher 3: Wild Hunt.
As a side note, Irish Xbox One owners will be given the option to turn on voice control from July onwards. Allowing players to switch between games and apps using only their voice, this will be part of the public preview first and will roll out to users shortly.