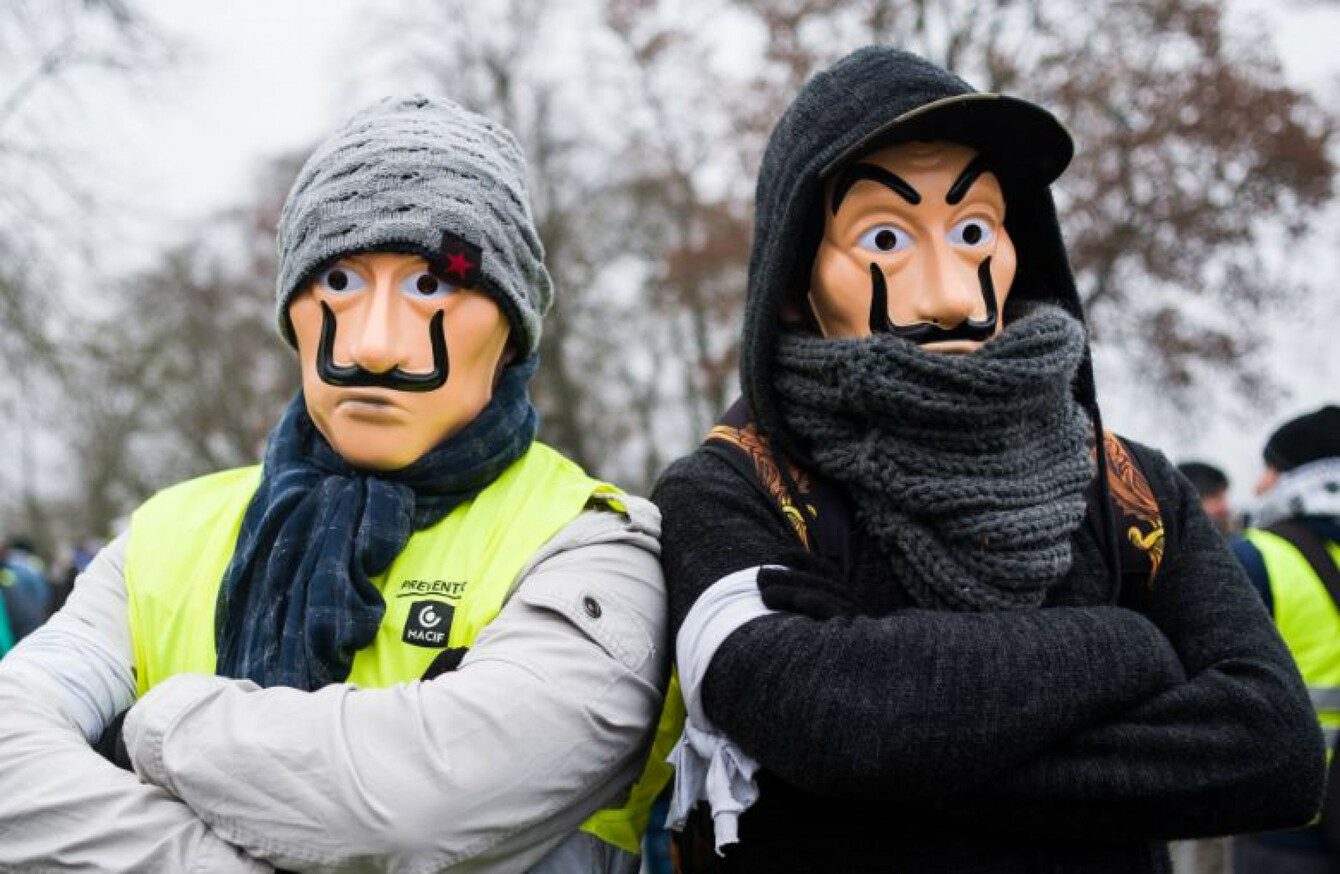 Two men wearing masks at a demonstration in Bourges today.
Image: Sebadelha Julie/ABACA/ABACA/PA Images
Two men wearing masks at a demonstration in Bourges today.
Image: Sebadelha Julie/ABACA/ABACA/PA Images
Updated Jan 12th 2019, 6:50 PM
TENS OF THOUSANDS of anti-government demonstrators marched in cities across France today in a new round of 'yellow vest' protests against President Emmanuel Macron, who is accused of ignoring the plight of millions of people struggling to make ends meet.
The ninth round of "yellow vest" rallies since November began calmly amid a heavy police deployment of some 80,000 officers nationwide, including 5,000 in the capital.
Many sang the "Marseillaise" national anthem, while others shouted "Macron resign!" or "Free Christophe", a reference to the ex-boxer filmed viciously beating two officers during last week's protest.
For the first time, organisers of the Paris march deployed teams wearing white arm bands to corral the march that began near the Place de la Bastille.
"We're guiding the march to make sure they keep to the route and avoid confrontations, so they don't respond to police provocations," one of the "white bands," who gave his name as Anthony, told AFP.
But scores of protesters later clashed with riot police at the Arc de Triomphe in Paris, prompting volleys of tear gas and water cannon as security forces prevented them from reaching the heavily fortified Champs-Elysees. 
The protesters began to disperse as night fell, however, and police began removing armoured vehicles and trucks in an atmosphere of relative calm– TV images later showed a guitarist crooning not far from the police lines.
'Macron resign' 
Around 32,000 people had hit the streets nationwide as of 2:00 pm (1:00 pm Irish time), the interior ministry said, up from 26,000 last week but still far below the nearly 300,000 when the "yellow vest" protests began two months ago.
And in Paris the prosecutor's office said 74 people had been detained for questioning by the afternoon, well above the 35 detained last Saturday, as participation rose to some 8,000 protesters from 3,500 last week.
Dozens were also arrested elsewhere including the central city of Bourges, the site of another major rally aimed at drawing people farther from the capital.
"I get by on €1,200 a month, and taxes eat away at my savings every day. They're taking away everything we have," said 'Vercingetorix' a 74-year-old retired archeologist dressed as the legendary Gallic resister to Roman rule.
"We want parliament dissolved. Macron has to stop ignoring us and realise how bad things are," said William Lebrethon, a 59-year-old construction worker amid signs saying "Macron resign!" and "France is angry".
A few hundred protesters later burned trash cans amid cat-and-mouse clashes with police in Bourges' historic centre, and skirmishes also broke out in Toulouse, Bordeaux, Lille and other cities. 
Politicians inspire 'distrust, disgust' 
Macron has called for a national debate starting next week to hear voters' grievances, hoping to sate demands for more of a say in national law-making and tamp down the protesters' anger.
He has already unveiled a €10 billion financial relief package for low earners, and axed the planned fuel tax hike.
But the public consultations risk being hobbled by record levels of distrust towards politicians and representatives of the state.
A poll by the Cevipof political sciences institute released yesterday showed 77% of respondents thought politicians inspired "distrust", "disgust" or "boredom".
And Macron may not have done himself any favours yesterday, when he told a gathering at the Elysee Palace that "too many of our citizens think they can get something without making the necessary effort".