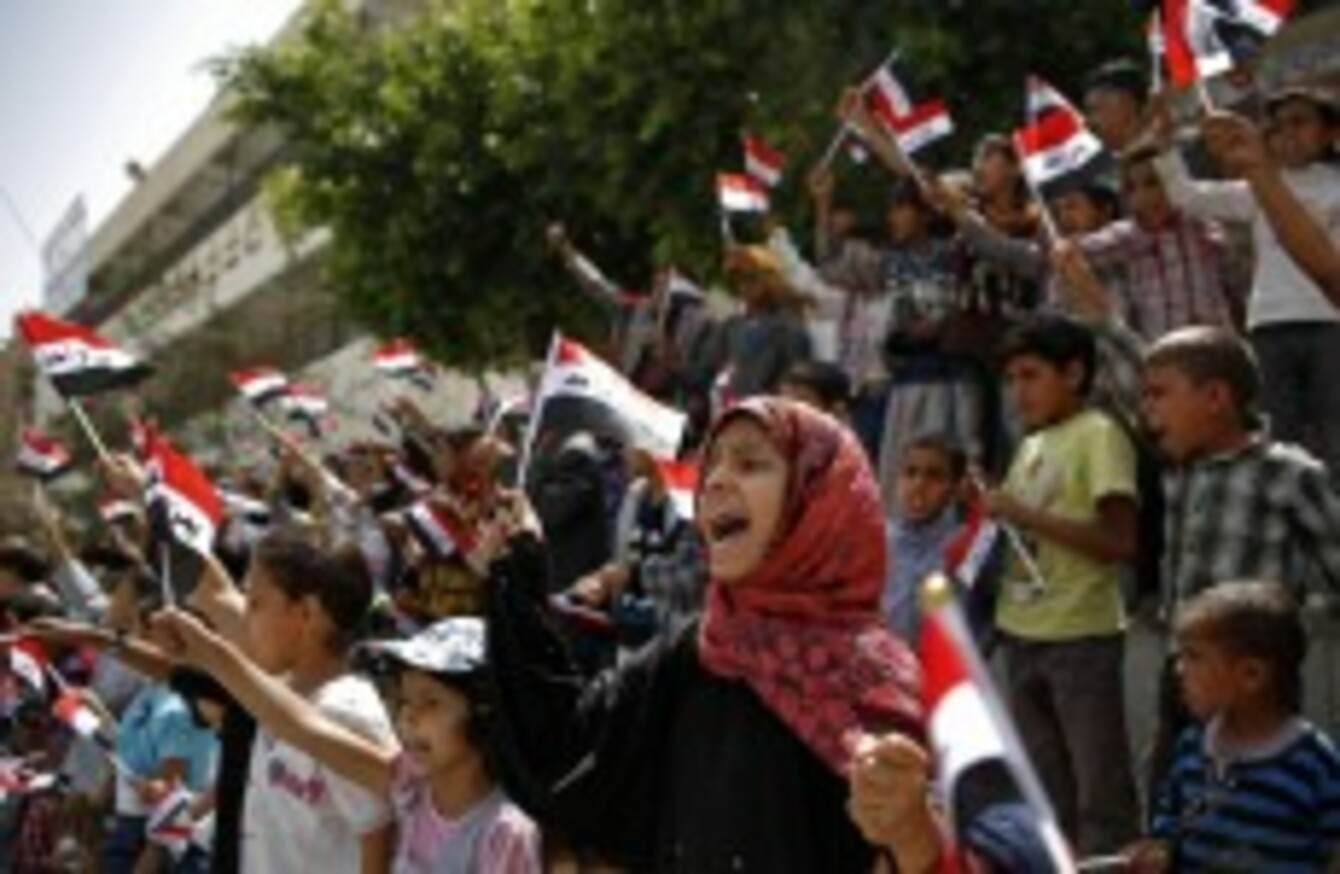 Children chant slogans during a protest against Saudi-led airstrikes in Sana'a, Yemen.
Image: Hani Mohammed/AP/Press Association Images
Children chant slogans during a protest against Saudi-led airstrikes in Sana'a, Yemen.
Image: Hani Mohammed/AP/Press Association Images
WHEN ANDRÉ HELLER Perache first arrived in the Yemeni capital of Sana'a, he soon learned that meetings would often have to be cut short.
The daily bombing of the city means those living in the vicinity of targeted areas regularly have to leave work early, to check their family members are still alive.
For over three months now, Saudi-backed forces have been bombing Yemen, one of the poorest countries in the Arab world, relentlessly.
Over 3,200 people, half of them civilians, have been killed since fighting broke out 15 weeks ago, according to the UN.
As a result of airstrikes carried out against Houthi rebels, whole neighbourhoods have been turned to rubble.
Saudi Arabia, which supports the country's exiled government, claims that the Houthis have been armed by Iran, an allegation its regional rival denies.
The rebels have taken over most of the country since February, when they forced the now exiled president, Abd-Rabbu Mansour Hadi, to flee Sana'a.
Everyday life
Heller Perache, the outgoing head of mission for Médecins sans Frontières (MSF) in Yemen, landed in the capital city a little over three months ago, just as the UN was withdrawing its staff because of safety concerns.
Sana'a is still largely inhabited, he said, despite the daily bombardment of rebel targets.
"Some schools and hospitals are still open, and local government is still more or less functional," he told TheJournal.ie. "Life goes on as normal, though it's impossible to have any expectations for the day ahead."
The timing of bombs is difficult to predict, Heller Perache said, adding that rockets triggered during air strikes on military bases can cause very destructive secondary explosions in nearby areas.
Shortages
Restrictions on imported goods imposed by the Saudi-led coalition are having just as big an impact, he said.
The embargo "has rendered perfectly healthy populations, in areas that are relatively safe, extremely vulnerable".
Without power, streets fall dark at night. Trash remains uncollected on the streets and access to water is limited.
Fuel shortages have also forced hospitals to close or restrict their services due to a lack of power and clean water.
Medical supplies are also affected, Heller Perache points out, as the lack of power supply means insulin, for example, cannot be stored at the right temperature.
Even in the capital, businesses are closed for much of the day because of fuel restrictions.
Displaced
Many Yemenis have now fled the cities, retreating to villages and rural areas less likely to be struck by aircraft.
According to the UN, over a million Yemenis have been displaced since the start of the conflict, while over 80% of the country's population now requires some form of humanitarian assistance.
The majority stay with other families, but many others live in makeshift camps, according to Heller Perache.
While MSF has a robust on-the-ground operation, it is now beyond the aid system's ability to copy with the scale of the crisis, he said.
In one day last month, the MSF emergency hospital in the southern city of Aden treated over 100 people, including women and children, injured as a result of heavy shelling on a residential area of the city.
Other hospitals, full with patients, placed mattresses at their front gate to accommodate the wounded.
Control
In a major coup, loyalist forces pushed the Houthis out of Aden on Thursday, according to Yemen's exiled government.
However, the rebels still control most regions, despite the Saudi-led campaign to drive them back to their northern stronghold.
Al-Qaida militants fighting on the same side as the Saudi alliance have also carried out a number of deadly bombings in recent weeks.
While the country's ousted vice-president has now pledged to restore basic services in Aden, any return to normal life is still unimaginable to many.
André Heller Perache will be giving a public talk on the situation in Yemen at 7pm on 23 July in the Royal Irish Academy in Dublin. The event is free but tickets are limited. RSVP to events@dublin.msf.org.