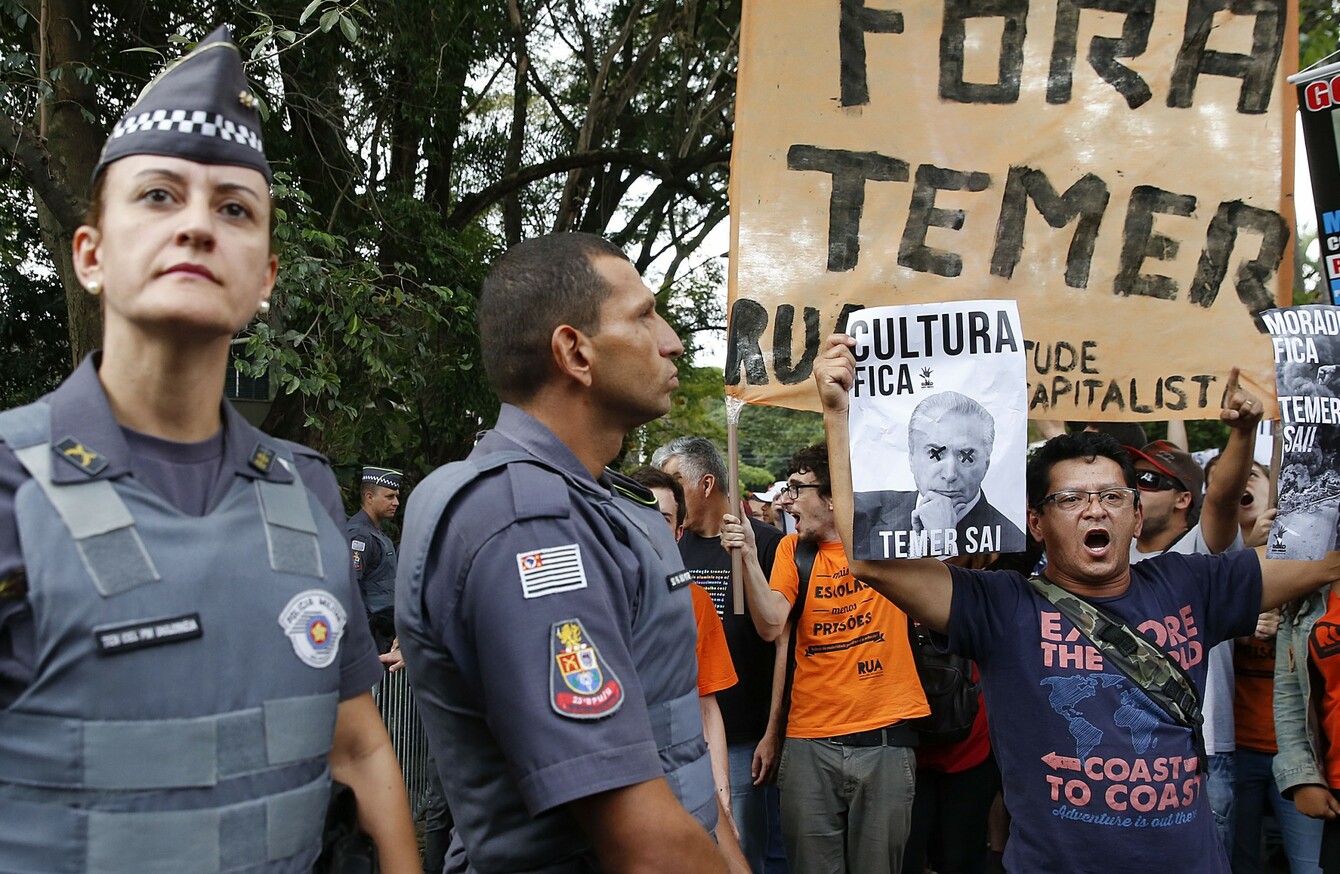 File photo of protesters and police in Brazil.
Image: AP/Press Association Images
File photo of protesters and police in Brazil.
Image: AP/Press Association Images
CHASED BY POLICE, Italo Ferreira stepped on the gas in the stolen car until they stopped him with a bullet to the head. He was 10 years old.
Brazilians don't agree about whether the police were at fault in a killing that has shocked this year's Olympic host country.
During a reconstruction of the event by investigators, some neighbors gathered to show support for the police action in a country stricken by violent crime.
Others stood by, yelling "Racists! Murderers!"
Minutes before his death on 2 June, Italo and an 11-year-old friend climbed the wall into a luxury residential compound in Sao Paulo.
They robbed a 1998 Daihatsu that was parked there and drove it a few hundred meters before halting under fire from military police.
A bullet hit Italo in his left eye and killed him, investigators later revealed.
Police said they fired in self-defense because Italo was armed himself and shot at them from the car.
But others are calling it a murder.
Child thief 'executed'
The Sao Paulo police ombudsman and human rights officials say it is just the latest and most shocking in a series of abuses by the city's police.
"We have expressed outrage about this case," said the ombudsman, Julio Fernandes Neves.
"For us, it is impossible to believe that a 10-year-old boy could drive under fire, operate a gun, open the window to shoot and then close the window again," he told AFP.
When Italo died, the car window was closed.
Officials say preliminary forensic investigations indicate no shots were fired from inside the car.
No marks have been found from the three shots Italo is alleged to have taken.
Investigators have also alleged the crime scene was tampered with.
"There are clear indications that the military police executed the child," said Sao Paulo state human rights attorney Ariel de Castro Alves.
Police under investigation
Italo's 11-year-old accomplice initially backed up the police version but later changed his story, alleging they had beaten and threatened him.
That boy spent five hours alone with police officers before giving his first formal statement, in breach of normal procedures, experts say.
The surviving boy has now gone into a protection program with his family.
"The conduct of the police officers involved is being investigated," the city's security department said in a statement.
They have been removed from operational work and are carrying out administrative tasks.
#Open journalism No news is bad news Support The Journal

Your contributions will help us continue to deliver the stories that are important to you

Support us now
Poor, young and black
Since the killing, details of Italo's deprived childhood have emerged.
For his defenders, his story reflects the social injustice faced by poor black Brazilians like him.
His mother was jailed for robbery when he was just a few months old.
Other mothers in his native favela of Piolho took turns to breastfeed him.
Police records show he was later found abandoned, hungry and barefoot.
By age 10, he had been involved in various thefts, "but none involving violence," De Castro Alves told AFP.
Violence is something the Brazilian police do have a record of, however.
Security forces were responsible for 5.3% of the country's 59,000 homicides in 2014, according to the latest data by the non-government Brazilian Public Security Forum.
It says the victims were mostly poor, young and black.