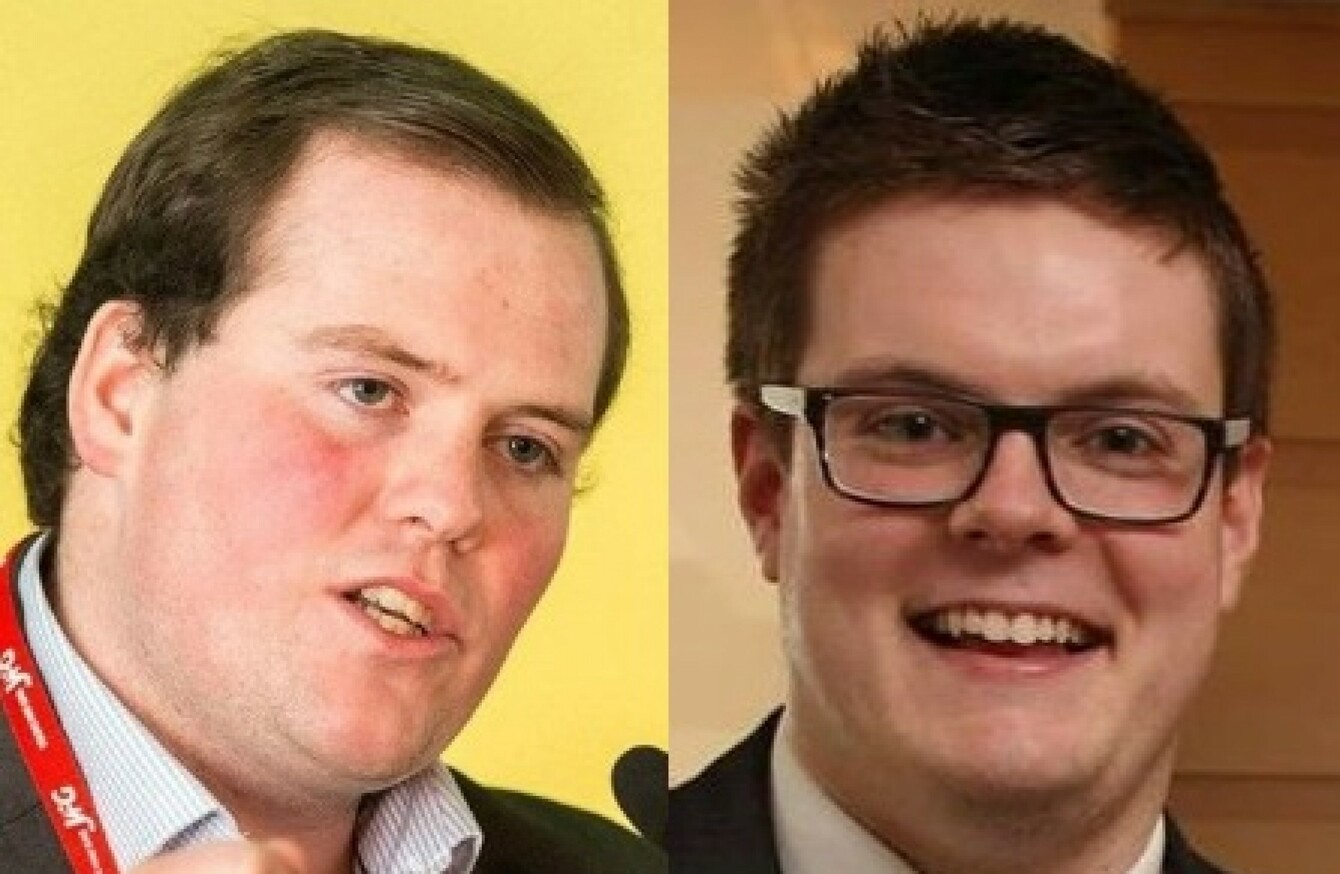 Padraig O'Sullian (right) was succeeded by Colm Taylor last month
Image: YFG/Facebook
Padraig O'Sullian (right) was succeeded by Colm Taylor last month
Image: YFG/Facebook
THE ENTIRE LEADERSHIP of the youth wing of Fine Gael has managed to head off motions of no confidence that members had been looking to table at a crucial party meeting later this month.
The national executive has come under pressure from angry Young Fine Gael members over the sudden and mysterious resignation of president Padraig O'Sullivan in October.
It had been expected that motions of no confidence in each of the 12 members would be tabled at the meeting on Saturday week. However, members were notified this week that the party's national youth officer did not receive five valid motions of no confidence from affiliated YFG branches.
Sources said there had been an overtly technical and strict reading of the party's constitution in making the decision to rule out the motions of no confidence.
The YFG constitution and rules state:
The National Assembly may dismiss any member of the National Executive by a vote of 75% or more, provided that a motion of dismissal has been sent to the National Youth Office by at least five Branches and a Regional Council of the Organisation at least 14 days before the meeting. It then must be included in the agenda for the meeting.
One source explained that motions had been ruled out on the basis of technicalities such as branches not having a quorum of seven members present when agreeing the motion or there was not sufficient notice given of the motion. In one case a branch which submitted a letter with a motion of no confidence was told there was no proposed motion within their letter.
There has been considerable anger among members of the 4,000-strong youth political party over the manner and subsequent handling of O'Sullivan's departure.
The University of Limerick graduate resigned on 23 October – just seven months after taking up the role – after some national executive members visited his home and presented him with an ultimatum to either resign or be forced out.
Vice president Colm Taylor has since assumed the presidency.
In response to the controversy over a dozen YFG branches around the country put their names to a letter calling for the entire national executive to resign or face individual motions of no confidence.
The letter also called for a detailed report and possible investigation into the events surrounding O'Sullivan's departure, referring to his ousting as "a revolting House of Cards scheme".
#Open journalism No news is bad news Support The Journal

Your contributions will help us continue to deliver the stories that are important to you

Support us now
Members of the national executive, including Taylor, have repeatedly refused to speak TheJournal.ie in recent weeks.
None of those contacted today responded at the time of publication.
One informed source agreed that it appeared the national executive had succeeded in quashing dissent ahead of the National Assembly meeting in Portlaoise on Saturday, 28 October. They described the whole situation as "a mess".
YFG was was founded by former taoiseach Garret FitzGerald nearly 40 years ago and counts Leo Varadkar and many current Fine Gael TDs among its former members.