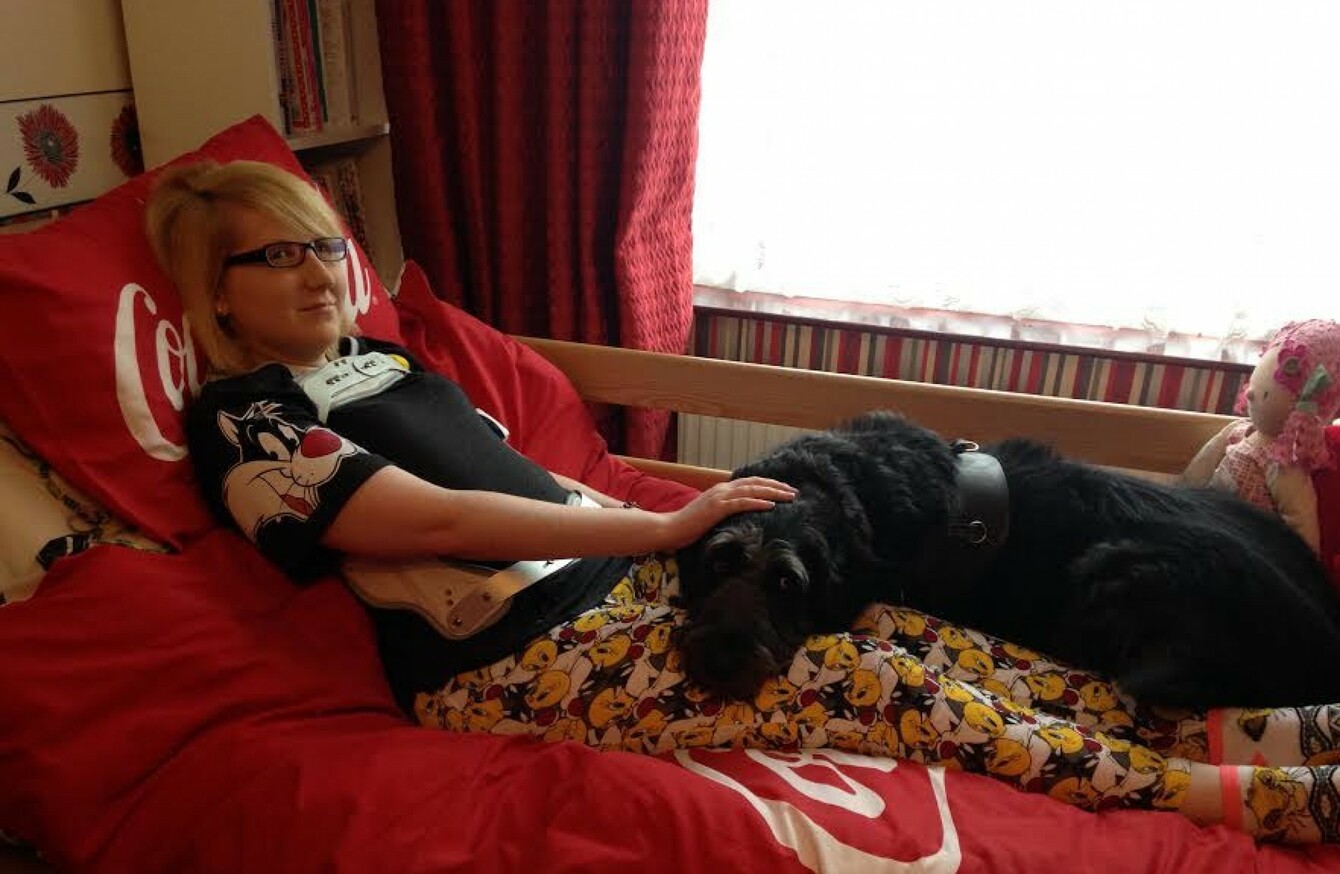 "I HAVE BEEN left confined to bed with absolutely no quality of life. I can't remember the last time I had fun or enjoyed myself."
Those are the words of 27-year-old Elizabeth McNicholas who was living a full and busy life until she started developing back pain in her Leaving Cert year.
She has had numerous major spinal surgeries along with many procedures and treatments – all of which have been unsuccessful.
Elizabeth has also developed a Hypothalamic Pituitary injury which has resulted in her developing narcolepsy with cataplexy and an adrenal insufficiency, which is a life threatening condition caused by the inability to produce the life-sustaining hormone cortisol, and she is also in severe neuropathic pain.
She has run out of treatment options in Ireland and has been referred to the Royal National Orthopedic Hospital in London, which is a world-class centre and specialises in the treatment of her condition.
Despite being referred by her consultant, the funding has been refused by the HSE. Her family has appealed the decision a number of times over the past two years but it has been repeatedly refused.
'I have been left to suffer and deteriorate'
Elizabeth has been confined to her bed for the past three years and her pain, which she describes as 'unbearable', leaves her trembling and squirming through the days.
She told TheJournal.ie that in the past year she has only been able to leave her house in Lucan a handful of times.
For three years I have been left to suffer and deteriorate while waiting on urgent revision spinal surgery.
"My life is now centered around hospital appointments and admissions, some of which could be avoided if I could just have the surgery.
"Dealing with the effects of my condition and the complications I have suffered is difficult enough without having to fight for the treatment I so desperately need, all while struggling to breathe and dealing with never-ending, unbearable pain.
Nobody wants to be told they need to undergo major spinal surgery but to then be made beg for that same surgery is beyond belief. There are no words to describe how desperate I am for something to be done.
Elizabeth added that her mother's days are spent making phone calls, writing letters, and trying to find a solution, all to no avail.
Brenda McNicholas described to TheJournal.ie how the hospital in London is willing to do the operation but the problem is on the Irish side.
"Unfortunately, Elizabeth's consultant, the only one who can deal with her condition, no longer sits in the public sector and the HSE won't accept referrals from consultants who sit privately."
The refusal letter McNicholas received from the HSE states:
Your daughter is a private patient being referred from a private facility. Referrals from private hospital consultants are not eligible for consideration under the HSE TAS.Private patients should apply to their private health insurance provider in relation to accessing funding towards the cost of treatment abroad.
McNicholas explained that no other consultant in the country will take on Elizabeth's case as it's so complex.
"Her current consultant is the only person who can refer her for treatment abroad as the referral must come from a consultant who deals with the condition that the treatment is being sought for.
"If we don't stick with him, Elizabeth won't have any consultant."
Elizabeth's mother also explained that they can't seek funding from their private health insurance provider as they don't cover the hospital she has been referred to. "We would also have to pay up front and claim back at a later date which we just can't afford to do".
'Cries for the life she missed out on'
Elizabeth has missed out on all her young life and been forced to put college on hold indefinitely while she watches all of her friends move on with their lives.
McNicholas told this website how Elizabeth had her first operation in 2008 and started using a wheelchair intermittently, but has been in the wheelchair full-time for the past four years.
However, she added that her daughter rarely uses the wheelchair now as she needs to be harnessed into it with her back brace as she can't sit up independently.
Elizabeth, who once had a bright future ahead of her, now faces a life of no hope and never-ending pain.
"She has absolutely no quality of life, every minute is spent in unbearable pain. She is on a huge amount of medication but this gives her very little relief. Her condition is continuing to deteriorate.
She cries for the life she missed out on. She sees no light at the end of the tunnel and at the moment, neither do I.
Constant pain
Elizabeth needs 24 hour care and is steroid dependent. Her family, including her two younger siblings Sean and Úna, help out in caring for their older sister. Úna won Dublin young carer of the year last year.
McNicholas said the pain Elizabeth experiences can be so intense that she needs to be left alone and can't bear to have anybody sitting near her.
She said that her daughter often spends the night curled up and crying in agony.
Speaking about the operation, McNicholas said, "I would hope it would free her of some of the pain and that she could walk again.
"The operation may get her back on her feet, if anything, it would stop further deterioration.
At the moment it feels like she's facing a life of no hope. She's in constant pain and has no rest-bite.
McNicolas added, "We are heart-broken at the condition she's been left in, especially at knowing that there is something that can be done to improve her situation."