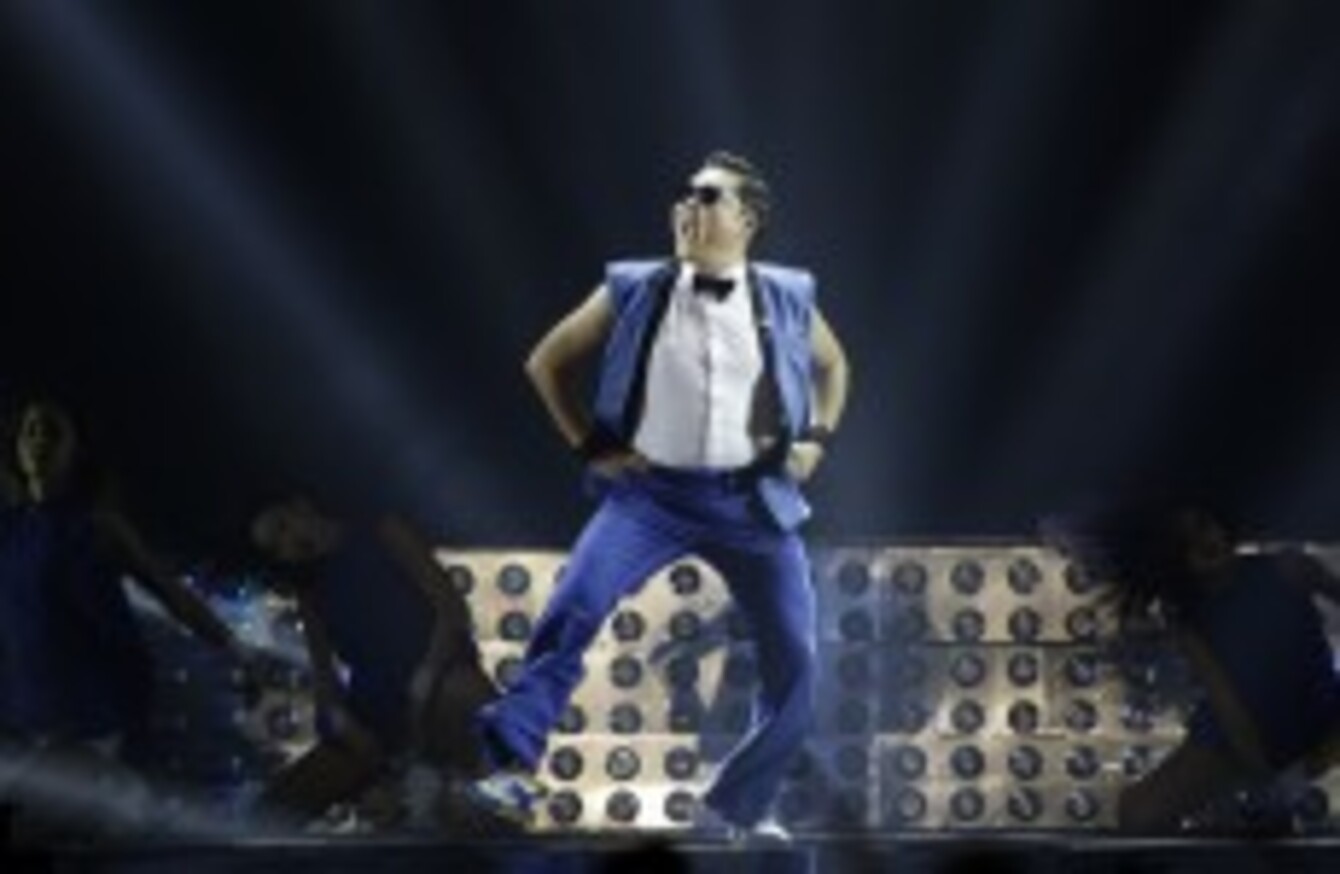 Psy's Gangnam Style was a massive success on YouTube and has amassed 2.24 billion views since it was uploaded in 2012.
Image: AP Photo/Lee Jin-man
Psy's Gangnam Style was a massive success on YouTube and has amassed 2.24 billion views since it was uploaded in 2012.
Image: AP Photo/Lee Jin-man
Note: This article was originally published 14 February, the date when YouTube was founded and launched. However, today is also being treated as the site's birthday as the the first video was made public on 23 April.

YOUTUBE (AND THE web in general) has come a long way since its launch in 2005, seeing off numerous social sites, adapting to mobile, and introducing the world to numerous personalities and concepts.
The origin story
Back in 2005, most of the most popular sites and services today were getting started. Facebook was only a year old, Myspace and Friendster were fending off new competitors after launching in 2005 and Bebo would launch in July 2005 – all of which would eventually fade into obscurity or die out entirely.
YouTube was founded by Chad Hurley, Steve Chen and Jawed Karim, the three of them were originally members of PayPal before creating the site. The site originally started off life as a dating site called 'Tune In, Hook Up', which didn't gather a whole lot of attention.
It was April when it shifted its attention to public video and allowed anyone to upload their own videos. That change in focus came from two unlinked events, one involving Janet Jackson's performance at the Super Bowl in 2004 and the Asian tsunami.
Karmin's struggle to find footage of either event saw him propose the idea of a video-sharing site to Hurley and Chen. The rest, they say, was history.
Secrets to success
The site was incredibly basic, but it had some important qualities that helped paved its success.
While timing certainly played a part, YouTube made the process of uploading videos much easier and took away the costs of hosting them in the first place – which was expensive at the time as the internet and web was still developing – and if something went viral, its scaling methods meant it could handle the increased traffic.
Granted, the quality of phone cameras at the time wasn't great, but anyone could upload a video and immediately see it playing in front of them, encouraging them to upload more.
Also, the ease of uploading meant that anything could be placed on the site, which is why so many memes originated from it (Chocolate Rain, the evolution of dance, anything with cats, etc.).
Source: jawed/YouTube
Another important factor was that the videos used Flash. Back then, video was a painful prospect since you would play them in different formats like Apple's QuickTime, Windows and Real Player.
Flash was supported by all browsers at the time and is the standard for practically every video streaming site out there. Also, it cut down the length of time it took for a video to properly buffer and provided you had a half-decent connection, you could watch a video pretty easily.
The last factor was its discovery capabilities, both on and outside the site. The purpose of the sidebar is to encourage you to watch more videos, and its embeddable features meant sharing them on other sites was easy.
Similar to how articles on a page like this can entice you to click and keep reading, YouTube videos had the same impact. The novelty of watching video online was one thing, but the real joy was discovering a new video and being the first to share it with people.
It was enough to catch the eye of Google a year later, and was bought for $1.65 billion in stock in 2006, and things only went up from there.
A different landscape
Fast forward to today and while the core of YouTube is still the same – people still share funny or interesting videos – the landscape has changed.
YouTube is now a place where TV shows, music artists, advertisers go to now when they want to reach a large audience. You only have to look at shows like Last Week Tonight, John Oliver's US show, to get an idea of how big a role it plays in traditional media, even when a show isn't on the air.
Source: LastWeekTonight/YouTube
Yet the biggest change comes from original channels, especially the focus on individual personalities, now able to compete with the more established shows and companies out there. The quality of videos has risen significantly and while it's a lot of work, it's entirely possible to build a career from it.
There are numerous individuals who release videos to a large audience and are able to support themselves because of it, something that wouldn't have been imaginable five years ago, let alone ten. The lack of barriers and the personal aspect of these channels, sometimes allowing for more expressive and honest videos, means audiences can relate more to them.
One example is Melanie Murphy whose channel focuses on topics like beauty, fashion and body image. Having begun her channel more than a year ago, she says that YouTube "has changed everything about me and my life", helping her develop new skills and opening up new paths, giving her the chance to work with media companies, TV stations, and charities among others.
"The best thing about YouTube, for me, is the fact that anyone can create and build a platform from which they can have their voice heard by people from all over the world. I love that I can engage with hundreds of thousands of people that I'll never meet. YouTube enables people to make an impact from their own bedrooms!"
Source: Melanie Murphy/YouTube
Another person who has established a career from YouTube is Sean McLoughlin, who runs the Let's Play channel JackSepticEye. He recently passed the three million subscribers mark (he was at 1.5 million back in October), making him one of the fastest rising YouTube stars internationally.
"The best thing about it is how personalised and intimate it all is," explains McLoughlin. "That I can sit here in my room doing it every single day and interact with millions of people directly and immediately every day blows my mind. Very few other jobs let you do that."
Source: jacksepticeye/YouTube
Both are incredibly thankful for the opportunities it's afforded them, saying that their success on the platform has changed their lives for the better. But what do they feel is the secret to YouTube's success?
For McLoughlin, it's the viewers that make the site so successful as they're the ones who determine "what lives and what dies on the site and what becomes viral," and their direct feedback "helps mould and adapt content much faster than many other areas."
As for Murphy, she also cites the accessibility of the platform, for both creators and viewers, as a key reason behind its popularity.
It's that sort of light, niche entertainment that's easily accessible 24/7 that one can't find on television. There's literally something for everyone, and that's why it's booming. Video killed the radio star, and YouTube is killing the television star!