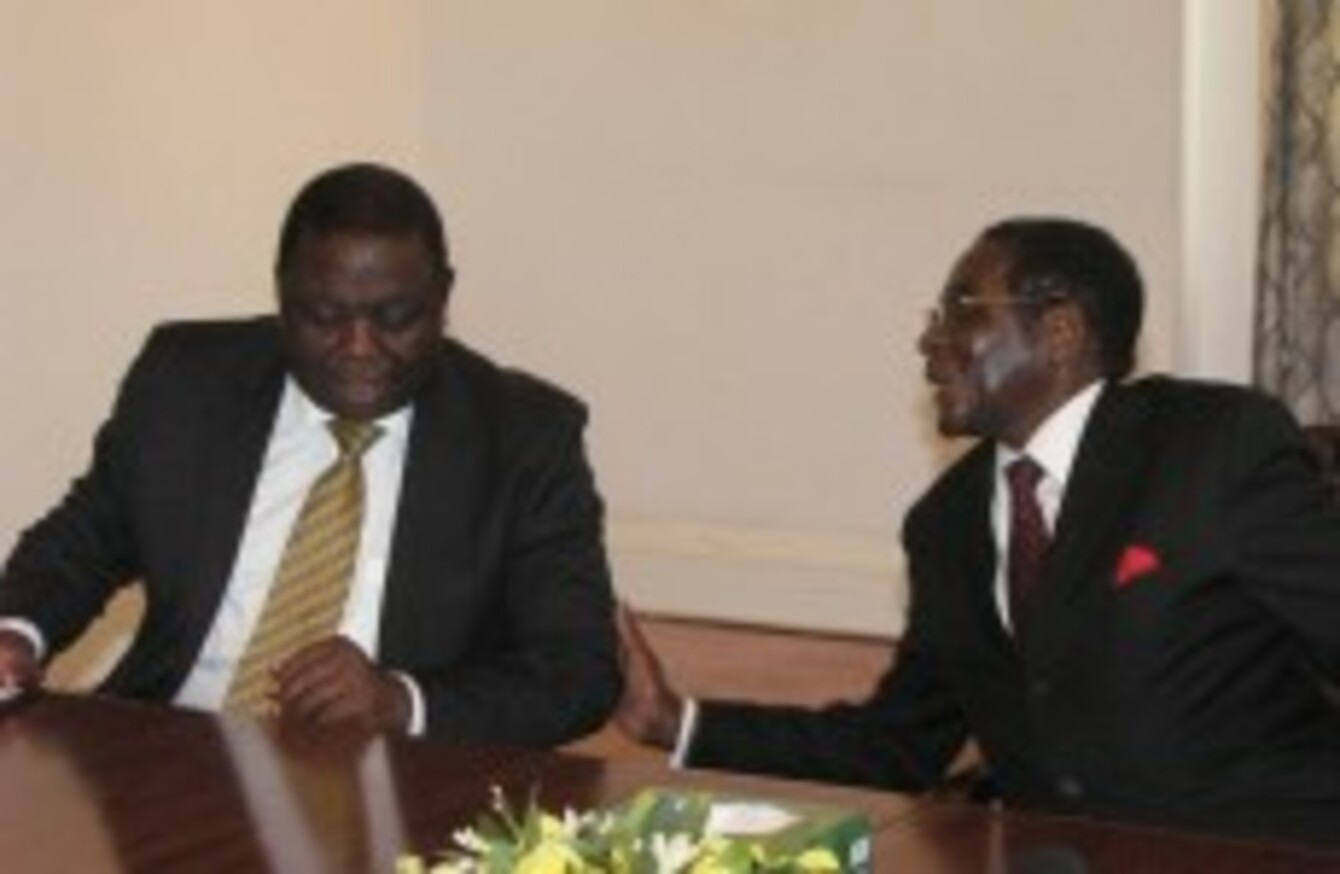 Morgan Tsvangirai (L) and Robert Mugabe (R)
Image: AP Photo/Tsvangirayi Mukwazhi
Morgan Tsvangirai (L) and Robert Mugabe (R)
Image: AP Photo/Tsvangirayi Mukwazhi
ZIMBABWE'S PRIME MINISTER has said he wants to leave the country's unity government after police officers arrested one of his top political allies, calling it the act of "a barbaric and senseless dictatorship."
Prime Minister Morgan Tsvangirai entered into an unlikely power-sharing agreement in 2009 with Zimbabwe's longtime ruler.
Robert Mugabe, who has been in power now for more than three decades, remained president under the deal and now says he too is ready to end their shaky partnership.
On Thursday, authorities detained Energy Minister Elton Mangoma, a founder of Tsvangirai's longtime opposition party, the Movement for Democratic Change. Mangoma was escorted from his offices by three plain clothes police officers, the party said.
An angry Tsvangirai said his party was imbued with a new sense of urgency over examining its continued role in the power-sharing government after "a minister is paraded like a common criminal."
"We have reached a moment where we say enough is enough," saying that he wanted "a clean divorce" amid irreconcilable differences.
In January, lawmakers accused Mangoma of bypassing tender procedures to buy gasoline from a little-known South African firm and alleged all the gas was not delivered. Mangoma denies any wrongdoing and has said a fuel deal was hurried through to ease nationwide fuel shortages.
It's not the first time Zimbabwean authorities have brought charges against one of Tsvangirai's allies.
Roy Bennett, who was the prime minister's choice to become deputy agriculture minister, was arrested and accused of plotting to overthrow Mugabe.
Bennett was acquitted of the charges in May, though the state is appealing.
Mugabe was scheduled to leave Harare on Thursday for an African Union meeting in Ethiopia on the violent political standoff in Ivory Coast, where President Laurent Gbagbo has refused to leave office after the U.N. said he lost the November election.
Tsvangirai said Mugabe was going on a trip so he could turn his back on the latest blow to the shaky coalition.
The dispute over Mangoma comes amid a recent upsurge in political violence, a clampdown on dissent and the deployment of troops across the country in a show of force to intimidate ordinary Zimbabweans.
"People are being force marched to attend rallies and there has been an upsurge in cases of intimidation and state-sponsored violence," Tsvangirai said.
Tsvangirai said in eastern Zimbabwe some villagers had fled to neighboring Mozambique for their safety.
- AP