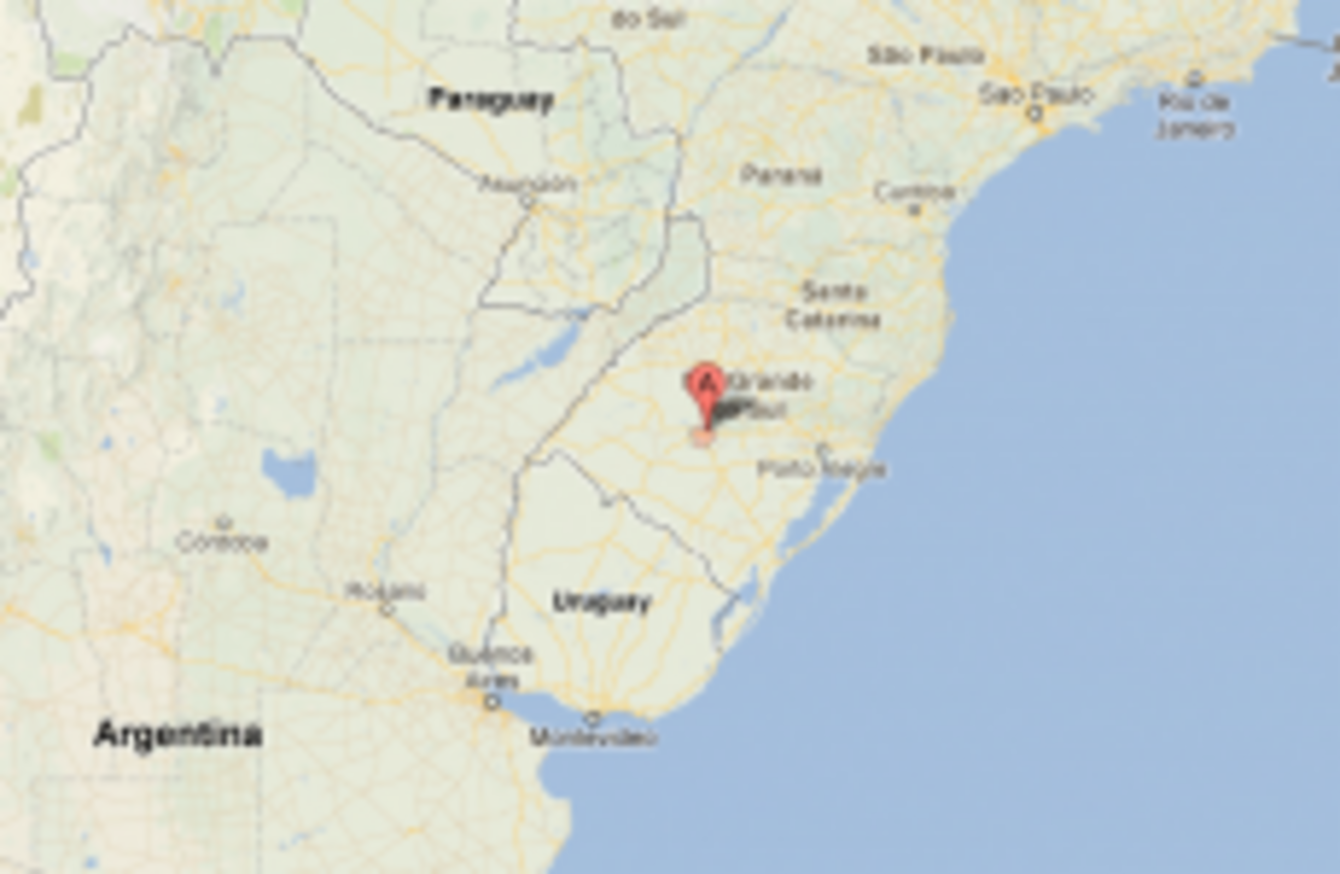 Santa Maria in Rio Grande do Sul is in the south of Brazil
Image: Google Maps
Santa Maria in Rio Grande do Sul is in the south of Brazil
Image: Google Maps
Updated 1.35pm
POLICE IN BRAZIL now say that 245 people have died following a fire at a nightclub in southern Brazil.
Firefighters are searching through the charred remains of the Kiss nightclub in Santa Maria in the Rio Grande do Sul.
Diario De Santa Maria reports that a fire engulfed the nightclub at around 2am local time. Preliminary reports indicate it was caused by a firework being let off as a band played in the nightclub.
Santa Maria fire chief Guido de Melo said there was panic after the fire started and many revellers got trampled.
Brazilian President Dilma Rousseff has cut short a visit to an EU-Latin America summit in Santiago, Chile where she was taking part in a summit between the 27-member European Union and the Community of Latin American and Caribbean States, or CELAC.
She is now returning to Brazil.
Details of the tragedy are still sketchy but local media reports say that the fire broke out when the nightclub was hosting a university party featuring a rock band.
The town is home to the Federal University of Santa Maria.
The band used pyrotechnics as part of its show, O Globo newspaper reported. The paper said the popular club in the university town was packed with between 300 and 400 party goers when the fire erupted.
"The main cause of death was asphyxiation," de Melo was quoted as saying by Estadao newspaper.
Pictures published by local media showed firefighters dousing the burned-out red brick building with water to put out the flames.
"We have just taken the fire under control," Colonel Silvia Fuchs of the local fire department was quoted by the G1 website as saying. "Now we are removing the bodies."
According to O Globo, the dead were being taken to a nearby sports club, which has been converted to a makeshift morgue.
Family member were gathering outside in the hope of getting news of their loved ones. Rio Grande do Sul governor Tarso Genro was expected in Santa Maria later Sunday, O Globo said.
"This is a sad Sunday," he is quoted by the paper as saying in a Twitter message. "We are taking all possible passive and active measures."
- additional reporting from AFP