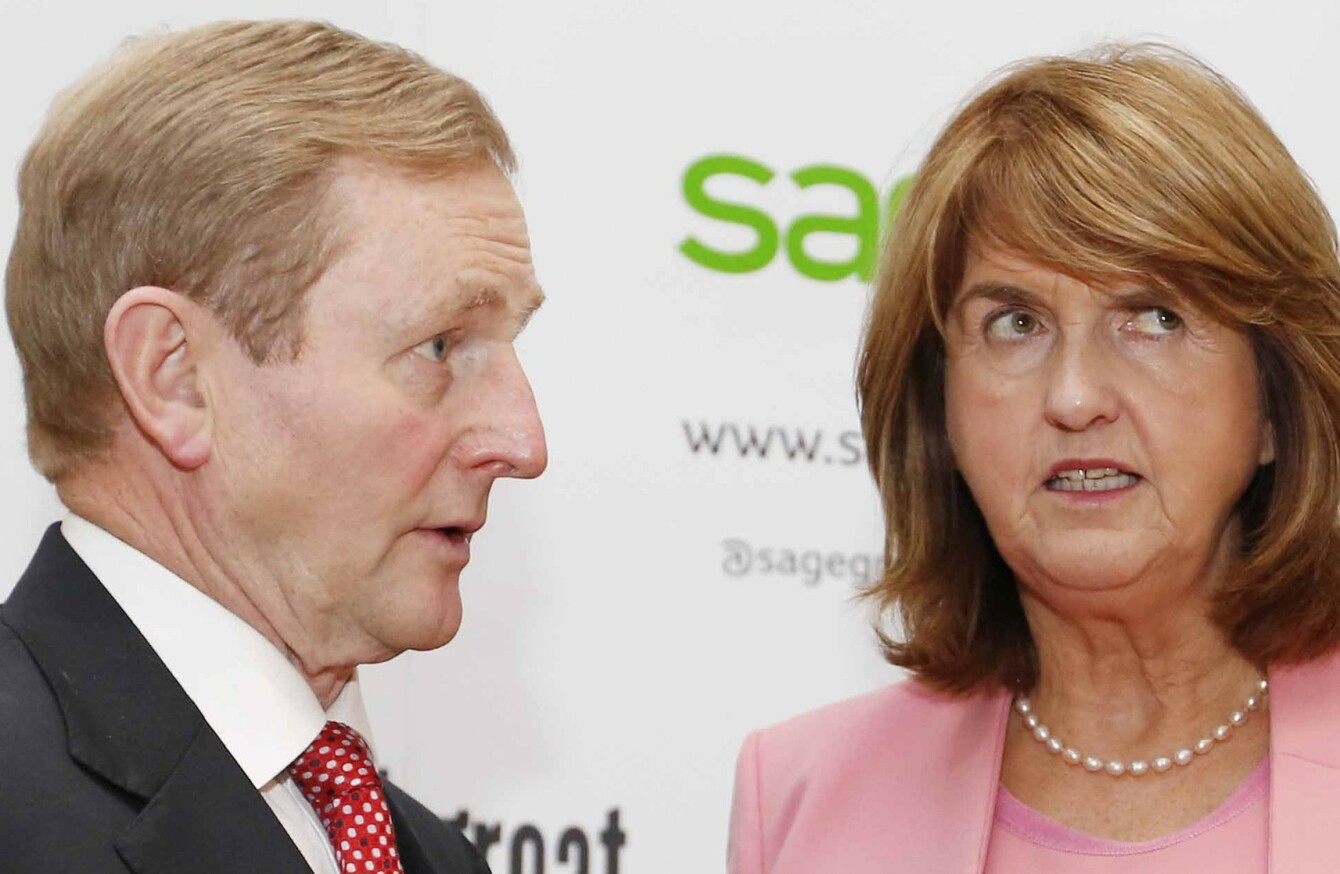 Enda Kenny and Joan Burton
Image: Sasko Lazarov
Enda Kenny and Joan Burton
Image: Sasko Lazarov
THE 2011 GENERAL election couldn't have gone any better for Fine Gael and Labour with both parties winning a historic number of Dáil seats.
Fine Gael's record number of 76, combined with Labour's record number of 37, ensured a bullet-proof majority that has been eroded over the last five years but was still untouchable at the conclusion of the 31st Dáil earlier this month.
In this general election both parties are running separate campaigns, but at the same time hoping to be re-elected to govern together for another five years. While the latest polls indicate that's unlikely to happen, the parties have just under two weeks to change their own fortunes.
But strategists on both sides quietly acknowledge something which has become blatantly obvious to political observers examining the various constituencies in recent months: Fine Gael cannot have a good day without Labour having a bad day – and vice versa.
"I'm really worried about Labour," said one senior Fine Gael strategist at the party's Ard Fheis last month, acknowledging that the collapse of the junior coalition partner's vote might benefit Fine Gael but, crucially, won't get the government back into office.
Alternatively, a good day for Labour will see it hold on in certain constituencies by scraping enough votes together for the final seat. In some areas this will come at the expense of Fine Gael.
Dublin battles
It's no wonder the Irish Independent reported late last month that Labour strategists are planning to 'take out' so-called 'second-tier' Fine Gael candidates in certain constituencies.
Second-tier or not, the problem of Fine Gael v Labour for the last seat is particularly acute in Dublin.
Take Dublin-Rathdown, now a three-seater, where Labour's Alex White is fighting for his political life. If he is to take the third seat it will most likely come at the expense of Fine Gael's second candidate, councillor Josepha Madigan.
Alternatively, Madigan could knock out White if Fine Gael has a good day in a constituency where it has traditionally been very strong.
In nearby Dublin Bay South, the last of four seats could come down to a battle between the incumbent Labour TD Kevin Humphreys and the insurgent Fine Gael councillor Kate O'Connell.
She could benefit from the transfers of the expected poll-topper Eoghan Murphy in a traditional Fine Gael stronghold. Either way, it's hard to see them both getting elected.
In Dublin Bay North the sitting Labour TD Aodhán Ó Ríordáin could come under threat from Fine Gael councillor and former Dublin lord mayor Naoise Ó Muirí, who is closely aligning himself with expected poll-topper Richard Bruton in a bid to maximise his chances of election.
In Dublin North-West, Fine Gael is hoping to win a seat in the only constituency where it it did not get any TD elected in 2011 and has high hopes for councillor Noel Rock.
But Rock's election would likely come at the expense of sitting Labour TD John Lyons who cannot count on the surplus of his now former Labour colleague Róisín Shortall this time around.
Around the country
But it's not just a problem for the two parties in Dublin.
A good day for Fine Gael in Cork South-Central would see Jerry Buttimer re-elected along with Simon Coveney, but this would almost certainly come at the expense of Labour's Ciarán Lynch.
In Galway West, Labour's Derek Nolan has a fighting chance of keeping his seat in the old stomping ground of Michael D Higgins. But his election would likely push out the two Fine Gael hopefuls, John O'Mahony and Hildegarde Naughten, who are vying for a seat.
In Limerick City the last of four seats is likely to be a battle between Labour's Education Minister Jan O'Sullivan and Fine Gael backbencher Kieran O'Donnell, who'll be hoping that transfers from Michael Noonan will secure his re-election. O'Sullivan will hope her status as a minister will aid her bid to hold her seat.
In Tipperary the re-election of Alan Kelly seems a good bet after his, er, high-profile in recent weeks, but that will likely come at the expense of the second Fine Gael candidate Noel Coonan. Alternatively, on a really bad day for Labour, Kelly does not hold his seat and Coonan seats the last of the five on offer.
Despite vastly different electoral systems, this problem has been likened to what happened in last year's UK general election where the Conservatives won an unexpected majority as a result of taking dozens of seats off its coalition partner, the Liberal Democrats.
The problem for Fine Gael is that even if it does take seats off Labour in all of the aforementioned constituencies it does not have a realistic chance of an overall majority, which is why party strategists on both sides are worried.
Labour does need Fine Gael in this election, particularly in areas like Dublin West where Joan Burton is likely to be reliant on Leo Varadkar to hold her seat.
But ironically, in lots of areas. it could well be the case that the biggest barrier to the re-election of the two coalition parties is each other.
[embed id="embed_1"]