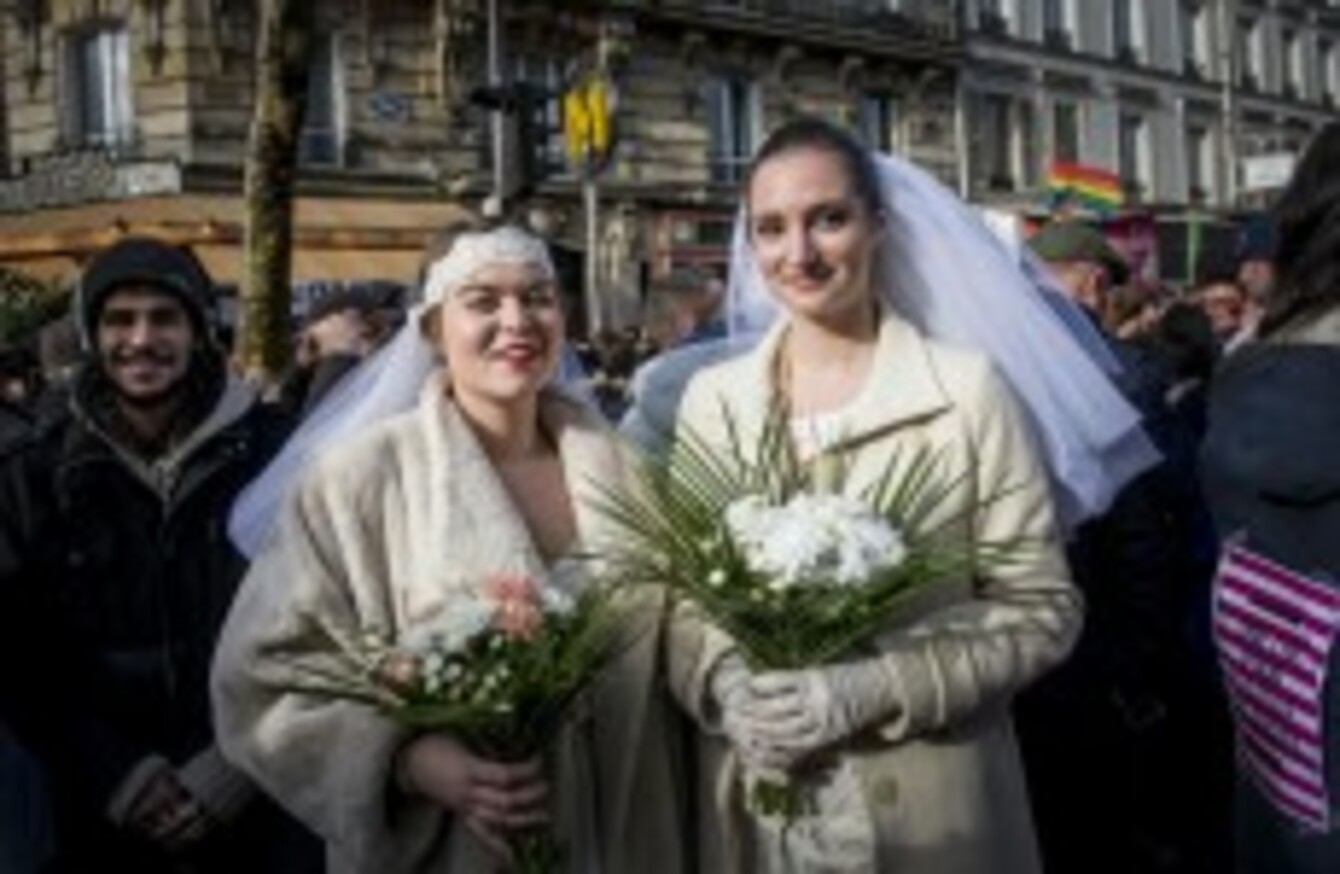 Two women during a same-sex demonstration in Paris.
Image: (AP Photo/Benjamin Girette, File)
Two women during a same-sex demonstration in Paris.
Image: (AP Photo/Benjamin Girette, File)
FRANCE BECAME THE 14th country to legalise same-sex marriage after President Francois Hollande signed the measure into law following months of bitter political debate.
Hollande acted a day after the Constitutional Council threw out a legal challenge by the right-wing opposition, which had been the last obstacle to passing the bill into law. The legislation also legalises gay adoption.
But while gay rights groups hailed the move, opponents of the measures have vowed to fight on.
Hollande made "marriage for all" a central plank of his presidential election campaign last year.
On Friday, he tried to turn the page on months of bitter opposition to the measures, arguing it was "time to respect the law and the Republic".
"I will ensure that the law applies across the whole territory, in full, and I will not accept any disruption of these marriages," said the president.
The Socialist mayor of the southern French city of Montpellier will officiate the municipality's first gay marriage on May 29, in what is also expected to be the country's first.
Violent protests
Marriages in France must be civil ceremonies performed in town halls, most of which take several weeks to process applications. Couples can then hold a religious ceremony.
The issue of gay marriage and adoption has provoked months of acrimonious debate and hundreds of protests that have occasionally spilled over into violence and is unlikely to drop off the political agenda.
Although the Constitutional Council approved the bill on Friday, the International Day Against Homophobia, its opponents have vowed to fight on.
They have called a major protest rally scheduled for May 26 in Paris and previous protests have drawn hundreds of thousands of people.
In April, the main right-wing opposition UMP party of former president Nicolas Sarkozy challenged the measures on constitutional grounds immediately after deputies passed the bill in parliament.
But Friday's statement by the Constitutional Council said same-sex marriage "did not run contrary to any constitutional principles," and that it did not infringe on "basic rights or liberties or national sovereignty".
Reacting to the ruling Friday, UMP party chief Jean-Francois Cope told TF1 television: "It is a decision that I regret, but that I respect."
But late on Friday, between 200 and 300 protesters gathered in central Paris to denounce the ruling backing the bill and calling on Hollande to resign. One police officer was injured after a flammable liquid was thrown in his face.