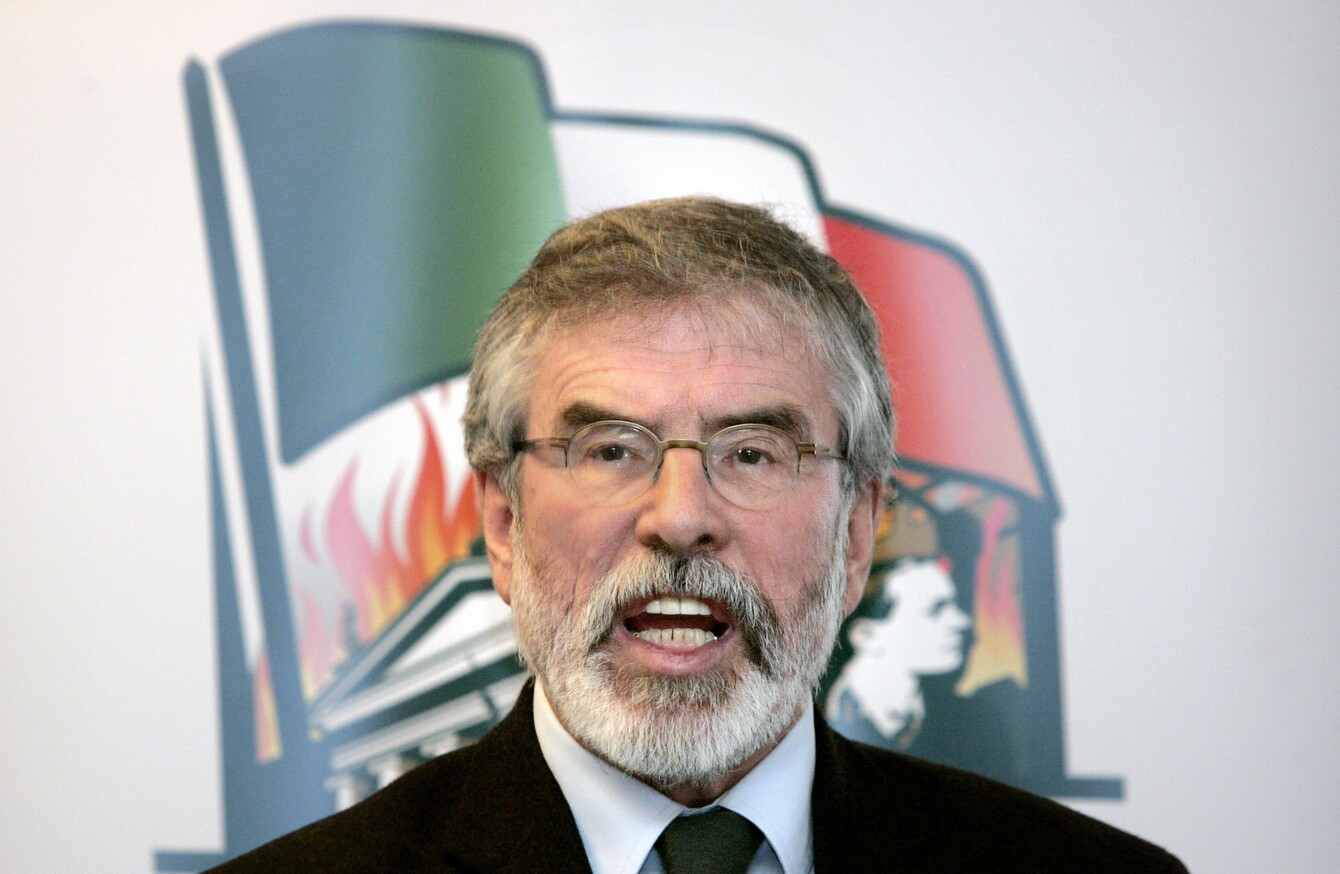 Image: RollingNews.ie
Image: RollingNews.ie
SINN FÉIN LEADER Gerry Adams has said he was not surprised to learn that the idea for a controversial Dublin City Council banner commemorating the Easter Rising came from the Department of the Taoiseach.
The College Green banner features four historical figures – including former Irish Parliamentary Party leader John Redmond, who explicitly condemned the rebellion – that favoured constitutional politics.
The banner was met with a largely negative reaction on social media, with some calling it "absurd" and "confusing".
The three other politicians pictured on the banner – Henry Grattan, Daniel O'Connell, Charles Stewart Parnell – had died decades before 1916.
Dublin City Council defended the move last week, saying the banner was one of a series of installations in the capital marking the commemoration. It said the figures displayed at College Green were "as much a part of the historical narrative of Irish nationalism as anyone else".
Addressing a party rally in Arbour Hill today, Adams said the idea for the banner was in line with the thinking behind the much-criticised 1916 video, Ireland Inspires 2016, that failed to include any reference to the uprising.
The Sinn Féin leader accused "some" individuals of seeking to "revive Redmondism and denigrate the leaders of 1916″.
"The time has come to confront this insidious and dishonest campaign," he said.
'Ahistorical nonsense'
Adams criticised those who were "worried that honouring the 1916 leaders would retrospectively justify violence" and yet said nothing about "Redmond's role in sending tens of thousands of Irish to fight Germans, Austrians and Turks" during World War I.
"Was John Redmond not a 'man of violence'?  Ireland, as a submerged nation within the UK, was carried into [that war] without any say in the matter," he said.
This is the 'democracy' which the new Redmondites claim would have led inevitably to Irish independence. Such ahistorical nonsense.