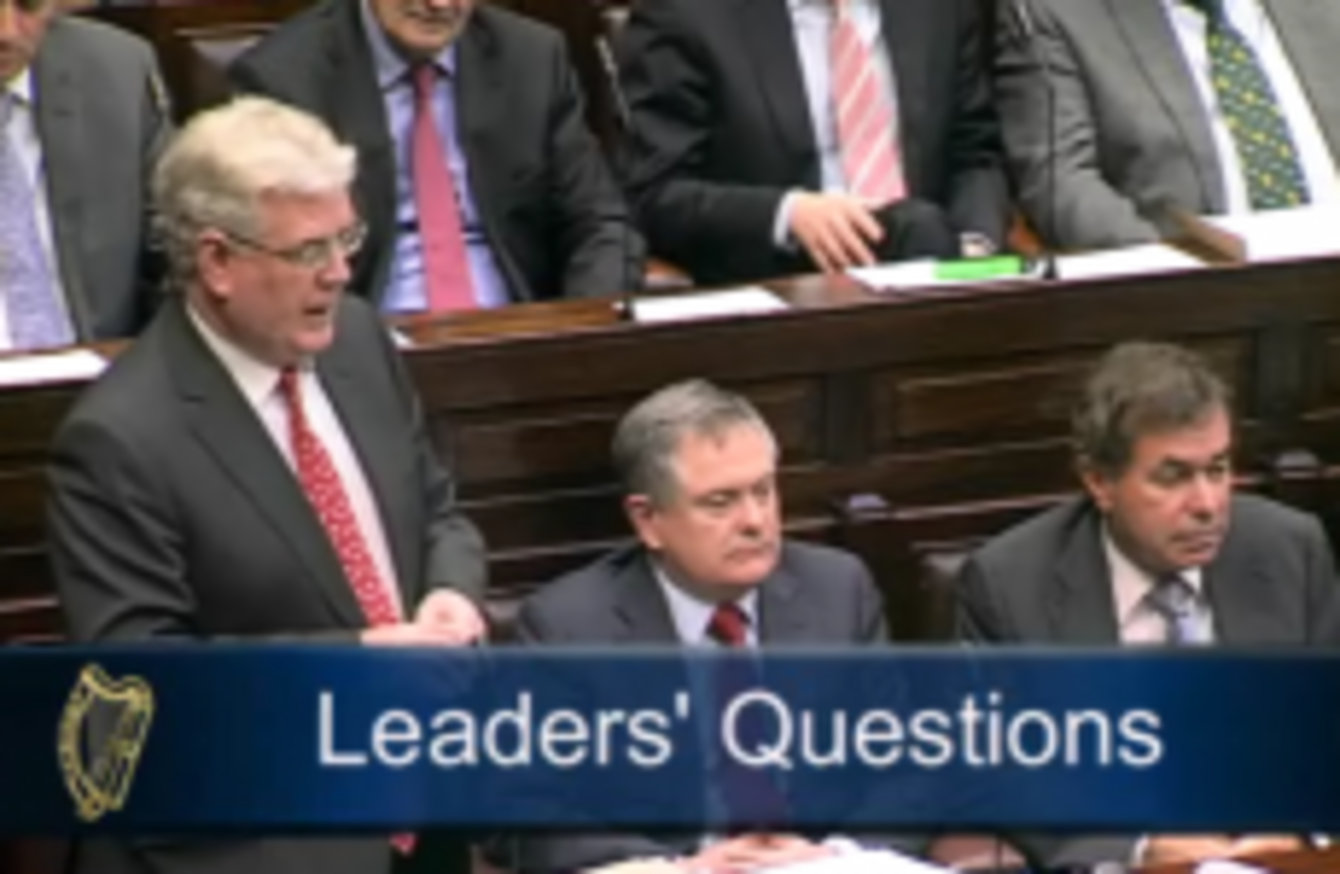 TÁNAISTE EAMON GILMORE has said the Minister for Justice is not 'silencing' Gardaí who disagree with him, insisting that internal discipline within the police force is not a matter for the government or politicians in general.
Gilmore was speaking after facing opposition criticism after the minister, Alan Shatter, sanctioned disciplinary action against four Garda sergeants who walked out of his speech to the Association of Garda Sergeants and Inspectors' annual conference in Sligo this week.
The four officers, who were following a mandate from their members in the Carlow-Kilkenny Garda division, are attending a meeting at Templemore with an assistant garda commissioner today to discuss the events.
"The Minister for Justice isn't silencing anybody," Gilmore said during this morning's Leaders' Questions in the Dáil, saying the minister and government were "perfectly willing" to discuss complaints from Gardaí "through the representative bodies".
He added, however:
The issue of discipline in the Garda Síochana is not a matter for the Minister for Justice, it's not a matter for the government – it's a matter for the Garda Commissioner.
Gilmore was responding to criticism from Sinn Féin's Mary Lou McDonald, who said Shatter was being "vindictive" to Gardaí.
"All the honeyed words… count for nothing if you are intent not alone in cutting their resources professionally, but also cutting their means of providing for their families – and to add insult to injury, you don't want them to open their mouths or raise a voice of criticism. That is simply wrong," she said.
'Commode'
The technical group's Mattie McGrath said Shatter had not shown "any semblance of understanding… or dare I say, any respect, to the members of An Garda Síochana."
McGrath alleged that Shatter's disputes with Gardaí even extended to the officers assigned to protect his home, alleging that those officers had not been allowed to use Shatter's household toilet – a claim which prompted hysterical laughter from Shatter on the government's front bench.
"Are they going to have to bring in a commode and use it outside his house?" McGrath wondered.
Shatter, while not speaking aloud, had mouthed to McGrath that his claims were 'not true'.