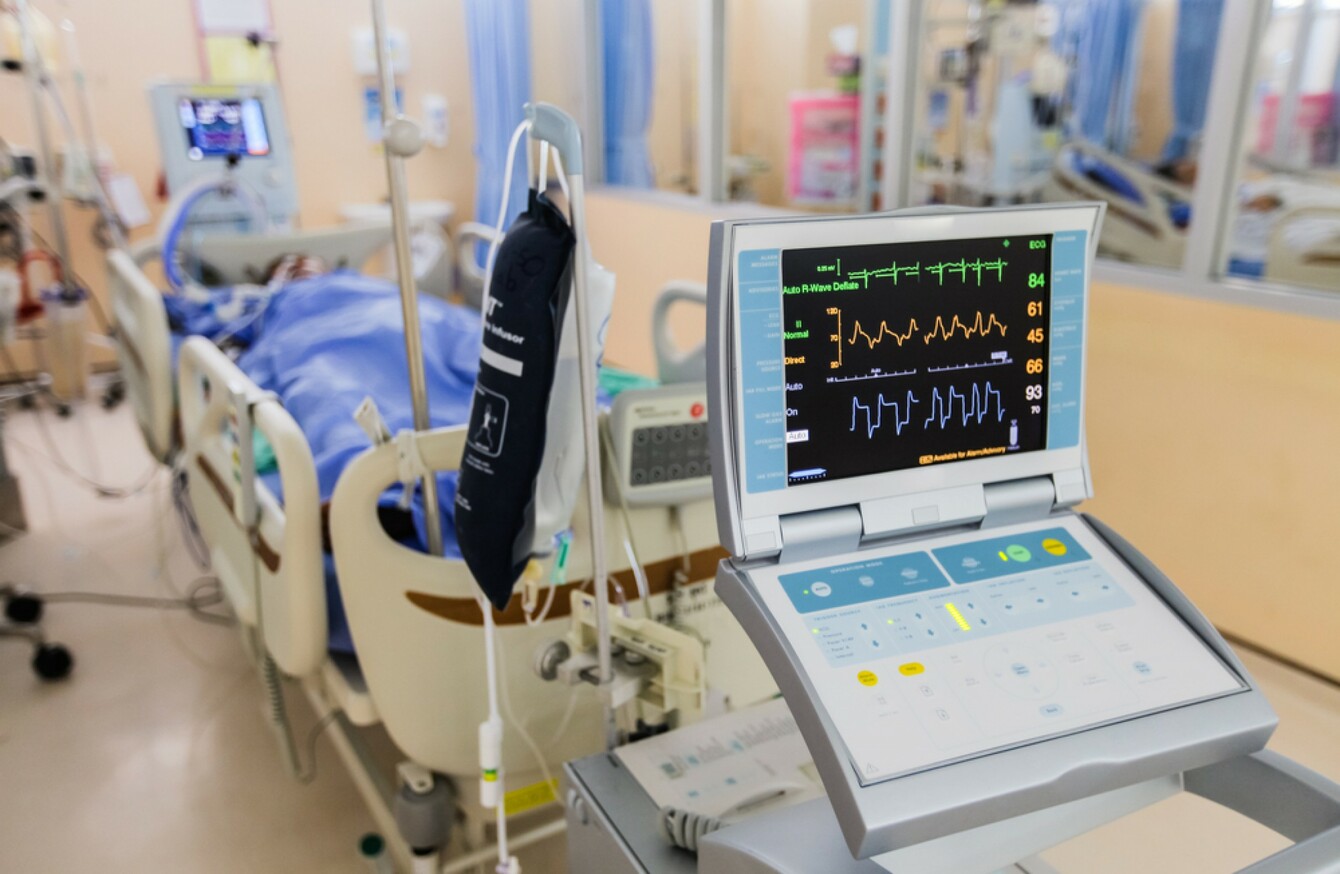 WHAT IS WRONG with Ireland's healthcare system?
Long waiting lists, healthcare professionals under pressure, and emergency services at breaking point are some of the most common complaints that we hear about, but what can we do to change it?
And before you say 'money', the short response to that is it's not the main problem – a recent report seriously questioned whether increasing the money going into the healthcare system would make things better by the same proportion.
Using some of the metrics that Ireland scored the lowest on as part of the EuroHealth Consumer Index 2016, we've taken a look at what are the worst aspects of our healthcare system, and what we could do to change it (with a quick reminder that it's not just the healthcare system at fault, either).
What did we score worst on?
In the EuroHealth report, a 'matrix' shows how each of the 35 countries surveyed scored under six main headings, marking them with a green, yellow or red mark to represent 'good', 'intermediary' or 'not-so-good' respectively.
To view this image in Full click here.
The matrix is broken down into six headings and the number of subheadings, and out of those six headings, Ireland scored 'not-so-good' on the following:
1. Patient Rights and Information (12)
No-fault malpractice insurance
Right to second opinion
Online booking of appointments
e-prescriptions
2. Accessibility (6)
Direct access to specialist
Major elective surgery <90 days
CT scan <7 days
A&E waiting times
3. Outcomes (9)
4. Range and Reach of Services (8)
Equity of healthcare systems
Cataract operations per 100,000 age 65+
5. Prevention (7)
Alcohol
Physical activity
We were given all 'intermediate' or 'good' marks under the sixth category; Pharmaceuticals.
Based on this score sheet, we grouped some of those subheadings together, had a look at what we're doing wrong, and possible ways of fixing it.
Accessibility is the main issue for the Irish healthcare system (we scored badly on 4/6 criteria); patient rights were an issue too.
We also had a quick look at what we scored badly on that don't have anything to do with the healthcare system: COPD mortality attitudes to alcohol and exercise.
Lastly, there's a general look at what needs to be done to improve the Irish healthcare system, and Simon Harris' attitude towards it.
Accessibility
Ireland ranked the worst in a survey of European countries for long waiting list times: both in terms of the number of people waiting and the length of time.
This isn't a problem that can be solved by money or funding (there's no obvious link between access to healthcare and healthcare funding), but rather it's an issue of system or management reform.
One major difference between the four countries with the worst waiting times and those with the best is that the latter never had systems where hospitals/clinics were financed beforehand to provide healthcare for citizens.
Dr Arne Björnberg used to be European Manager for healthcare solutions for IBM back in the 1990s and is now Chairman of the Health Consumer Powerhouse. He explains:
On the contrary, their hospitals and primary care doctors were always remunerated for services provided, so that in Belgium, Switzerland, Germany and Austria waiting lists are short or non-existent.
So basically, if people are on waiting lists for prolonged periods of time, it means hospitals aren't getting money. They have to see and treat patients to get paid by the state.
To show how much of a difference this approach to healthcare makes, Germany's waiting times to see your primary care doctor were measured in minutes, not weeks.
Again; this isn't a funding issue as Macedonia, which isn't a particularly wealthy country has one of the best rates of accessible healthcare, while Sweden has one of the worst.
The Irish Nurses and Midwives Organisation and the Irish Medical Organisation say that most accessibility problems come down to staffing issues – that there are simply not enough staff in proportion to patients.
That's difficult to compare to other countries, but a recent FactCheck from the end of last year showed that there has only been a slight decrease in the numbers of whole time equivalent staff working in the healthcare system.
Patient rights and information
Under this heading, Ireland doesn't have access to no-fault malpractice insurance, a right to second opinion, online booking of appointments or e-prescriptions.
In countries such as Norway (which topped the list on patients the information and rights) they offer insurance that covers a patient who suffers because of treatment – even though there might be no one at fault.
The Nordic countries are good examples for patient malpractice insurance, where the issue of 'who might have made an error' is separated from the issue 'has the patient suffered because of preventive causes?'.
Nordic healthcare institutions are carrying insurance for the latter circumstance, meaning that it is very rare for patients having to enlist expensive lawyers to push malpractice cases.
In Norway, you're also entitled to a second opinion if your request for a referral has been rejected. You can speak with any doctor for a second opinion including an emergency doctor, private doctor, or online doctor.
Macedonia and Serbia have implemented a system which displays where healthcare specialists around the country are, with their availability displayed to view. GPs can book a patient for a referral if needed, so that the patient leaves the office with a date and time.
Macedonia also have an e-prescriptions facility, meaning patients who have repeat prescriptions can apply for them from their home, meaning patients don't have to book GP appointments just to get prescriptions.
"These are important," says Björnberg. "If you agree that patients are grown-ups who should be supported at taking their own decisions on their health."
It's not all the healthcare system's fault though and some things made it to the list that aren't under the Department of Health's remit.
COPD mortality
Chronic Obstructive Pulmonary Disease deaths, although recorded included in the report, doesn't make up the 'final score' for countries assessed as part of the Euro Health Index. This is because the data is so poor; very heavy smokers Bulgaria, for example, report very low rates of COPD death, which is simply not possible.
What makes it worth mentioning here, though, is that Ireland and Britain have had the highest COPD death rates in Europe for years – and we're unsure as to why.
You do have a lot of rain, damp and draughty houses," says Dr Björnberg. "But the connection of that to COPD is not proven.
COPD is a disease that makes it hard to empty air out of your lungs. This is because the airways get smaller leading to airflow obstruction, which can result in shortness of breath as you try to push the air through a smaller gap.
Most people with COPD are smokers or have smoked in the past. Sometimes COPD is caused by working or living for many years in an environment where there is exposure to smoke, dust or other fumes.
So cold and damp weather is worth being wary of.
Alcohol and exercise
Ireland also scored badly in terms of alcohol consumption and physical activity, which are preventative healthcare measures.
In Ireland, it's not the alcohol intake in itself that's the problem, but rather the massive drinking sessions in one go, compared to the Mediterranean's moderate intake that's spread out over time.
"A steady moderate alcohol intake seems to be beneficial against Cardiovascular Disease, and thus having a positive effect on public health," says Björnberg.
Alcohol intake is the cause of around 900 incidences of cancer in Ireland each year, and 500 of these patients will die of their disease.
Ireland has also a rising rate of obesity: with the Royal College of Physicians warning that Ireland could become the fattest country in Europe by 2030 if urgent action isn't taken.
Efforts have been made to curb this rate by promoting exercise among young people, and imposing more regulations on sugary and fatty foods.
Health Minister's mission
Björnberg's major assertion on how to fix healthcare systems revolves around two key concepts: demanding better management results, something he says all healthcare systems are looking at, and taking politics out of the healthcare system.
If that sounds familiar, it's because it echoes previous promises made by health minister Simon Harris: who upon his appointment, promised to fix the healthcare system by taking the political element out of it, and more recently, asked for improvements from hospital managers.
Harris clarified that this didn't mean firing managers, but asking them to improve their way of operating, and looking at other hospitals' examples of how to improve conditions, like any other business would.
"It's not difficult," according to Björnberg. "You just need to manage in a way that motivates staff, maximises production, keeps costs down, and monitors the output of healthcare."
Apart from that, just stand in the main entrance of the hospital with a cane to keep amateurs out and let the professionals do their jobs.
"And by amateurs, I mean politicians."