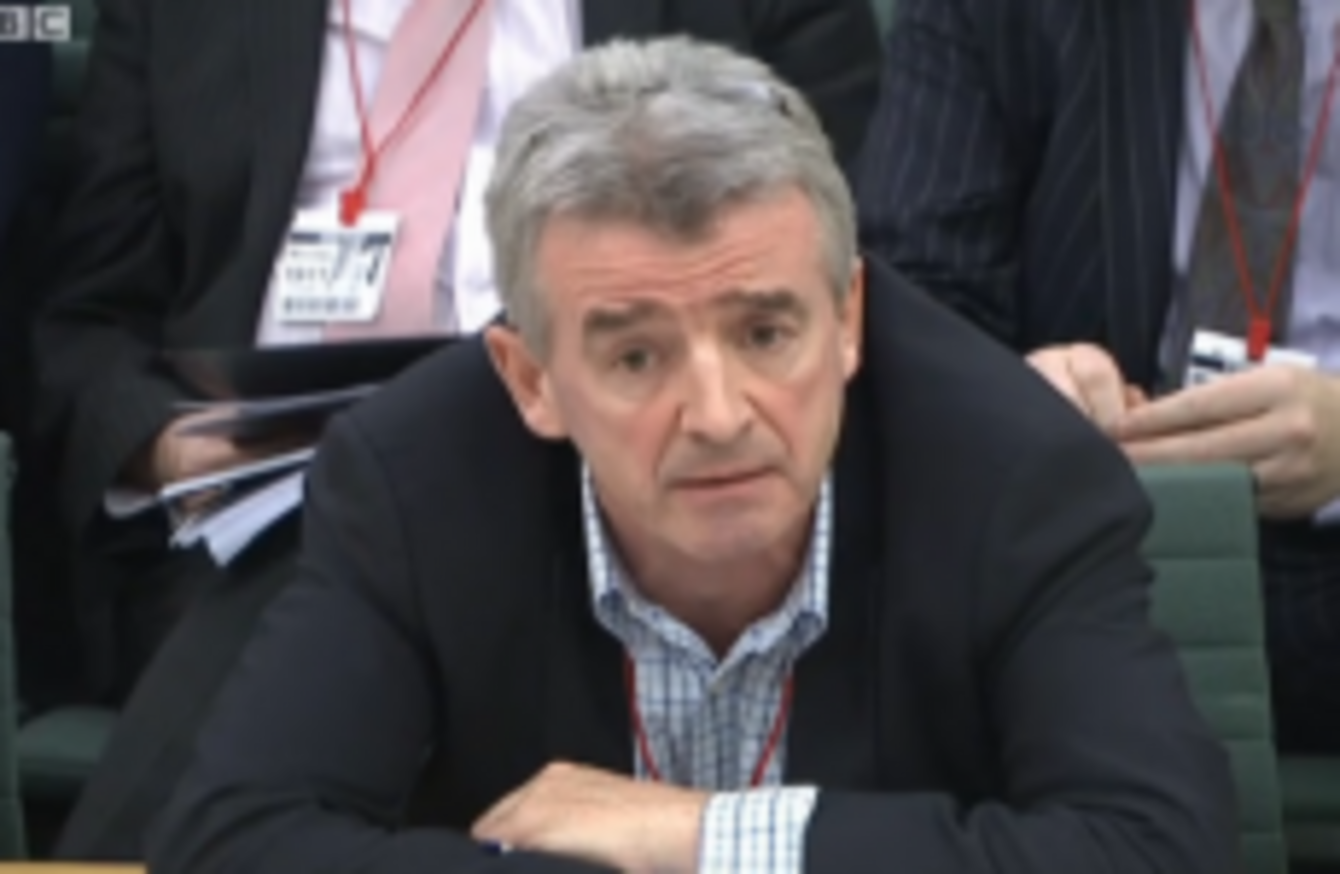 Image: House of Commons screengrab via BBC
Image: House of Commons screengrab via BBC
RYANAIR CHIEF EXECUTIVE Michael O'Leary managed to raise some smiles in a committee meeting of members of the House of Commons yesterday, barely holding back in his views on a new airport for London.
The Ryanair chief executive was giving evidence to the Commons' Transport Select Committee on the regulation of British airports and was asked if he had any opinions on plans to build a new airport for London – what would be the sixth airport to serve the British capital.
The idea of a 'Thames Estuary' airport to the east of the city has been floated for decades – and most recently has gathered steam after city mayor Boris Johnson proposed a transport hub with rail, freight and air infrastructure including a four-runway airport.
The Mullingar native did little to hold back on his opinions – and his typically blunt tone raised giggles from some onlookers who weren't quite used to such direct language.
Q.

Does London need more runways?

A. Yes – at least three. One at Heathrow, one at Gatwick, one at Stansted. As fast as possible.

Q. Do you have any opinions on plans to create a new airport for London?

A. Yes.

Q. [after a pause] Would you like to share them with us?

A. Well, in parliamentary language they would be unprintable, but: insane, stupid, harebrained. The idea of building…

London is currently served by five airports. Some airports serve London better than others, but at least you have the infrastructure – you have the ground infrastructure, you have people who live there.

To try and come up with a new Greenfield runway, regardless of where you're going to develop it, which has no infrastructure – no motorway, no rail infrastructure – which will probably take the rest of my lifetime before it sees the day – is insanely and asininely stupid.

It's a worthwhile proposal [only] because it generates a lot of PR inches here [O'Leary raises his hand around the room], [which is] what you need.

You already have that transport infrastructure in place. You have the land at each of those airports for an additional runway. You don't need to knock down houses to do it.
O'Leary continued by arguing that the forthcoming sale of Stansted Airport – for which Ryanair was once expected to bid – would create an immediate opportunity for the expansion of London's airports without the need for a new one.
After Stansted is sold by the British Airport Authority, he said, London's three biggest airports – Heathrow, Gatwick and Stansted – would all be separately owned.
The first thing they will do is all start campaigning to build an additional runway at their airports, and government should support that.

And let's promote three additional runways – and we'd end a lot of this nonsensical debate for the next 20 years.
The vocal Ryanair chief executive has previously spoken out against the construction of the second terminal at Dublin Airport, regularly labelling the project as a "white elephant" which was built just as Dublin's overall passenger numbers were falling.