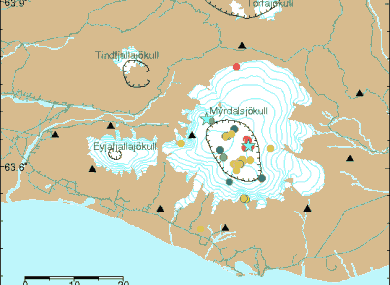 The seismic activity has clustered underneath Katla, which is outlined by the large black ring on the right.
SEISMOLOGISTS IN ICELAND have observed a series of minor earthquakes under one of the country's most recently volatile volcanoes.
The minor quakes – the worst measuring around 3.2 in magnitude – have increased in speed in the last six hours, and are all located almost directly under Katla.
That volcano is located relatively close to Eyjafjallajokull – the volcano whose ash cloud grounded flights across Europe in spring 2010 – but Katla is larger and considered more volatile.
The two volcanoes are closely related – each of Katla's main eruptions in the last millennium has been triggered by an earlier eruption of its smaller cousin.
On occasions when Katla does erupt, its full eruptions are up to 50 per cent more significant than those of Eyjafjallajokull. Both volcanoes are encased in glacial ice.
A harmonic tremor at the volcano in June of this year led to similar swarm of earthquakes near Katla's main chamber, which had already put seismologists on high alert of a potential full-blown eruption.
It is yet unclear whether the new swarm of quakes will lead to a similar tremor – but the events will be watched nervously by airlines and travellers alike, who will be anxious to avoid a repeat of last year's airborne chaos.
Eyjafjallajokull's eruptions last year left air travel shut across Europe for eight days in April, with further irregular downtime in May. The International Air Transport Association said the disruptions cost the air travel industry €1.3 billion.