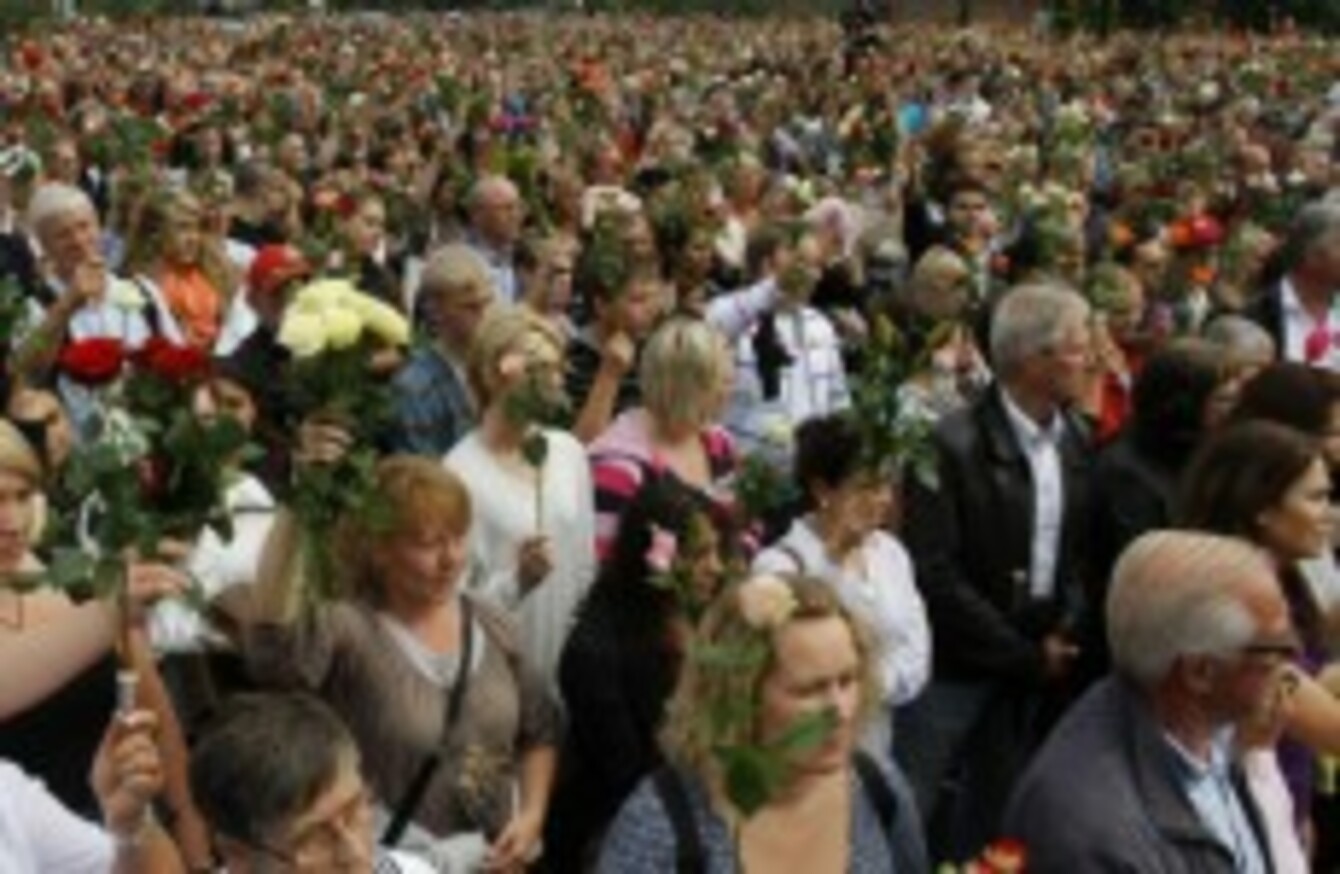 People hold up flowers during a vigil for the victims of the two attacks on Friday.
Image: AP Photo/Ferdinand Ostrop
People hold up flowers during a vigil for the victims of the two attacks on Friday.
Image: AP Photo/Ferdinand Ostrop
Updated at 11:45
PART OF Oslo's central station was evacuated this morning after police were alerted to an abandoned suitcase discovered in the area where buses depart for the airport.
Police later declared that the case posed no danger.
The city remains on high alert after Friday's attacks and cabinet ministers are due to return to their offices today after the explosion at government offices in Oslo city centre.
The 32-year-old man suspected of those attacks, Anders Behring Breivik, claimed to have been associated with two "cells" ahead of Friday's bombing and shooting, but Norwegian police say they have found no evidence he had accomplices.
Police destroyed a cache of explosives found at a farm rented by Breivik yesterday.
"Explosives were found on the farm. We thought it better not to move them and they were destroyed on the spot in a controlled explosion," according to police spokeswoman Trine Dyngeland.
No further devices were found in a search of the government buildings damaged in the Oslo city bombing.
Breivik, who has admitted carrying out the attacks but pleaded not guilty to terrorist charges, has been put on suicide watch at the Norwegian prison he is being detained in solitary confinement for the next four weeks. A court ordered on Monday that Breivik be held for eight weeks ahead of the trial, to allow prosecutors build their case without interference from the accused.
His lawyer, Geir Lippestad, says that the case indicates that Breivik is "insane", adding that he "expects that this is a start of war that will last for 60 years".
Links
Breivik sent his manifesto, which was also published online, to around 250 contacts in Britain less than 90 minutes before the terror attacks began in Norway, Belgian MP Tanguy Veys has claimed.
The Guardian reports that Belang is a member of a right wing anti-Muslim party and that he says a smaller number of people in Italy, France and Germany also received the document and videos. Belang's party received a copy and his comments were based on Breivik's email distribution list.
The investigation into the gun and bomb attacks is also looking into whether the accused was associated with far-right extremist groups in Britain.
In that manifesto, Breivik said he rented the farm and created a fake business as a front to access the fertilizer he allegedly used in the bombing.
Victims' names released

Norwegian authorities have begun releasing the names of the victims of the Oslo bombing and the mass shooting on the island of Utoya.
Gunnar Linaker, 23, from Bardu in the north of the country, died on Saturday after being injured in the Utoya shootings. Tove Aashill Knutsen, 56, Hanna M Orvik Endresen, 61, and Kai Hauge, 33, all lived in Oslo and were killed when a car bomb exploded in the city on Friday.
The death toll, earlier feared to be as high as 93, was revised down to 76 on Monday. Police say it could take several days to release all of the victims' names.
Young people from all over Norway had travelled to the island for a special Labour Party camp.
Roald Linekar, the father of shooting victim camp organiser Gunnar Linaker, says he received a call from his 23-year-old son saying "Dad, someone is shooting," before being cut off. Linaker died from his injuries in hospital on Saturday. His 17-year-old sister was also on the island, but survived the attack.
- Additional reporting by the AP