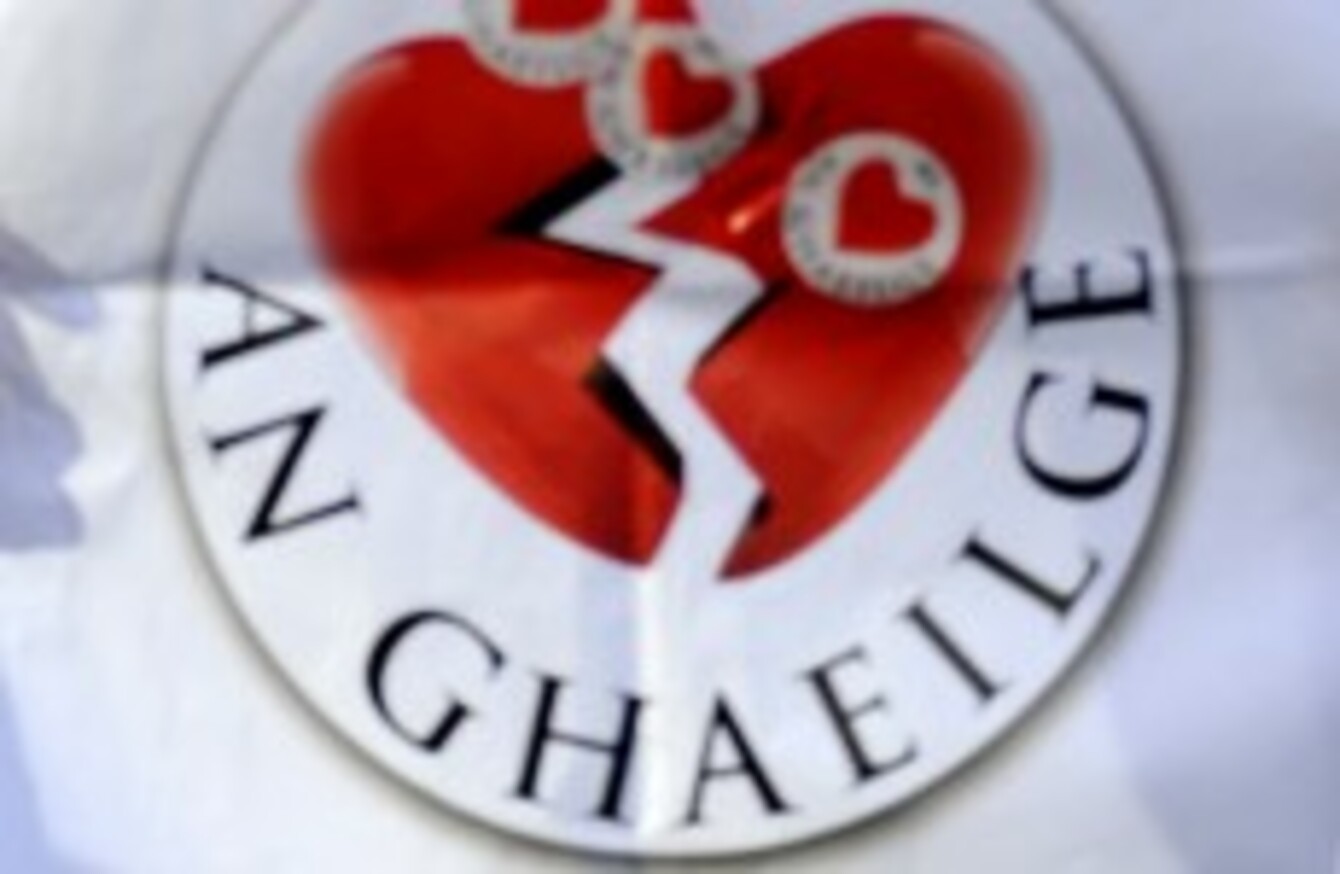 Silent Protest in 2011 in opposition to Fine Gael's policy to make Irish an optional subject for the Leaving Certificate.
Image: SASKO LAZAROV/PHOTOCALL
Silent Protest in 2011 in opposition to Fine Gael's policy to make Irish an optional subject for the Leaving Certificate.
Image: SASKO LAZAROV/PHOTOCALL
THE RESIGNATION OF An Coimisinéir Teanga Seán Ó Cuirreáin adds to the growing evidence that there is a strategy afoot to do away with what's left of Irish in the public life of the country.
If this is in fact the case I'd say it's coming from the civil service rather than the political establishment. The political establishment, even the Fine Gael/Labour part of it, are not of one mind about Irish.
Taoiseach Enda Kenny and Tanáiste Eamon Gilmore are both fluent speakers – indeed I can't recall that it was ever the case before when we had such a fluent Taoiseach and Tanáiste at the same time. Both men also give frequent interviews in Irish.
Civil service
The civil service establishment on the other hand are almost 100 per cent united in their view of Irish as an irritating thorn in the administration. The mandarins know there isn't political consensus on the issue and they calculate that even to open a public debate on Irish would be to accord it a status it doesn't deserve – far better to ignore it as if it didn't exist and to starve the Official Languages Act of the resources to implement it.
Let the whole thing wither on the vine or, as we Gaeilgeoirí might put it, 'í a ligint le sruth i dtreo na gcarraigeacha.'
As someone who spent over 30 years in the civil service I had first-hand experience of the visceral dislike of Irish which is common among the majority of top civil servants. It's hard to understand the reasons for this visceral dislike of Irish. Some of the people in question would even have gone to Irish colleges and almost all of them would have been educated in religious-run Catholic schools.
There's a serious chip on their shoulder, a sort of insecurity that their social betters might see them as just bog Irish or jumped-up Jackeens – God forbid.
Official Languages Act
It's interesting that there was unanimous cross-party support for the Official Languages Act when it was going through the Dáil – proof in itself that the legislation was seen as just another round of positive sentiment about the language and that it wouldn't mean very much in practice.
In reality the scope of the new Act was quite limited. But the important point is that it did confer certain rights in legislative form for the first time. To this extent it provided cover for Irish speakers in pursuing their linguistic rights with the State.
It may be that Irish speakers are only now realising the potential leverage the legislation still gives them and this may explain the gathering rearguard action we're now seeing from the civil service establishment and their political allies.
Fine Gael
Though there is in my opinion a strong (and probably predominant) tendency in Fine Gael against Irish, I still don't agree with the analysis that the party is inherently against the language. The reality is a bit more nuanced – as a state-wide party it inevitably covers a range of views.
As already noted the current Taoiseach is a fluent and frequent speaker of the language, and other Fine Gael ministers such as Michael Noonan and Leo Varadkar are also supportive.
It's interesting too to reflect that no other Government Minister in the history of the State did more to promote the Irish language than northern Protestant Earnán de Blaghd, Minister for Finance in the first Cumann na nGael government. De Blaghd was the main advocate for pro-Irish policies in that government, including the decision to make the language 'compulsory' in the education system.
Even today Taoiseach Enda Kenny would represent this rump of well-educated Fine Gaelers who at least know the language and are not ashamed to speak it and to that extent there may still be a residual level of support for Irish in the party.
Promotion
On balance, I'd say Fine Gael as a party are no worse than the others when it comes to promoting Irish. And they'd certainly be ahead of the far left in this regard. Joe Higgins from west Kerry is the exception.
Gilmore, a good Gaeilgeoir in his own way (to be fair to him), is also aware of the old guard on his doorstep and knows not to take the Gaeilge thing too far.
I wouldn't be giving Fianna Fáil any leather medals either when it comes to the language. Historically their policy has been to appear to be that bit more committed than their rivals. In order to copperfasten the Gaeilgeoir vote, Fianna Fáil had only to mouth a few more cúpla focals than the opposition.
With Irish now in its death throes as a living language in the Gaeltacht, while it shows some signs of a renewal among sections of the urban population, the question about its future may yet ignite into a full-scale national debate.
If this happens it could make the abortion debate look like an argument at a school girls' tea party. If a cultural war does erupt around Irish it'll be interesting to see where Fianna Fáil and Sinn Féin make their pitch.
Public opinion
Opinion polls and census returns have consistently shown that the majority of Irish people are favourably disposed towards the language – which is a bit of a miracle in itself given the forces raging against it. It might only amount to the cúpla focal but most people certainly don't want to see Irish abolished.
It's significant that in the last presidential election, of the seven people who stood, the people's choice for the highest office in the land was the sole candidate who had Irish. There is on the other hand a significant minority (some vocal, many silent) who hate Irish or are embarrassed by it.
I think many people, including many Gaeilgeoirí, underestimate the progress which has been made by Irish as a modern written and spoken language. I recently visited the Visitors' Centre of the European Parliament in Brussels and I was struck by the quality of the presentation both audio-visual and written which was available through Irish.
Pride
I felt a surge of pride that it was up there with the other 22 official languages of the EU and I believe most Irish people would share my feelings.
In my view it is here, and in other such prestigious public spaces, that the future of the language will be decided. The Brussels example demonstrates what could be done to make Irish more visible and audible in our own public institutions if the political will and official support were there for it.
When the Official Languages Act was passed over 10 years ago the top civil servants adopted a minimalist, wait-and-see approach. They knew that without their active support the new legislation was never going to have much effect. But what started as passive inaction on their part now seems to have moved up a notch or two to one of active undermining.
It reminds me of a phrase used by our President Michael D Higgins, speaking at the biennial Tóstal na Gaeilge conference in Galway in 2010, when he referred to those "for whom Irish was not half dead enough".
An Coimisinéir Teanga Seán Ó Cuirreáin was appointed to his office by the President of Ireland. He will now be tendering his resignation to the President in what are clearly very frustrating circumstances.
As the courageous defender of minority rights which Michael D Higgins has always been, and as the person entrusted with the guardianship of our constitution, I expect that Uachtarán na hÉireann will have something to say about what appears to be the current, if undeclared, policy to undermine the standing of Irish in the public life of our country.
Seán Mag Leannáin, Principal Officer in the Civil Service for 15 years up to his retirement in December 2009. (Seán Mag Leannáin, iar-Phríomhoifigeach sa Státseirbhís le 15 bliana go dtí gur éirigh sé as i mí na Nollag 2009.)