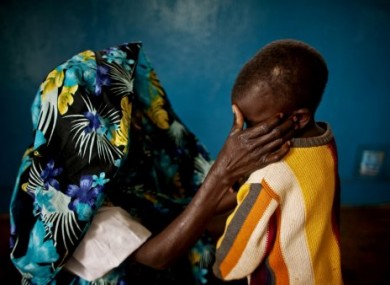 A mass rape victim from Fizi, South Kivu and her young son. Her identity has been concealed for security reasons in this Feb 2011 photo.
Image: Pete Muller/AP Photo/PA
THE INTERNATIONAL Crisis Group has penned an open letter to the UN Security Council warning of the risk of a major escalation in violence and criticising its mission in the Democratic Republic of Congo of failing in its mandate to protect civilians.
The ICG warns that "history is again repeating itself" in eastern DRC where there is "a risk of serious escalation of violence".
The group also accuses the United Nations Stabilization Mission in the Congo (MONUSCO) of failing in its core mandate of stabilisation and the protection of civilians, saying that the mission's stabilisation strategy has been too heavily centred on "an expectation that the 2008-2009 rapprochement between DRC and Rwanda was enough to contain the conflict in the Kivus".
A mutiny in the Kivus is being supported by the Rwandan military, according to a recent report by Human Rights Watch. The Tutsi-led rebellion was sparked by the defection of Bosco Ntaganda from the Congolese army, who has allegedly been offered shelter in Rwanda.
The International Crisis Group claims that MONUSCO has lost credibility "on several fronts" including its logistical support for flawed elections last year and its protection of civilians:
The population remains profoundly vulnerable to violence and frustrated by the lack of protection as illustrated by the recent attack on UN peacekeepers in Bunyiakiri, South Kivu… Durable protection of civilians will only come through an enhanced political process and the establishment of accountable state institutions.
The open letter comes ahead of the renewal of the MONUSCO mission. The ICG is calling on the UN Security Council to amend the mission before its renewal this month.
"MONUSCO's focus on the use of force to stabilise the Kivus is not enough," ICG president and CEO Louise Arbour writes, adding that there is clearly a need to address the driving factors in the conflict as well as regional dynamics – including relations with Rwanda.
At the end of May, UN human rights chief Navi Pillay expressed alarm at the increase in large-scale atrocities by armed groups in the east of the DRC and said that militia leaders must be held accountable for the recent upsurge in violence.
UN human rights officers launched investigations into numerous reports of human rights abuses lodged in April, including reports of cannibalism, machete attacks and rape.