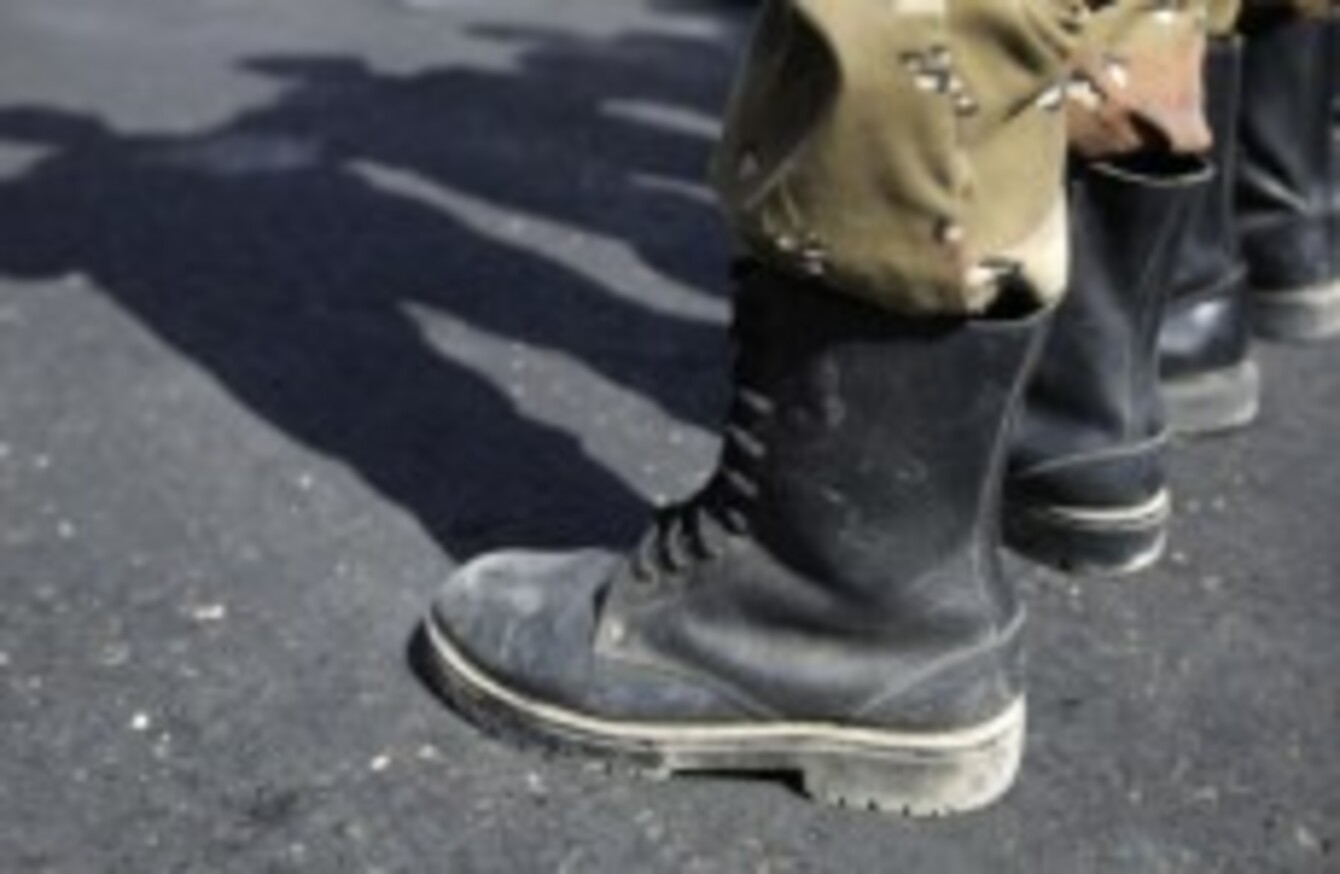 Yemeni soldiers standing and praying in Sanaa, 6 January 2012.
Image: AP Photo/Hani Mohammed/PA Images
Yemeni soldiers standing and praying in Sanaa, 6 January 2012.
Image: AP Photo/Hani Mohammed/PA Images
Updated at 3.10pm
US AIRSTRIKES targeting leaders from Yemen's active al-Qaeda branch killed four suspected militants, including a man suspected of involvement in the 2000 bombing of the USS Cole, officials said today.
Yemeni security and military officials said missiles struck a school and a car late Monday in the southern Abyan province, which has seen large swaths fall under the influence of al-Qaeda as the militants seek to exploit the security vacuum since an uprising against President Ali Abdullah Saleh began last year.
Tribal officials in the area said the strike hit the militants late Monday as they were holding an important meeting at the school. Yemeni security officials had originally put the death toll at 15 people but later lowered that figure. They also said 12 militants were wounded in the strikes.
They said one of the suspected militants killed was named Abdel-Monem al-Fathani who was involved in the bombing of the USS Cole, which killed 17 American sailors and injured 39 others. The attack on the US destroyer occurred while it was in the Yemeni port of Aden for refueling.
A Western official in Washington confirmed the US carried out a strike against suspected leaders from al-Qaeda in the Arabian Peninsula, saying initial indications were that five people were killed. The official did not say where the strike occurred or specify whether it was carried out by a drone or a warplane.
Yemeni security officials in Abyan province said a second car carrying important leaders to the meeting at the school, which was in an area between the towns of Lauder and Moudia.
All the officials spoke on condition of anonymity because they weren't authorised to release the information.
Security across Yemen, the Arab world's poorest country, has largely collapsed during the nearly year-old popular uprising against Saleh. The militants have taken advantage of the political instability to step up operations across weakly governed remote provinces while authorities focused their resources on putting down the protests that were inspired by other Arab Spring revolts.
Also Tuesday, armed tribesmen from the al-Mahweet province kidnapped six United Nations workers — an Iraqi woman, a Palestinian woman, a Colombian man, a German man and two Yemeni men. The assailants demanded that the government release fellow tribesmen from prison.
Tribes in Yemen have historically used kidnapping as a way of getting concessions from the government and hostages are ordinarily well treated before being released.
Yemeni Interior Minister Ali al-Omrani, meanwhile, escaped an assassination attempt when his car came under fire today outside the Cabinet building in the capital Sanaa, according to his spokesman Abdul-Basit al-Qaedi.