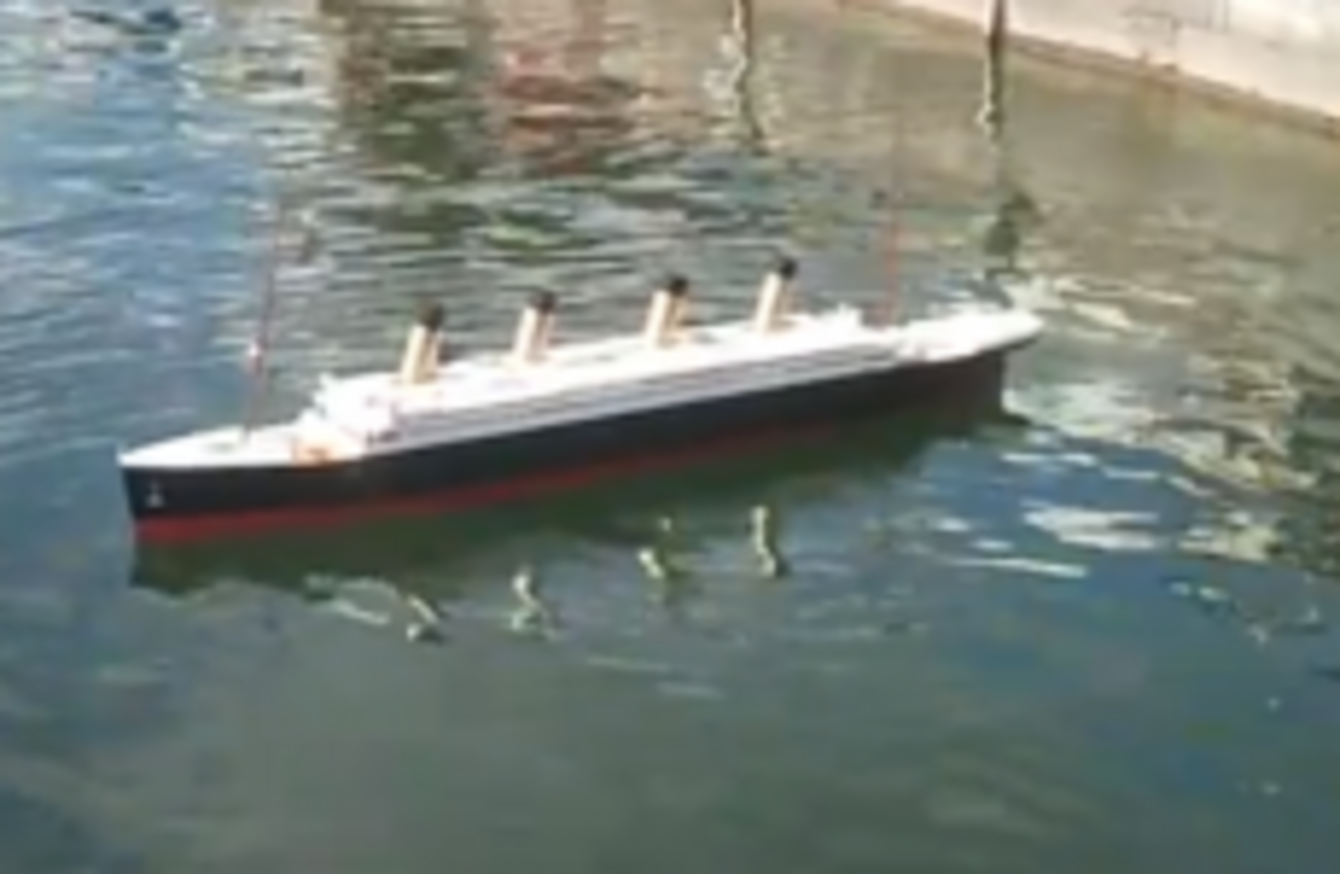 YouTube still of the model at centre of dispute.
YouTube still of the model at centre of dispute.
THE HIGH COURT has granted an injunction to a Cork woman seeking to stop her former partner from selling a 16-foot model of the Titanic which was due to go on display at the Dublin Tall Ships festival.
Counsel for Carmel McGrath of Dillons Cross, Cork, said the 16-foot scale model – built by her former partner, Zoltan Panka, while they lived together at her house – was removed from her garage without her permission.
McGrath claimed Panka, a Hungarian who she now believes is living in a homeless shelter in Cork, removed the model while she was away on holiday earlier this month – removing the garage doors and causing damage to the model as he did so.
Construction of the model ship had begun in October 2010, when Panka was not working and could not contribute to the household income. The Court heard that it was agreed McGrath would finance Panka's construction of the boat, and that the pair would be its joint owners.
The completed model was formally unveiled at the Cobh Heritage Centre in April, at events marking the 100th anniversary of the Titanic's sinking, where it was estimated that the model could be worth up to €70,000.
McGrath's counsel, Gerard Nicholas Murphy BL, told the High Court that the pair had agreed to split the proceeds of any sale of the boat.
She claimed there was "a substantial risk" that Panka, no longer having any connection to Ireland, could sell the boat and return to Hungary.
'Great complexity'
Justice Kevin Feeney – commenting that the model appeared to have been built at "great complexity" – granted an injunction barring Panka and his solicitors from selling, disposing of or otherwise parting with the model.
A letter from Panka's solicitors, attached to McGrath's affidavit, described her complaints over the removal of the model as "vexatious" and threatened to seek civil relief from the courts in the case of "further harassment".
McGrath acknowledged seeking to contact Panka when she found the model removed, but denied her contact with Panka was harassing, threatening or abusive.
The injunction was granted on an ex parte basis, meaning Panka did not have a representative present. The matter was made returnable to the Court for September 5.
The model – which was listed as one of the main attractions on show in Waterways Ireland's 'small ships' exhibition at Grand Canal Dock – has coincidentally been withdrawn from display as a result of a minor accident yesterday morning.
A spokeswoman for the festival said a small amount of damage had been caused to the model as a result of the accident.
The video below shows Panka's model taking to the waters off Cobh in April after it was formally launched. YouTube credit: gibbon75.