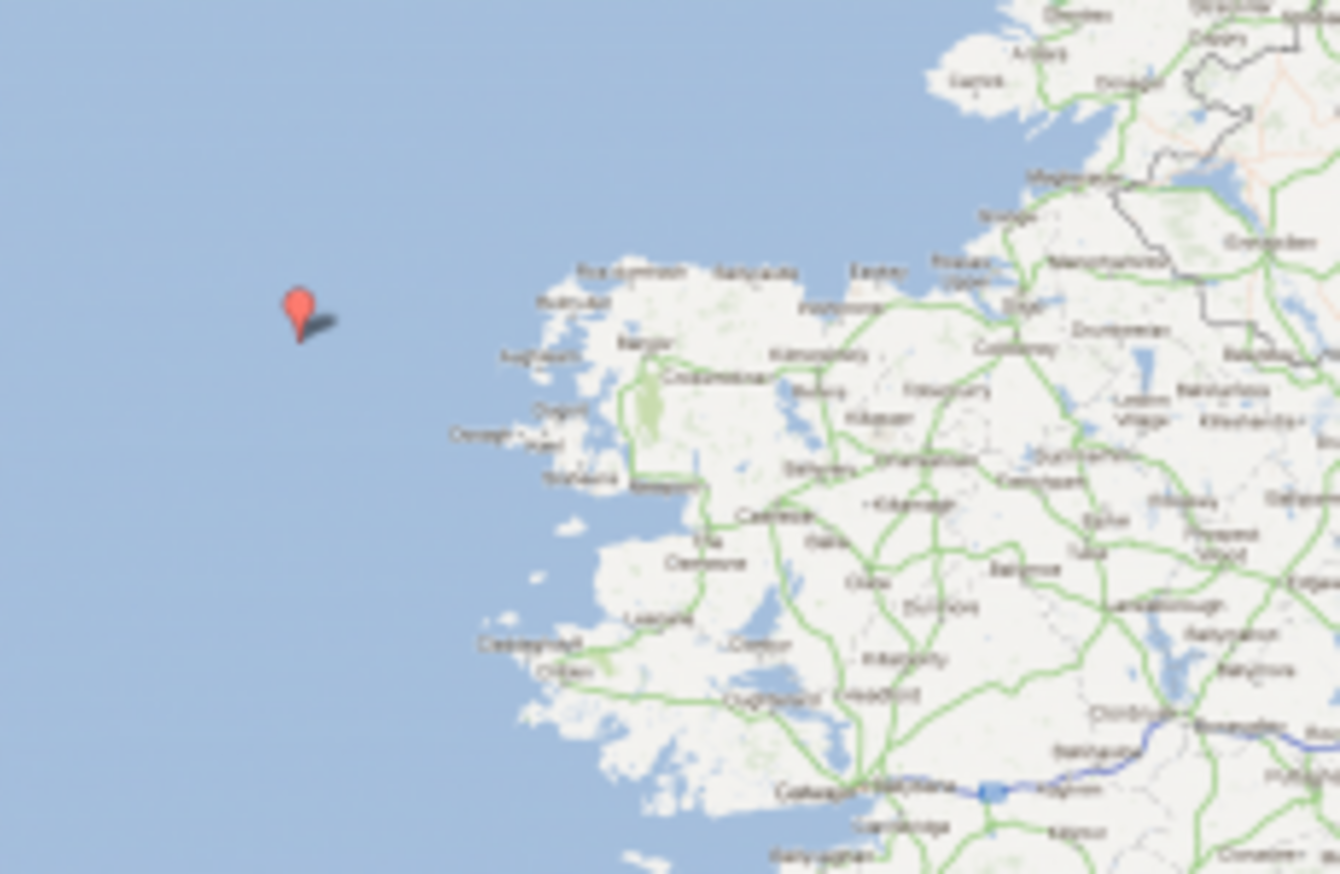 The red marker shows the estimated epicentre of this morning's quake off Co Mayo.
Image: Google Maps
The red marker shows the estimated epicentre of this morning's quake off Co Mayo.
Image: Google Maps
AN EARTHQUAKE of magnitude 4.0 has struck off the coast of Co Mayo this morning.
The quake, which struck just before 9am, hit at a depth of about three kilometres. It is the strongest earthquake ever recorded in the West of Ireland and was picked up by the recently-installed seismometer at the Cliffs of Moher in Clare.
Data from the British Geological Survey showed the epicentre of the quake as being approximately 30 miles west of Aughleam.
People living in the area reported that tremors were felt on land, with some light structural damage in some places.
Local radio station Midwest Radio broadcast listeners' reports of damage such as cracked chimneys.
It is the second significant earthquake in as many years to hit the west of Ireland. The 2.7-magnitude trembler in May 2010 in Lisdoonvarna, located just 6 miles from the Cliffs of Moher, remains the strongest onshore earthquake recorded in Ireland since records began in 1978. It was also the first earthquake to be recorded in the southwest of the country in the same period.
The largest earthquake felt in Ireland occurred on the 19 July, 1984 with a magnitude 5.4, and was located off the coast of Wales. It also caused minor structural damage on the East Coast of Ireland.
Tom Blake, INSN Director and Experimental Officer with the School of Cosmic Physics at the Dublin Institute for Advanced Studies (DIAS), said:
Although Ireland does not sit on any major plate margin, it is still susceptible to earthquakes as we saw in may today and in Clare in 2010. The Cliffs of Moher seismometer would certainly was well placed to register and record this week's earthquake. This was a very important seismic event as it was the first time that a tremor had occurred in this region since records began.
The seismograph image from the Cliffs of Moher seismometer:
Did you feel this morning's tremor? Let us know in the comments, or send us pictures of any damage – pictures@thejournal.ie.
Thanks to Aidan Gill, Diarmuid Gielty and Brían MacSuibhne.
-Additional reporting by Sinéad O'Carroll