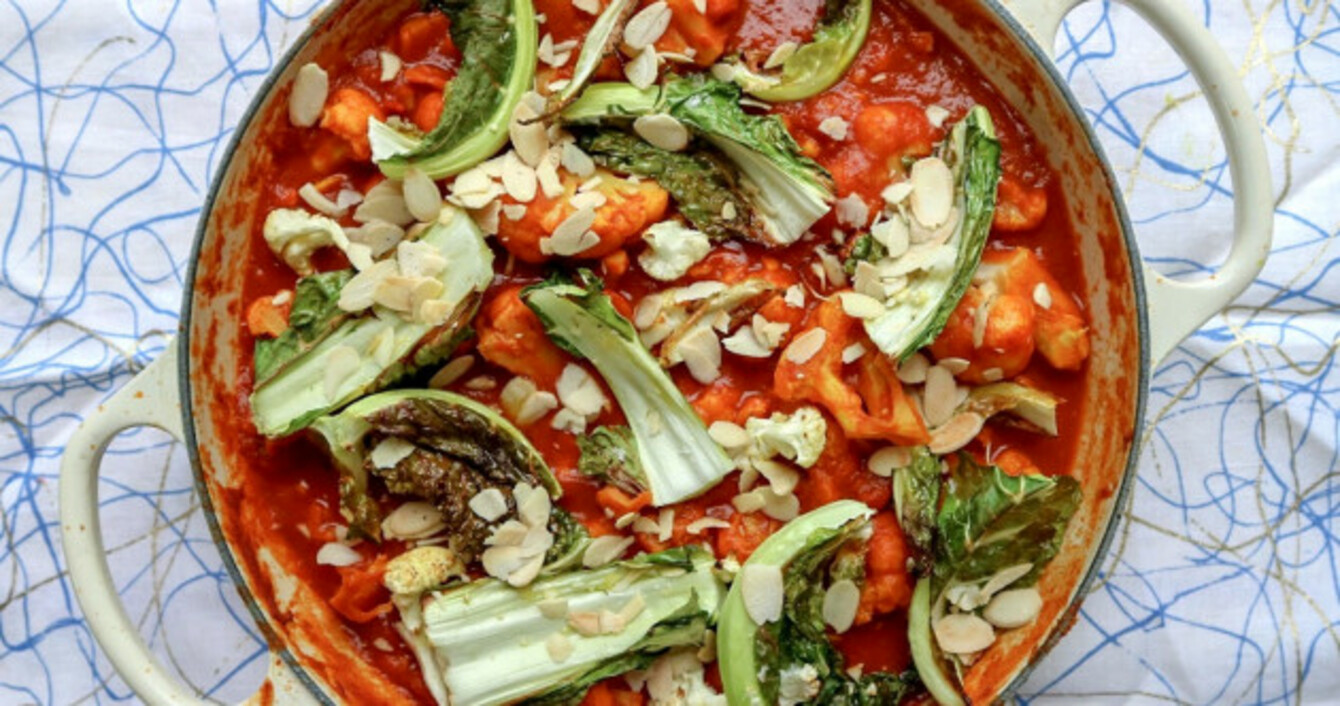 Image: Niamh Shields
Image: Niamh Shields
A SIX INGREDIENT curry might sound like a fool's errand but let me surprise you. It is entirely possible to make a gorgeous and speedy curry with just a handful of ingredients! The secret is a good (and fresh) curry powder and a little creative thinking.
That good curry powder is an essential kitchen cupboard ingredient when you are short on energy and time. The key to using them is ensuring that they are fresh (less than six months since opening) and that you store it securely closed (air degrades the flavour) in a dark place (light does the same). A tin is ideal, any tin, I am sure your house is full of them for Christmas.
Every other ingredient must serve a purpose. You know the phrase 'take one onion'. Most dishes start that way. I start the prawn and kale coconut curry with shallots for sweetness and texture. The cauliflower curry starts with garlic and ginger, which enhance the flavours of the curry powder.
You can of course add to these basic recipes. Some squash or sweet potato would be wonderful in the prawn and kale coconut curry. Add some spinach and potato to the cauliflower curry, or a pop of cardamom seed would be lovely too.
1. Prawn and Kale Coconut Curry
I always have frozen raw prawns in the freezer. They defrost quickly and cook in minutes. They are lovely as they are with a squeeze of lemon and a sprinkle of chilli, but most often I cook them in a curry, like I did here.
Ingredients
250g frozen raw prawns, defrosted
2 good handfuls kale
2 banana shallots peeled and finely chopped
1 x 400ml coconut milk
1 lemon
1 tbsp curry powder
Method
Heat 1 tbsp oil over a medium heat. Add the shallots and stir through. Reduce the heat to low and cook gently, stirring occasionally until soft (about 8 minutes).
Add the curry powder and stir through.
Add the coconut milk, bring to the boil, reduce the heat and allow to simmer for 5 minutes.
Stir through the prawns and the kale. Add a squeeze of lemon juice (I use the whole thing). When the prawns are just pink and the kale has wilted a bit it is ready.
Season with salt to taste. Done!
2. Cauliflower Curry with Crisp Cauliflower Leaves
Some ingredients have multiple uses, and cauliflower is a perfect example of this. The leaves are delicious (just like cabbage) – I love to roast them with a little oil and seasoning to serve them on top of the curry. In the roasting tin also, add those tiny stray bits of cauliflower that try to escape as you separate the florets.
Always trust your nose and your palate. Every curry powder is different. I used 1 tbsp here but you may want a bit more in yours. Taste and adjust accordingly.
Ingredients
1 head cauliflower, leaves removed, washed and dried with a clean kitchen towel; florets separated
400ml tomato passata
2 cloves garlic, peeled and finely chopped
1 inch ginger, peeled and finely chopped
25g flaked almonds
1 tbsp curry powder (to taste)
Method
Preheat your oven to 180C. Toast the flaked almonds in a dry frying pan until golden (toss as they roast). You can do this in the oven too. They burn easily so keep an eye on them. Leave to the side.
Heat 1 tbsp oil in a large frying pan (one that will accommodate the whole cauliflower).
Add the garlic and ginger and stir for a minute.
Add the tomato passata and about 200ml water and bring to the boil. Reduce the heat and add the cauliflower florets. If you have a lid for the pan cover it, or use a plate or something similar. Stir occasionally.
While the cauliflower is cooking – depending on the size of your florets it should take about 10 minutes – roast the leaves by dressing them in a little oil and sea salt and spreading them in a single layer on a roasting tray. When the leaf edges are browning they are done.
Once the cauliflower is tender check the seasoning and add salt if necessary.
Serve with the leaves on top and your carb of choice! Enjoy.
Niamh Shields is a cook and food writer who blogs at eatlikeagirl.