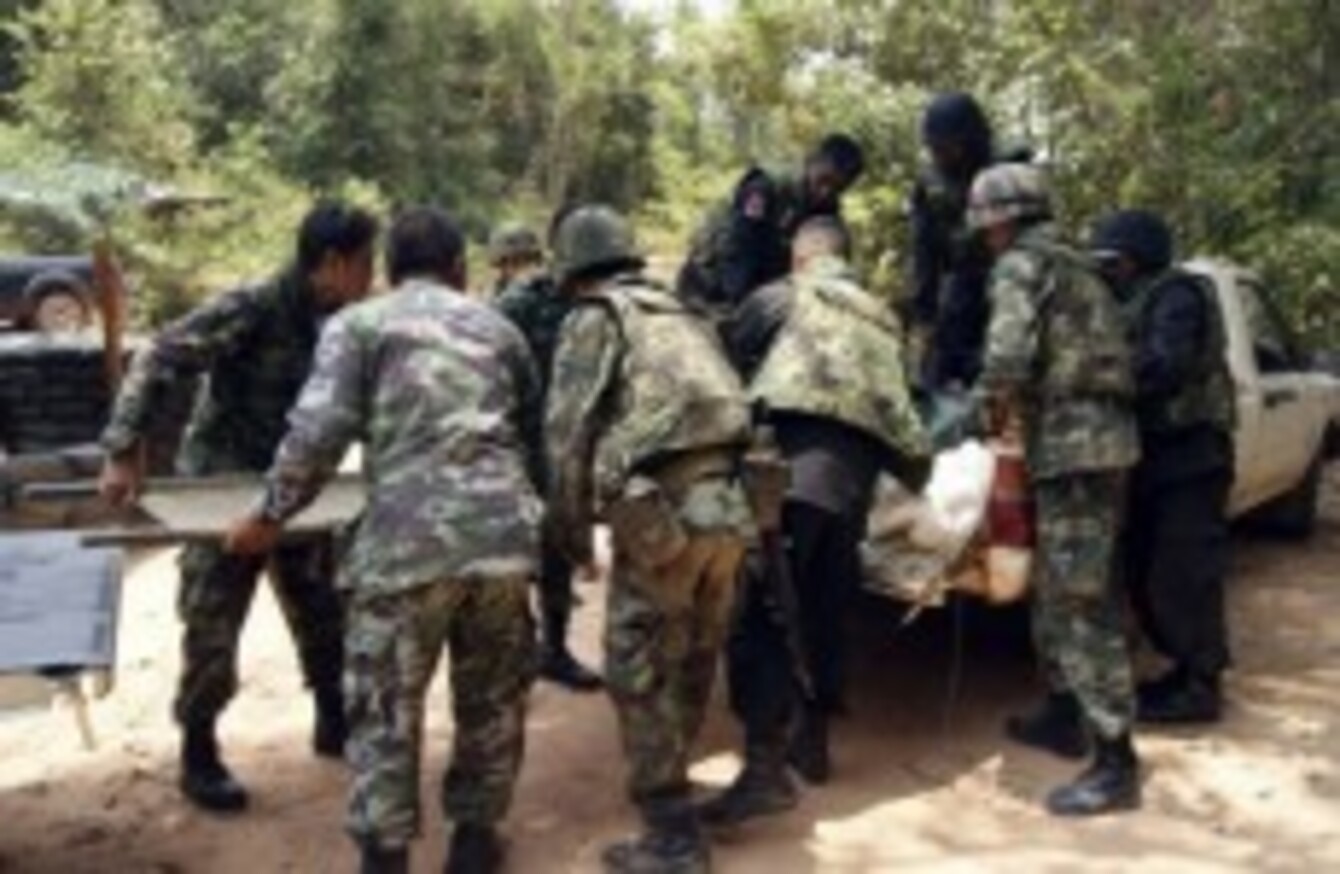 THAILAND AND CAMBODIA exchanged artillery and gunfire for several hours today in a flare-up of a long-running border dispute, and their militaries said six soldiers were killed.
The fighting near the ancient temples of Ta Krabey and Ta Moan forced thousands of civilians on both sides to flee. Cambodia says artillery fell on villages and other areas as far as 13 miles inside its territory.
It was the first skirmish reported since four days of fighting in February, when eight soldiers and civilians were killed near the 11th century Preah Vihear temple, about 100 miles to the east of Friday's fighting.
A decades-old border dispute over ancient temples and the land surrounding them has fuelled nationalist passions in both countries. Clashes have erupted several times since 2008, when Preah Vihear was given UN World Heritage status.
Each side blamed the other for the resumption of fighting. Thai army spokeswoman Lt Col Siriya Khuangsirikul said three Thai soldiers had been killed, and 13 wounded, one critically. Cambodian defence spokesman Lt Gen Chhum Socheat said three Cambodian soldiers were killed and six wounded.
Evacuating civilians
Cambodia's Bayon TV, which has close links to the government, showed footage today of damaged houses and civilians being evacuated by farm vehicles to schools and Buddhist pagodas 30 miles from the front lines.
A statement from the Foreign Affairs Ministry of Thailand said the country had "exercised its inherent right of self-defence on the basis of necessity, proportionality and strictly directed at military targets from where the attacks were launched by Cambodian troops."
Indonesia, chair of the Association of Southeast Asian Nations, called for an immediate cease-fire and further efforts to resolve the border dispute. Fighting stopped by early afternoon, but no cease-fire had been reached, Cambodia said.
Mounting tensions
Tensions between the neighbours have been exacerbated in recent months in part by pressure from influential Thai nationalist groups, which have protested in Bangkok urging the government to take back land awarded to Cambodia by an international court ruling.
The flare-up comes as the Thai military raises its profile in domestic politics ahead of a general election expected to be held by early July. The army had previously effectively vetoed an agreed-on plan to station Indonesian observers to monitor the border situation.
Cambodia in a note from Foreign Minister Hor Namhong to the president of the UN Security Council accused Thailand of refusing to accept the Indonesian monitors so it could carry out "this deliberate act of aggression."
Thai Prime Minister Abhisit Vejjajiva told reporters his government was investigating the cause of today's incident and said despite a pause in fighting, the situation was volatile.
"What we would like reiterate is the position of troops of both countries are close to each other. Therefore, any movement can lead to clashes," Abhisit said. He called for a meeting of one of the bilateral committees the two countries have set up to discuss border issues.
Reiterating Thailand's stance on its dispute with Cambodia, he said it was not necessary for ASEAN or other multinational bodies to take up the matter, because then "it will be harder to solve."
Cambodia insists bilateral talks are unproductive and a third party's participation would be useful.
- AP