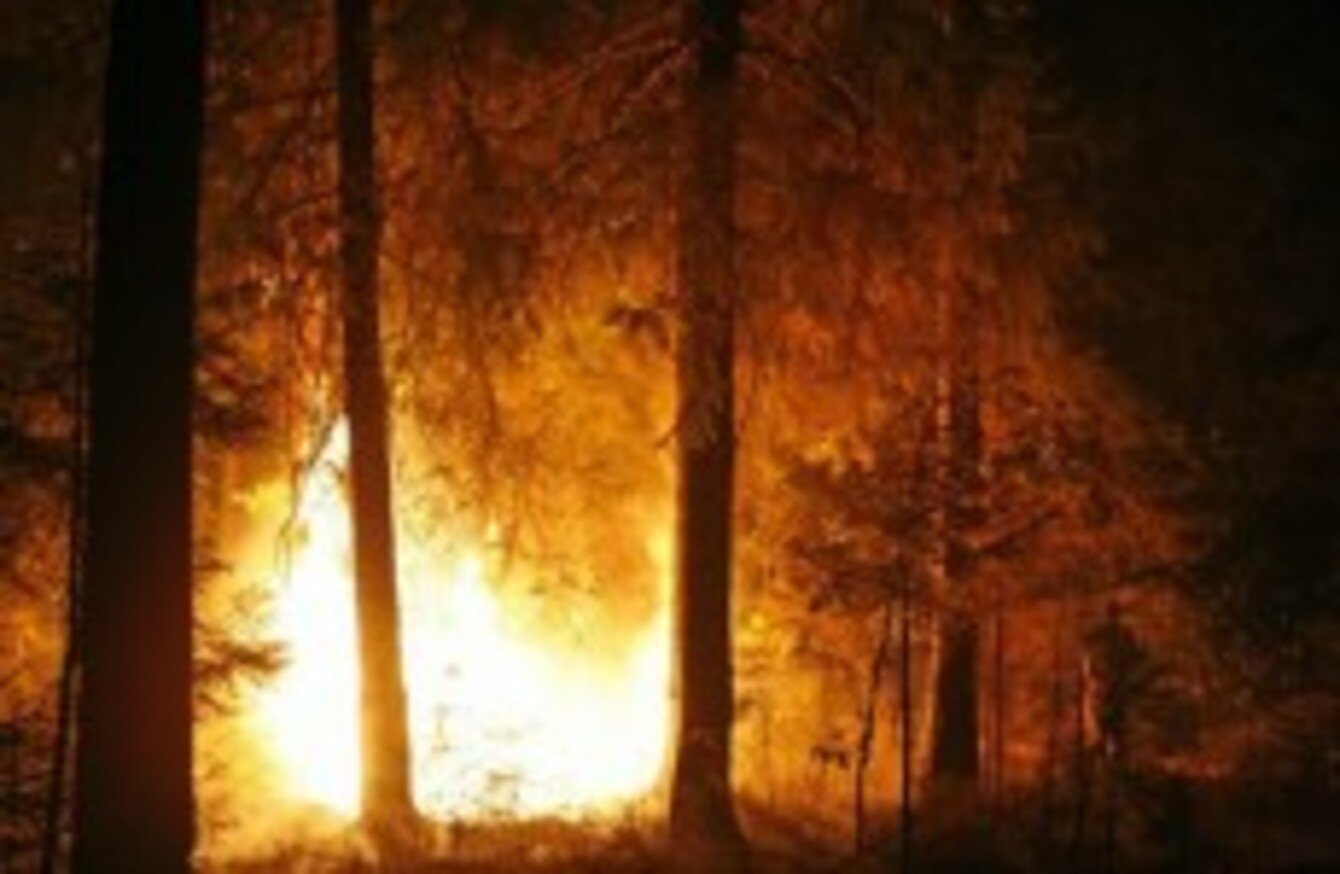 Photo of the fires outside Moscow on 13 August, 2010.
Image: Pavel Golovkin/AP/Press Association Images
Photo of the fires outside Moscow on 13 August, 2010.
Image: Pavel Golovkin/AP/Press Association Images
DEADLY WILDFIRES HAVE RETURNED to Russia, killing six people in the south, Russia Today reports. Around 400 homes were set on fire.
AP reports that although rain has helped quench fires across most of the country, conditions remain very dry in the southern regions Volgograd, Saratov and Samara.
Fifty people were killed and over 2,500 homes were destroyed in the first wave of wildfires which swept across Russia throughout July and August, which were caused by an extreme and prolonged heatwave.
Samara called off its state of emergency just two days ago, and has now redeclared an emergency.
Officials say that the fires are worst in the Volgograd region, and believe some may have been started by power lines touching in high winds.
Planes and helicopters are dropping water on the affected areas in an attempt to quench the flames.
Grain ban extended
Prime Minister Vladimir Putin has extended the temporary grain export ban by several months beyond the year end, as the Russian government tries to stabilise the domestic grain market.
Last night, President Dmitry Medvedev said via Twitter he had intrusted the government to consider special transportation rates for bringing grain into the most severely affected regions:
This summer was indeed tough on agribusiness in some regions, but it was not so difficult that it constituted a critical situation.

There will be no food shortages. Our Antimonopoly Service and General Prosecutor's Office will deal with panic mongers trying to cash in.
The ban could take a heavy toll on Russia's standing as the world's third-largest grain exporter. Thousands of acres of crops have been destroyed by drought and fire, cutting down the grain available for harvest this season.
Last year's harvest hit a record 97m tonnes, but this year the figure is expected to be closer to 60m tonnes.
Russia will need to produce a bumper crop next year to get back on track, according to agriculture minister Yelena Skrynnik.
The ban has already pushed up international grain prices, resulting in food riots in Mozambique which killed seven people. The UN says that the grain ban extension will not cause a global food crisis.