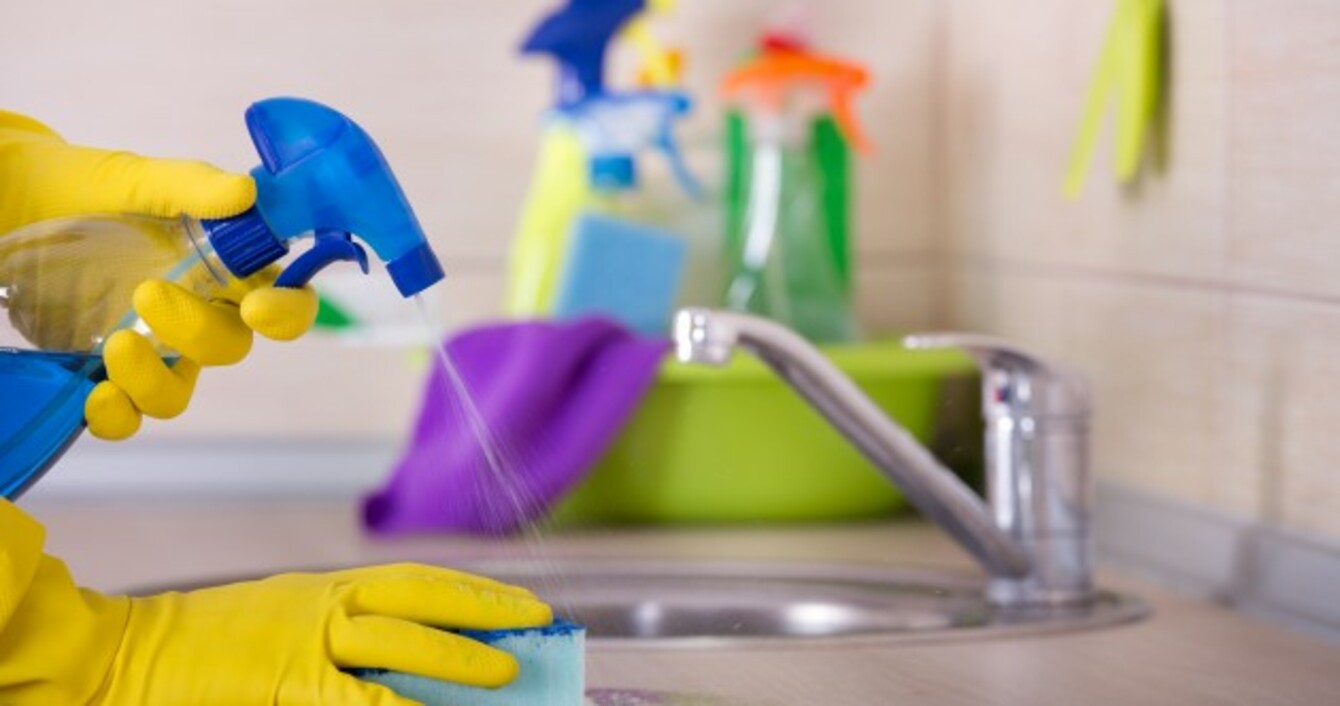 Image: Shutterstock/Budimir Jevtic
Image: Shutterstock/Budimir Jevtic
WHEN IT COMES to keeping our homes clean, most of us want to get the job done quickly – but we might not realise that our cleaning methods leave a lot to be desired.
Since cleaning wasn't a leaving cert subject we all learned in school, it's easy to miss a few of the basics and take up your own routines. But whether we're using the wrong tools and cleaning solution, or checking a task off the list in the wrong weather, we can often make mistakes that cost us time and energy.
If you've been scrubbing your windows only to have them still streaky, or wondering what you should be using to clean hardwood floors, rectifying these six common home cleaning mistakes could save you time as well as money, and give you a cleaner home in the end. 
1. Using the vacuum cleaner first
It's often tempting to give a space a cosmetic clean before we roll up our sleeves, and vacuuming is one task that can help with that. But, it turns out that reaching for the nozzle first isn't the best idea.
Think about the dust you'll unearth as you go on to shake out cushions, wipe down surfaces and move around objects. 
The solution: Leave the vacuuming until last. It'll save you vacuuming twice and add an extra freshness by picking up any dust particles that may be floating about after the deep clean. Adding a fresh diffuser, like one of these from Max Benjamin, is a nice finishing touch after you've vacuumed, too.
2. Overusing your dishwasher
It's an easy trap to fall into: don't want to wash a gunky pan? Stick it in the dishwasher, right? Not so fast. You could be ruining kitchen tools that shouldn't be put into the dishwasher at all, like knives and non-stick pots and pans.
Unless your pots and pans specifically note that they're dishwasher safe (usually on the packaging or bottom of the pan), putting them in the dishwasher could take off their non-stick coating, rendering them close to useless. Sharp chopping and cutting knives shouldn't be put in the dishwasher, either, as it can dull the blades. 
The solution: Wash non-stick pots and pans, and knives, by hand. Use a mild soap and a soft cloth, so as not to rub off the non-stick coating over time, and rinse with warm water; hot water can damage that non-stick coating as well.  
3. Using dirty cleaning tools
It seems obvious, but cleaning tools can often be forgotten about. Sponges, cloths and rags shoulder a lot of the hard work and need to be looked after as well. For a cleaning tool to work its best, it needs to be in tip top condition – and a dirty utensil or cleaning tool is more likely to spread bacteria and dirt around.
The solution: Invest in good washcloths that you can pop into the washing machine regularly. If you don't fancy the laundry then look for biodegradable, disposable kitchen towels instead. 
Seeing as sponges are stomping grounds for bacteria, look into alternatives like these copper scouring pads from Obeo Living.
4. Cleaning windows on a hot day – and with newspaper
A bright, sunny day might seem like the perfect time to tackle the grime on the windows, but it's time to think again. Sunshine and heat can actually make cleaners evaporate as soon as they hit the window panes, and can leave streaks and residue behind. Not ideal.
Additionally, cleaning windows with newspaper might not be the most effective route. Newspaper ink can actually leave windows streaky and smudged, which is exactly what you don't want after the effort of cleaning them. 
The solution: Pick a day that's a bit cooler and overcast, and use butcher paper to clean windows. You should end up with streak-free windows and you can save that day in the sunshine for a non-cleaning related activity.
Check out this eco-friendly window cleaner on Evergreen.ie.
5. Taking the term all-purpose too literally
A truly "all purpose" cleaner does not exist. Buying a spray bottle that claims to be the jack-of-all-trades will more than likely be a master of none. Not all surfaces and materials are made equal and the last thing you want to do is damage your newly installed marble countertop or strip your just varnished wooden chair by using the wrong cleaning solution. 
The solution: Do your research and invest in cleaning products intended for particular surfaces. Vinegar might be grand for the bathroom, but it could be too harsh on wood, for example. Finding out what type of cleaner should be used on the particular type of flooring you have in your home, for example, can help your floors last longer as well. 
6. Spraying cleaner directly onto surfaces
We see it on the ads and have instinctively been doing it for years, but spraying cleaner straight onto tables and countertops isn't necessarily the way to go. Much like shampoo and other personal hygiene products, residue can be quick to build up, which leaves surfaces far from clean. Plus, we could be using way more cleaner than we need to – and spending more on these products in the process.
The solution: Spray cleaner onto the cloth before wiping down surfaces. Not only will your bottle of cleaner last longer, but you will avoid leaving any residue behind that comes with the build-up of cleaning product.
7. Using a feather duster 
Using a feather duster that makes it seem like you're doing something right when you clean your home. It feels like a legitimate cleaning tool, but in reality, it's just brushing dust around your home. 
The solution: Instead of a feather duster, use a slightly damp microfibre cloth, onto which the dust will stick and stay put (until you wash it), so that the dust doesn't just fly around your house and land elsewhere. For cobwebs up near the ceiling or dusty air vents, you can use your hoover instead of a duster.