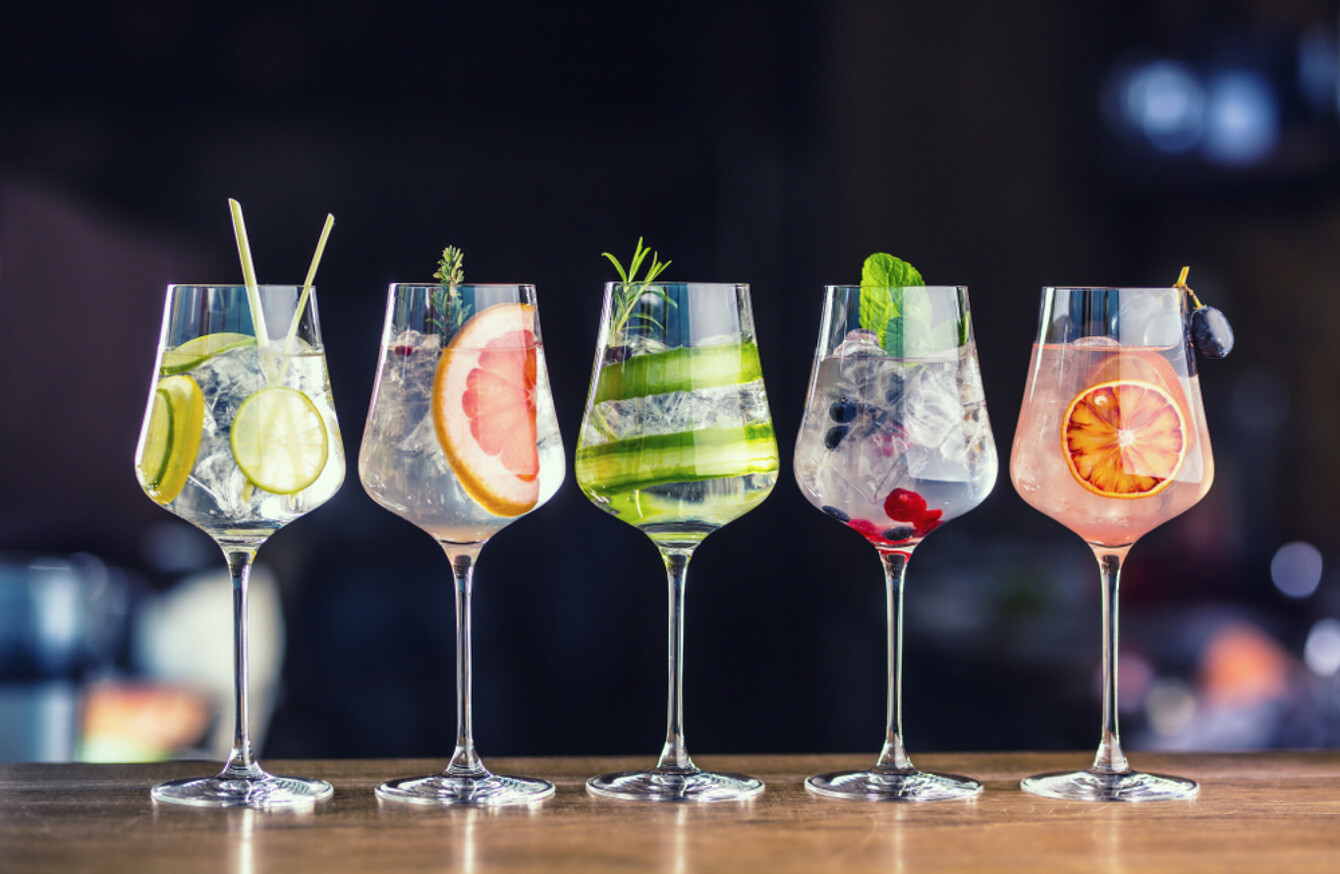 Image: Shutterstock/Marian Weyo
Image: Shutterstock/Marian Weyo
"NOW IS A really exciting time for gin worldwide. The category has long been under-developed but new generations have really embraced gin."
According to Patrick J Rigney, founder of The Shed Distillery and creator of Drumshanbo Gunpowder Irish Gin, we're actually in the midst of a 'ginaissance'.
For Gary McLoughlin, co-founder and marketing director of Glendalough Gin, Irish gin has the potential to end up on the same international pedestal where other Irish spirits live:
There's provenance with Irish gin, the same way that Irish whiskey and Irish cream liqueurs are known for their quality worldwide, we want that to happen with Irish gin.
In fact, if you're a gin fan, you couldn't be in a better place. As McLoughlin explains: "Each of the new craft distilleries are using pretty unique ways of making gin and doing something completely different."
Here's what you should know about the resurgence of the spirit, according to two experts who are currently shaping the gin scene in Ireland.
1. Irish gin makers each use their own local flora
It's not just distillation that they do at Glendalough Distillery – McLoughlin was on his way to take a group out to collect local flavours from the picturesque Wicklow valley. He explains how he forages around the Wicklow Mountains, "capturing beautiful flavours":
Today we'll pick gorse and sorrel, which will be in our still two hours after, while it's really fresh. We pick when the sun is out and pollen is higher – meaning that the flavour is at its strongest.
The distillery produces a different gin each season, using ingredients like honeysuckle, rose petals, elderflower, cleavers and autumnal fruits. They're only one of a variety of distilleries that uses local flora to flavour their gin:
Our gin tastes quite earthy as it captures the hills and plants around the distillery. Dingle Distillery also use botanicals from around Kerry, while Blackwater make a strawberry gin. It's brilliant that each are using flavours from around Ireland, creating lovely subtleties.
2. Juniper, coriander and citrus are the base for most gins
Leaving the flavours of the wild Irish countryside aside for a moment, McLoughlin explains that all gins have a flavour base of juniper, citrus and coriander. The juniper 'berry' is somewhat of a misnomer, as he explains:
Juniper has to be in a distillation or you can't call it gin. It is actually a cone from a pine tree family – if you open juniper berries they're in fact tiny little cones, which gives gin its citrusy, piney taste.
Once those flavours are in, the rest is a matter of experimentation with flavours. Drumshanbo Gunpowder Irish Gin for example, mixes these flavours with gunpowder tea and oriental botanicals giving a "spicy" taste. As Rigney explains, these can be subtle:
Many gins use spices such as star anise – but the balance of botanicals means these flavours don't always dominate depending on the intended flavour, which is down to consumer preference.
3. Your garnishes should reflect the seasons
Bored with the usual lemon slice and a side of ice? Just like you can change your gin with the seasons, Rigney explains that your garnishes should change too:
Last winter we saw some exceptional festive creations using cinnamon sticks and a clove (very specifically one clove so as not to overpower the gin), while spring and summer calls for fresh fruits and berries.
McLoughlin suggests to first look at the distiller's suggestions, before playing around with some of your favourite flavours:
Most gins will give an you ideal garnish so go online or look at the bottle. We suggest pink grapefruit and fresh torn basil or a slice of orange or peel with a sprig of rosemary – Hendricks would say cucumber. If I'm having a G&T at home, I'll look in the fridge and see what's there. If I have strawberries and mint, I'll use them.
4. You should pair your gin and tonic wisely
"Three quarters of your G&T is a mixer, so make sure your 'T' is the best you can get" says McLoughlin, who reminds that you should try to complement this with your chosen gin, recommending Schweppes 1783 as a good starting point:
I'd match them up with the flavours in the gin – take a look at the botanicals and experiment. Schweppes' new range is great as you can try out different flavours with it and see what goes best with your gin.
5. Temperature is key (and glassware is important)
Although it might seem simple to make a gin and tonic, there is a knack to creating the perfect one, and it's something that McLoughlin has picked up on over the years:
Put your glass in the freezer or fridge or place a load of ice into it and leave it for 5-10 minutes if you can. Use a balloon glass as it allows lots of space for ice and the flavour of botanicals to release. Drain out the water that has melted, add your gin and tonic and selected garnish.
Temperature here is key – when gin hits a cold surface, it unlocks the best flavours, hence why having it in a warm glass in a warm environment is a lot less satisfying – "you won't get those crisp flavours", says McLoughlin. The stem glasses are a way of preventing this.
Rigney's secret? The size of the ice can actually make a big impact on flavour, who says that "larger cubes keep it nice and fresh without watering it down":
You want to add 1 or 2 large cubes of ice. Avoid crushed ice or small cubes – they'll melt quicker and dilute your  gin and tonic, especially if you are sipping it slowly.
6. It's worth paying extra for smaller batch
So, what's the point in opting for craft gin over international labels that have lived on our shelves for years? Rigney says that you are paying for exactly that – craft:
Premium quality gins will never be at bargain basement prices. The best quality gins are usually slow-distilled by hand with botanicals, often in small batches. This means huge investment in state of the art gin stills and expert hand- distillers.
He adds that "high quality gins should not cause you to 'shudder' upon sipping – this is because the bitter components are removed during the slow-distillation process." And the small batch element? Well, it's a little bit like cooking, as McLoughlin explains:
There's a lot of TLC that has been put into the manufacture of small-batch gins – they're produced in small stills and everything is done by hand. It's the same way that making your dinner in a slow cooker instead of a frying pan will taste better – it unlocks the flavour.
In fact, it's a little bit like bread: "Small batch is the equivalent of going and buying an everyday sliced pan versus making a patisserie bread".
7. Irish botanicals can be pretty tropical
For McLoughlin, foraging in the Irish wildness for flavours has introduced him to some pretty unusual flavours which "you wouldn't expect to taste the way they do":
I'd never heard of some of our botanicals before we started working with our forager – things like woodruff, daisies and pineapple weed which tastes exactly like pineapple. Or the fact that gorse smells and tastes like coconut – there are lots of great, very tasty botanicals out there.
Now is a time where Irish gin fans should expect and demand more from their humble gin and tonic, as Rigney explains:
Irish gin brands must be of unrivalled quality, they must be interesting, they must constantly innovate. Consumers will not accept anything less – the genuine, quality brands will rise to the top.
So, how do you take yours?
Whichever Irish gin becomes your favourite, treat yourself to a refreshing drink with Schweppes. Schweppes 1783 is a new range of naturally flavoured premium mixers, expertly crafted by mixologists. The range features Schweppes' superior effervescence in flavours that include Salty Lemon & Cucumber. Please drink responsibly.