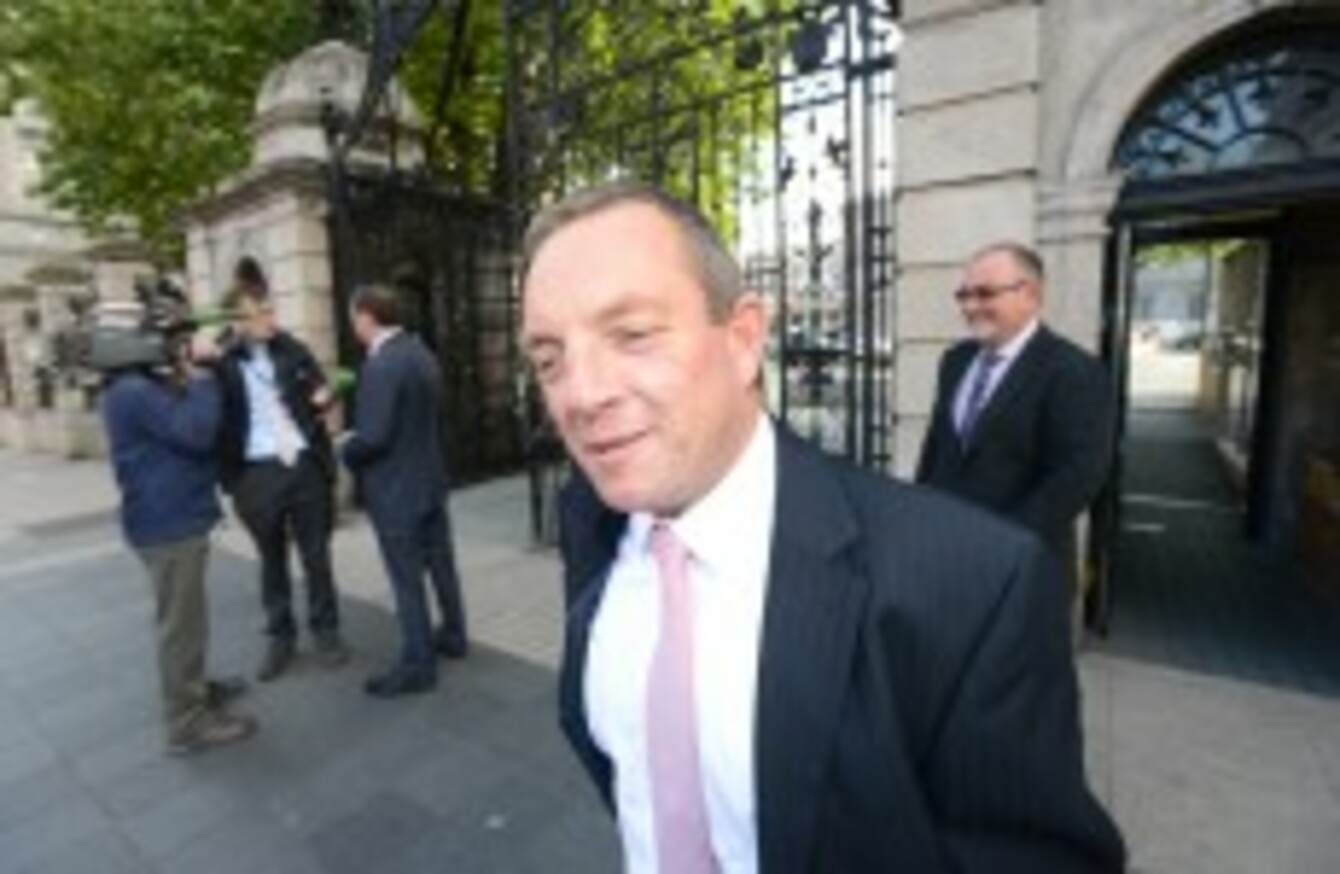 Image: Photocall Ireland!
Image: Photocall Ireland!
THE GOVERNMENT HAS already published the heads of the Protection of Life during Pregnancy Bill 2013 but that marked only the first rung in a multi-step process towards legislating for abortion in Ireland.
The draft 'heads of bill' is not actually the final wording of the proposed new law. They are simply the starting structure for what the final Act will eventually look like.
This is where Jerry Buttimer's Oireachtas Health Committee comes in.
The document was sent to the members of the committee and they have convened three days of hearings to gather feedback and opinion from experts in medical, legal and psychiatric fields.
Buttimer is expected to report back to the Minister (James Reilly) by the end of this month so he can consider any necessary adjustments before finalising the wording of the Bill. It will then be sent through the various stages of the Dáil and Seanad.
First, we have to gear up for three full-day sessions, featuring the masters of Ireland's maternity hospitals, barristers at law, solicitors, and psychiatrists, as well as regulatory and representative bodies and policy makers.
Unlike the committee's previous hearings, there will be few representatives from advocacy or religious groups giving evidence. However, there will be lawyers and doctors – seen as experts in their fields – who have already made their views (both anti-abortion and pro-choice) public.
Buttimer, who was widely praised for his role in the intensive hearings ahead of the drafting of the heads of bill, has described the proceedings as "pre-legislative scrutiny".
"As a committee, we hope that the debate is conducted in a temperate and moderate fashion, and that the hearings make a considered contribution to the shaping of this significant legislation," he said earlier this week.
All eyes will be on today's afternoon session (from 2.30pm) when the masters of the Rotunda Hospital and National Maternity Hospital give evidence. Dr Peter Boylan, who provided key testimony in the inquest into the death of Savita Halappanavar earlier this year, will also take the stand. In previous remarks, Dr Rhona Mahoney has called for clarification of the law as she wants to know that she nor the women she treats will go to jail.
During the hearings, each witness will have the opportunity to make an opening presentation and then will be asked questions (taken in bulk) from members of the committee and then other members of the Oireachtas who are in attendance.
Proceedings can be watched live on UPC Channel 207 and online at the Oireachtas website. They will also be streamed live on TheJournal.ie, where our reporters will also be live-blogging the details.
Here's the schedule for the three days:
Friday, 17 May
9.30am – 11am: Policy – Overview of Heads of Bill
Minister James Reilly
Dr Ambrose McLoughlin, Secretary General at the Department of Health
Dr Tony Holohan, Chief Medical Officer
11.15am – 1.45pm: Regulatory and Representative Bodies
Institute of Obstetricians & Gynaecologists
Irish College of General Practitioners
Irish Medical Council
Irish Medical Organisation
Royal College of Physicians of Ireland
2.30pm – 5pm: Obstetric Care Facilities – Larger Hospitals
Dr Peter Boylan, National Maternity Hospital
Dr Sam Coulter-Smyth, Rotunda Hospital
Dr Rhona Mahony, Master, National Maternity Hospital
5.15pm – 7.45pm: Obstetric Care Facilities – Other Hospitals
Dr Gerard Burke, Mid-Western Regional Maternity Hospital, Limerick
Dr Mary McCaffrey, Kerry General Hospital, Tralee
Dr Máire Milner, Our Lady of Lourdes Hospital, Drogheda
Dr John Monaghan, Portiuncula Hospital, Ballinasloe
Monday, 20 May
9.30am – noon: Psychiatry and Perinatal Psychiatrists
Dr Anne Jeffers, Consultant Psychiatrist, College of Psychiatrists of Ireland
Dr Maeve Doyle, Consultant Child & Adolescent Psychiatrist, College of Psychiatrists of Ireland
Dr Joanne Fenton, Consultant Perinatal Psychiatrist
Dr Anthony McCarthy, Consultant Perinatal Psychiatrist
Dr John Sheehan, Consultant Perinatal Psychiatrist
#Open journalism No news is bad news Support The Journal

Your contributions will help us continue to deliver the stories that are important to you

Support us now
12.15pm – 2.45 pm: Psychiatry
Dr Yolande Ferguson, Consultant Psychiatrist, Tallaght Hospital
Dr Peadar O'Grady, Consultant Child & Adolescent Psychiatrist
Prof Veronica O'Keane, Consultant Psychiatrist, Tallaght Hospital & TCD
Dr Eamonn Moloney, Consultant Psychiatrist, Cork University Hospital
3.30pm – 6pm: Psychiatry
Prof Kevin Malone, Consultant Psychiatrist, St Vincent's University Hospital & UCD
Dr Bernie McCabe, Consultant Psychiatrist, Navan Hospital
Dr Jacqueline Montwill, Consultant Psychiatrist, Mayo Mental Health Service
Dr Sean O'Domhnaill, Consultant Psychiatrist
6.15pm – 8.45 pm: Other Medical Specialties
Claire Mahon, President, Irish Nurses & Midwives Organisation
John Saunders, Chair, Mental Health Commission
Dr Kevin Walsh, Consultant Cardiologist, Crumlin & Mater Misericordiae Hospital
Dr Janice Walshe, Consultant Medical Oncologist, St. Vincent's University Hospital
Tuesday, 21 May
9.30am – noon: Medical Law
Paul Brady, Barrister at Law
Simon Mills, Barrister at Law
Tony O'Connor, SC
Caroline Simons, Solicitor
12.15pm – 2.45pm: Constitutional Law
Professor William Binchy, Barrister at Law, Trinity College Dublin
Dr Maria Cahill, University College Cork
Frank Callanan, SC
Justice Catherine McGuinness, retired Supreme Court Judge
3.30pm – 6pm: Medical Ethics
Ciaran Craven, Barrister at Law
Dr Ruth Fletcher, Keele University
Sunniva McDonagh, SC
6.15pm – 8.45pm: Members Times/Closing Statements
Minister of State, Alex White