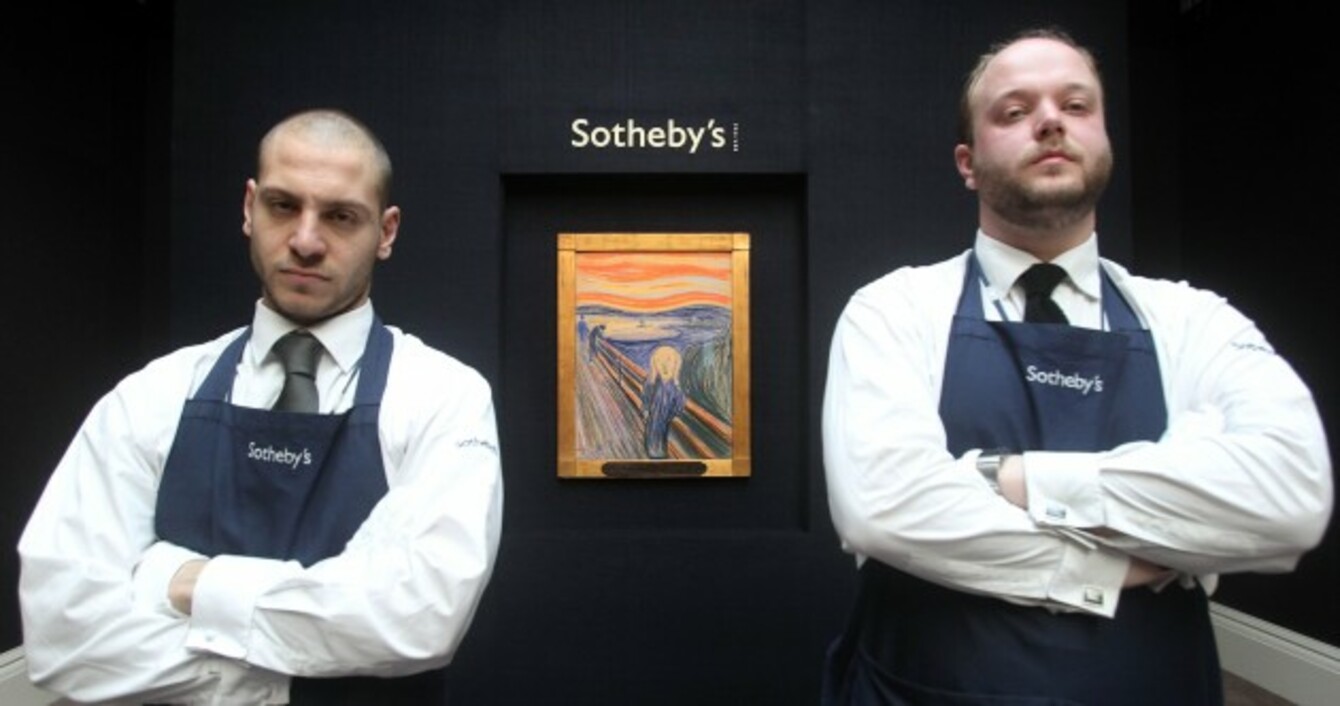 Sotheby's staff members stand guard over The Scream ahead of its auction earlier this month.
Image: Lewis Whyld/PA Wire/Press Association Images
Sotheby's staff members stand guard over The Scream ahead of its auction earlier this month.
Image: Lewis Whyld/PA Wire/Press Association Images
IN THE PAST few months, reports about high-yielding art sales have come thick and fast with various records smashed along the way, as in the multi-million dollar cases of Edward Munch's The Scream and Mark Rothko's Orange, Red, Yellow.
Meanwhile, back in Ireland Louis Le Brocquy's Tapestries sold for less than expected despite the importance, size and timely auction of the collection.
Amid rumours of an art bubble, a possible bust and changing trends, TheJournal.ie has taken a look at what's happening in the art world right now.
As prices on the international scene continue to rise, the situation in Ireland is a little different as the end of the Celtic Tiger brought a decline in sales. Here, trends in buying-and-selling art have followed the trajectory of the property market boom and bust somewhat – but the property bust hasn't led to a complete implosion of artistic endeavours.
Ian Whyte of Dublin's Whyte and Sons Auctioneers says that the increase in wealth in the country in the late 1990s and 2000s was good for the art trade, artists, auctioneers and galleries.
Sales topped out in 2006 and 2007 as the property market soared and developers poured their money into pieces of art to decorate their new residential and commercial properties.
Whyte told TheJournal.ie that there was a variety of reasons why art attracts wealth. "As well as the housing boom buyers, there were also plenty of genuine collectors who bought because they liked the artist or the piece." And now they had the money to like them up close.
There were price increases of between 100 and 200 per cent during those infamous boom years, according to the auctioneer. All the big names, including Jack B Yeats, Seán Scully and Le Brocquy benefited but so did more contemporary artists.
People wanted good art on the walls which fitted the decor of their new or restored properties. There was demand for every type of art. For new homes with cutting-edge architecture, modern art was popular, whereas older pictures were sought for renovated Georgian homes. Developers wanted to enhance the appearance and value of the properties with art.
Although there was a certain status attached to owning works by big-name artists, Whyte believes that during the Celtic Tiger years this may not have been as important as is often made out.
"Cars and houses were the status symbols for most – except at the top end of the market where it might have been thought more impressive to have a large Jack Yeats on your wall. Some of the more famous, wealthy people would have been competing for the best Yeats's or LeBrocquy's."
Since the recession hit in 2008, these older names have "more or less" held, losing a maximum of 20 per cent of their peak value, but contemporary artists have suffered the most. Prices have fallen by as much as 70 per cent in that category so those who purchased between 2000 and 2007 may have seen an average art collection drop down in value by up to 50 per cent.
"But if you bought art 20 years ago, you're still laughing as prices now are still above 1997 levels," advised Whyte.
Each year, the Royal Hibernia Academy (RHA) runs a summer exhibition of submissions from established and emerging artists. A key date in the diary of Irish collectors, the dramatic changes in atmosphere at the openings during the boom years compared to today is highlighted in one attendant's observations last year.
"It's very quiet this year, really," he told TheJournal.ie. "At this point on the first day a few years back, there would have been red stickers on two-thirds of the works. People would sweep in with their glass of wine and say, 'I'll have that, that and that' without much thought to the cost. I met a couple here around 2006/2007 who laid down around €120,000 in a half an hour for things for their house. It was a bit of a frenzy."
The safe option
As well as shifts in price, demand and mood, there has also been a significant change in attitudes towards what art people want to purchase. Instead of abstract or avant-garde materials, traditional representational art is now "the thing", says Whyte.
"There is a couple of reasons for that. First, we are in a recession and people are looking for safe art. They want something that will cheer them up, make them feel good. They are not looking for something to challenge them."
There are still younger collectors who fancy something more modern and cutting edge but this happens more in galleries rather than auction rooms.
Smaller pieces that offer good value for money are still doing well in both auction rooms and galleries.
The RHA remains optimistic about hitting "healthy levels" of sales at this year's annual exhibition. In 2011, they sold more pieces of art than ever before but they were smaller, lower-priced works.
According to Ruth Carroll from the exhibitions and gallery department of the RHA, "People are making and submitting more competitively-priced works. And smaller pieces that better reflect the current market."
Whyte also says the majority of what is sold at his Molesworth Street rooms to the "ordinary collector" (for want of a better word, he adds) is priced between €2,000 and €5,000.
"We are particularly active at that level as people can justify their purchases because it is a good time to buy art," he explains.
However, a recent sale also saw smaller paintings by Seán Keating and Dan O'Neill sell for over €40,000 each – almost double the expected take.
"There are still a lot of wealthy people out there – even in Ireland. They are buying but they still want a good price. At the top end, there is still some competition, especially when rare pictures come up for sale," added Whyte.
Christie's in London echoed this sentiment. The auction house's Irish representative Christine Ryall said the market for masterpieces and the very best examples of their type – whether art or objects – continues to be strong.
Works of beauty, rarity and important, historic provenance will always be sought after and often present once-in-a-generation opportunities. We continue to see buyers from Ireland participating across sale categories…they, like many, are price aware and focused, but their continuing participation is evident.
The recent sale of the Le Brocquy Táin Tapestries for €250,000 in Dublin was a reflection of the state of the art world in Ireland – the price did not match expectations of the seller but it did provide good value to the buyer after an auction that involved up to three serious bidders.
However, according to Christie's William Porter – who oversaw a very successful sale in London last Thursday – there is a "resurgence in interest" in Irish 20th Century Art on the international scene. The two top lots in that sale were works by LeBrocquy and Yeats which attracted "interest from Ireland to Asia".
A public service mini-boom
Although the auction rooms argue that it is the beauty of the art that sells – and not the idea of it as an investment, there is a mini-boom happening among one sector in Ireland who need a place to put some new money.
While younger people are shopping in galleries, those in the early retirement age bracket can be found at the auction houses.
"We have seen a bonus group emerge in the past year," says Whyte. "The early retirement scene are putting money into art. Those who have retired from the public sector – civil servants, doctors, teachers, nurses – are purchasing. It suits them in terms of their lump sum – in case that would be taxed by the State – which looks like it will inevitably happen."
And it's not just the public service. The self-employed who are retiring are buying works of art, antiques and coins – depending where their interest lies and what they know about.
Just having a look
Aside from those early-retirees and somewhat inexplicably, more and more people are becoming interested in Irish art in recent months – even though they can't afford to hang it on their own walls.
Carroll from the RHA told TheJournal.ie that although there has been a dip in terms of the value of sales, the interest in their exhibitions has actually picked up.
More people are visiting galleries and museums across the country, she says. Already this year, the RHA has seen a 30 per cent rise in visitors to its exhibitions.
In the first four months of 2012, more than 40,000 people have visited, while another 40,000 are expected to attend the Annual Exhibition which begins on Monday and runs to 18 August.
"People are visiting as something to do but also to support their local galleries and national institutions," she explains.
The popularity of RTÉ's recent foray into the arts with Mike Murphy's Masterpiece: Ireland's Favourite Painting has also taken some credit for massively increased visitor numbers at the National Gallery.
One-upmanship and the international scene
The Irish collector has stayed in the international scene by way of high-profile sales by the National Asset Management Agency (NAMA) in New York and London. The auctions attracted much attention globally as impressive collections built by Celtic Tiger developers whose businesses have since gone belly-up are dismantled and sold.
With names like Andy Warhol and Robert Motherwell, the pieces have raised millions for the so-called bad bank as it tries to recoup money to pay off developers' debts.
Similar sales are expected in the future as art collections retain their value on an international scene. However, Whyte noted that if some of the paintings – especially the Jack Yeats' works – had been sold in Dublin, they would have gotten bigger prices.
That appears to be an anomaly though because of the interest in Yeats here. Other sales across the globe have been smashing records over recent weeks as Russian oligarchs fight with Chinese billionaires for the best and most famous pieces to take back to their homes and warehouses. Earlier this month, a contemporary art auction at Christie's in New York exceeded the highest estimate of $330 million. That particular sale included the Rothko mentioned earlier which fetched a mammoth $87 million – almost double its expected take.
While some Irish billionaires played a game of one-upmanship in the last decade, similar art wars have popped up in Russia, China, India and various Arab countries.
"Billionaires don't worry about  few extra grand," explains Whyte. "If an auction asks for €700,000, many won't mind going to €1.2 million. There is still an element of that internationally – and on an even grander scale."
And that will always be the case somewhere. Although some markets may see a burst, others will then come on stream. It seems there will always be a billionaire or two – or three – willing to fight it out for a Warhol in the warehouse.
The Táin. A Flock of Birds, 1969

A man doing accounts

Florence

Past Definite, Future Perfect, 1928

Orange, Red, Yellow, 1956

Royal Hibernia Academy Annual Exhibition

Royal Hibernia Academy Annual Exhibition

Royal Hibernia Academy Annual Exhibition