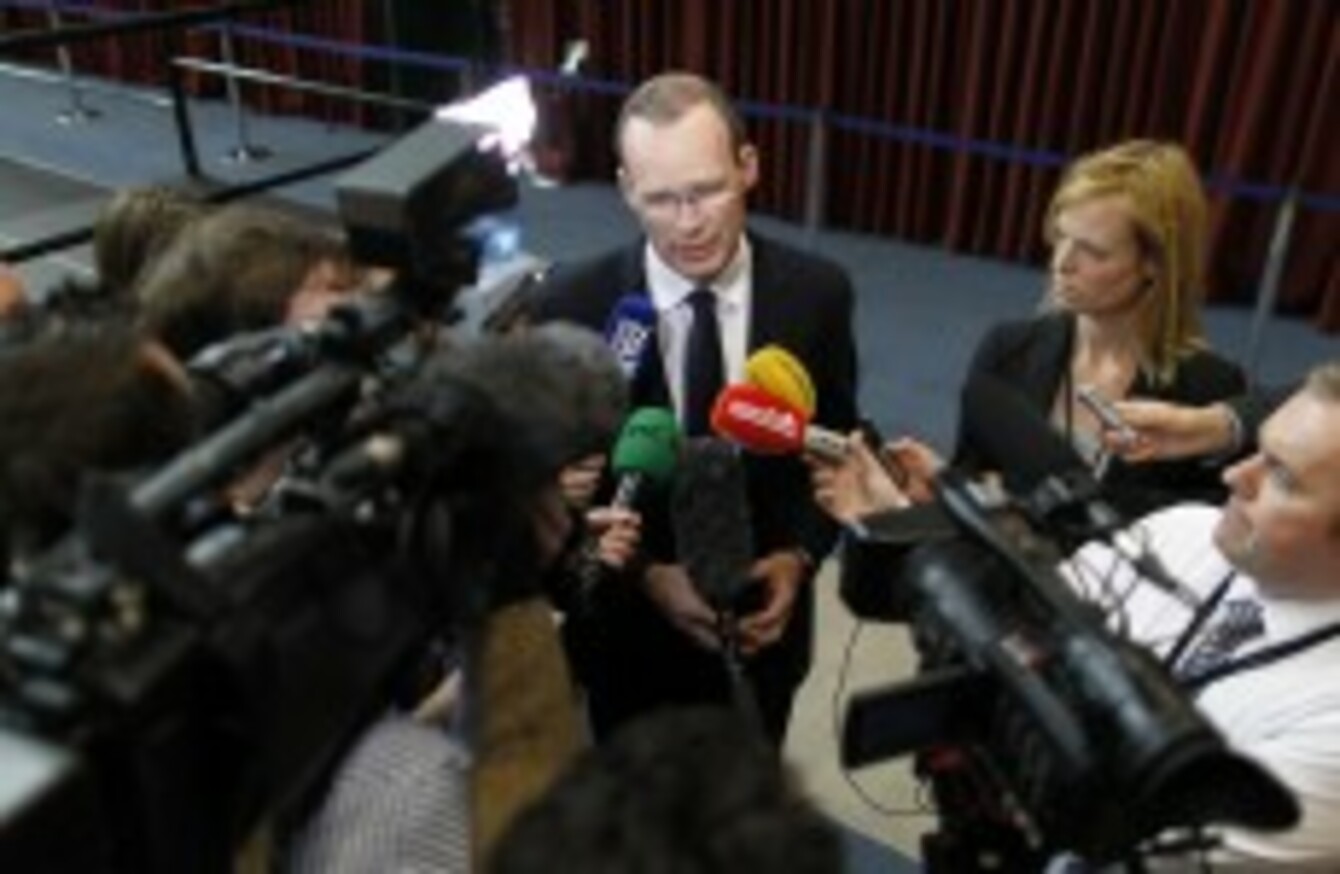 Media - domestic and international - listen to Fine Gael director of elections Simon Coveney at Dublin Castle yesterday.
Image: Julien Behal/PA Wire/Press Association Images
Media - domestic and international - listen to Fine Gael director of elections Simon Coveney at Dublin Castle yesterday.
Image: Julien Behal/PA Wire/Press Association Images
AS THE ONLY country to put the Fiscal Compact treaty to a referendum there were plenty of eyes on Ireland yesterday to see how it went, knowing that a No vote would have caused consternation in the eurozone.
As Channel 4 News in the UK noted in its bulletin last night, "a No vote would have sent a shock through financial markets".
But the fact we voted Yes didn't seem to matter too much anyway as stock markets tumbled on news of record unemployment in eurozone and poor jobs numbers in the US.
The Yes vote was welcomed by most newspapers in the UK with the Telegraph reporting that it saved "Europe a major headache" while at the same time acknoledging that bigger problems in the single currency area left little time to celebrate the result.
The paper quoted Enda Kenny noting that he had said: "Europe's banking sector needs to be comprehensively fixed and any solution must include a deal on Ireland's banking debt."
The Guardian headline acknowledged the economic struggles of the country and the likelihood that the passing of the treaty ensured more tough budgets ahead in order to balance the books: "Ireland votes for discipline despite pain as it approves EU financial plan."
In his article, correspondent Henry McDonald said that the high Yes vote came "despite four years of recession, anger over austerity budgets and fears over low turnout".
Al Jazeera noted an "anxious, often lacklustre campaign by mainstream politicians" with the prevaling Yes vote offering a welcome boost to Taoiseach Enda Kenny. But there was little fanfare welcoming in the result.
Here's Andrew Simmons' report:
YouTube: Al Jazeera
On the continent, Le Monde noted the reaction of European leaders including Herman Van Rompuy who said: "With this vote, the Irish people have given their endorsement and commitment to European integration. This result is an important step towards recovery and stability."
The paper noted that even if the result had been No "the treaty would not have been questioned, since it is sufficient that twelve of the seventeen states in the euro area to ratify it to take effect".
In all-important Germany the reaction of Der Spiegel noted that although it was welcomed it was more a case of a "sigh of relief" as Transport Minister Leo Varadkar said yesterday.
The magazine also noted analysts view that Ireland still had more "serious problems to worry about" namely the country's continuing high unemployment and lack of growth. All of which puts question marks on its ability to return to the markets next year.
Across the Atlantic in the US, the Associated Press said that Irish voters had faced a "existential dilemma" and in rounding up the decision to vote Yes, it said noted that No would not have been good news for other countries in the euro.
#Open journalism No news is bad news Support The Journal

Your contributions will help us continue to deliver the stories that are important to you

Support us now
"It also would have sent political shockwaves through other eurozone members, where anger against austerity and bank bailouts runs similarly high but citizens are denied the chance to vote on the treaty," it reported.
In the New York Times it was noted  that much of the referendum debate had centered on whether or not Ireland would need a second bailout, a possibility which, the paper said, the governing coalition insisted was not going to happen.
In the Washington Post the headline made it clear what a Yes vote, in its view, meant for future budgets in Ireland: "Irish vote 'yes' on EU treaty that means more austerity, now seek deal on growth".
Finally, Agence France Presse carries this short clip of TCD lecturer Dr Charles Larkin who said that while the Yes vote has passed there is much that needs to change in Ireland and he predicted that a second bailout will give the country nothing else but time to do that:
YouTube: AFP