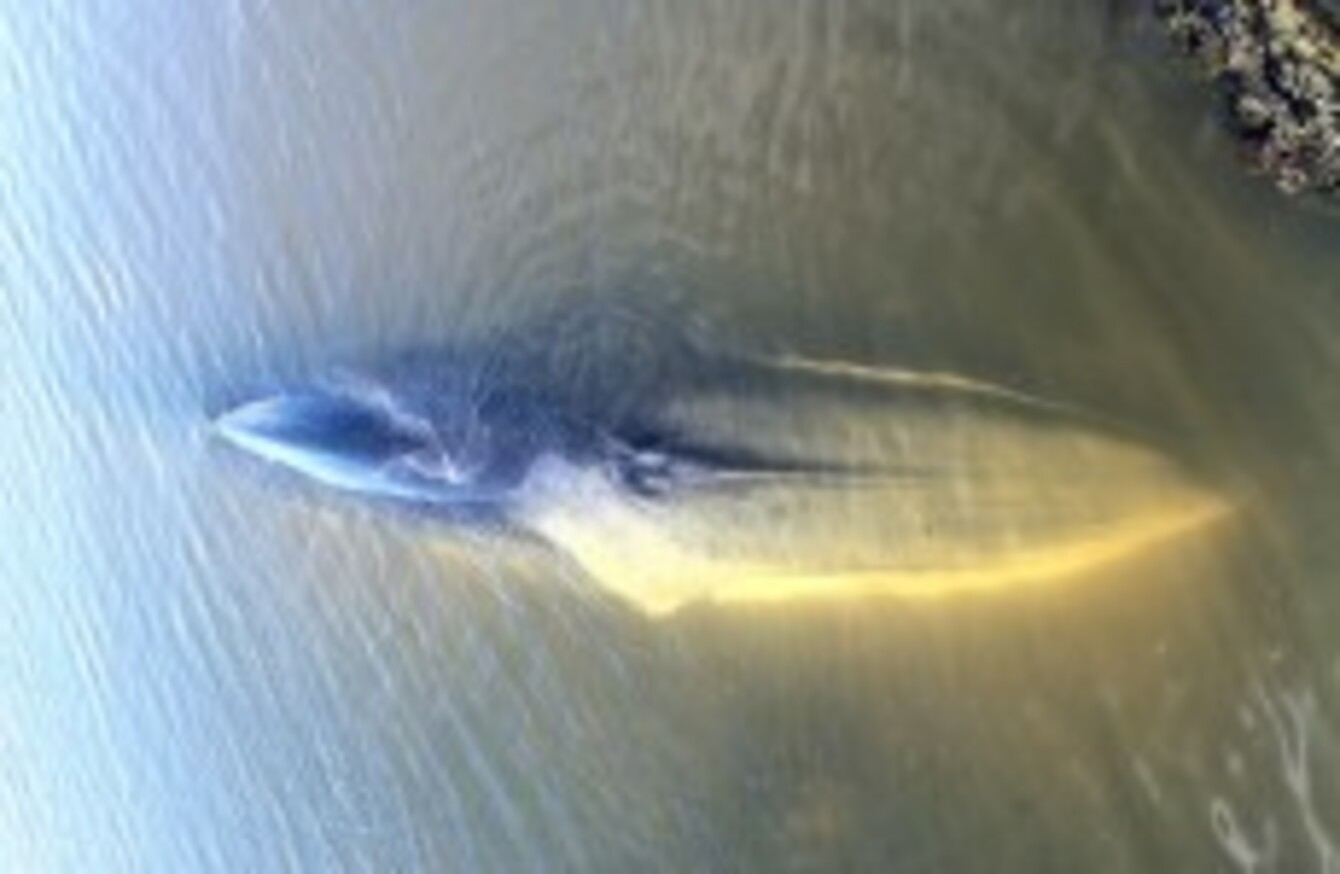 Image: Stu Musgrave
Image: Stu Musgrave
Updated 12.45
THE 40-FOOT fin whale trapped at Baltimore harbour made it through the night but the creature is not expected to live much longer.
Micheál Cottrell, a member of the local Lifeboat crew and owner of Baltimore Sea Safaris, told TheJournal.ie this morning that the whale was still breathing but that the area of the harbour had now filled up with blood.
She continued to thrash against the pier wall and rocks through the night.
"It is a slow process," explained Cottrell, as nothing can be done to help the dying mammal.
"It would still have too much power in its body to go near it," he said. "We just have to watch."
A spokesperson for Cork County Council said that engineering and veterinary staff are on location and the situation is being monitored.
"An action plan is in place but is being reviewed daily as the outcome is not certain at this stage," he added.
Cottrell said a decision about removing the whale will have to be made when it dies but the situation could become more complicated as weather conditions deteriorate.
Video footage from yesterday:

(Credit: Stu Musgrave)
The Irish Whale and Dolphin Group have explained why nothing can be done for the creature as it suffers. As it has never fully beached and remains in a position against the harbour wall, a refloat into the sea is not possible.
The possibility of euthanasia has also been discussed but opportunities are limited.
For an animal as large as this whale, the drug Immoblin can be used but it is not legal in Ireland due to its potency. Large animal vets use Pentabarbitone to euthanase horses but the amount required to euthanase this whale would make it ineffective.
Shooting through the head with a high powered rifle could be attempted but it dangerous for people and can be very traumatic for the whale, and may require several shots.
Because of the difficulties poses, the IDWG says it supports the National Park and Wildlife Services decision to allow the whale to die naturally and "hopefully quickly".
Although locals have gathered to see the whale, the group has urged sightseers to stay away because it is a "sad and distressing" situation.