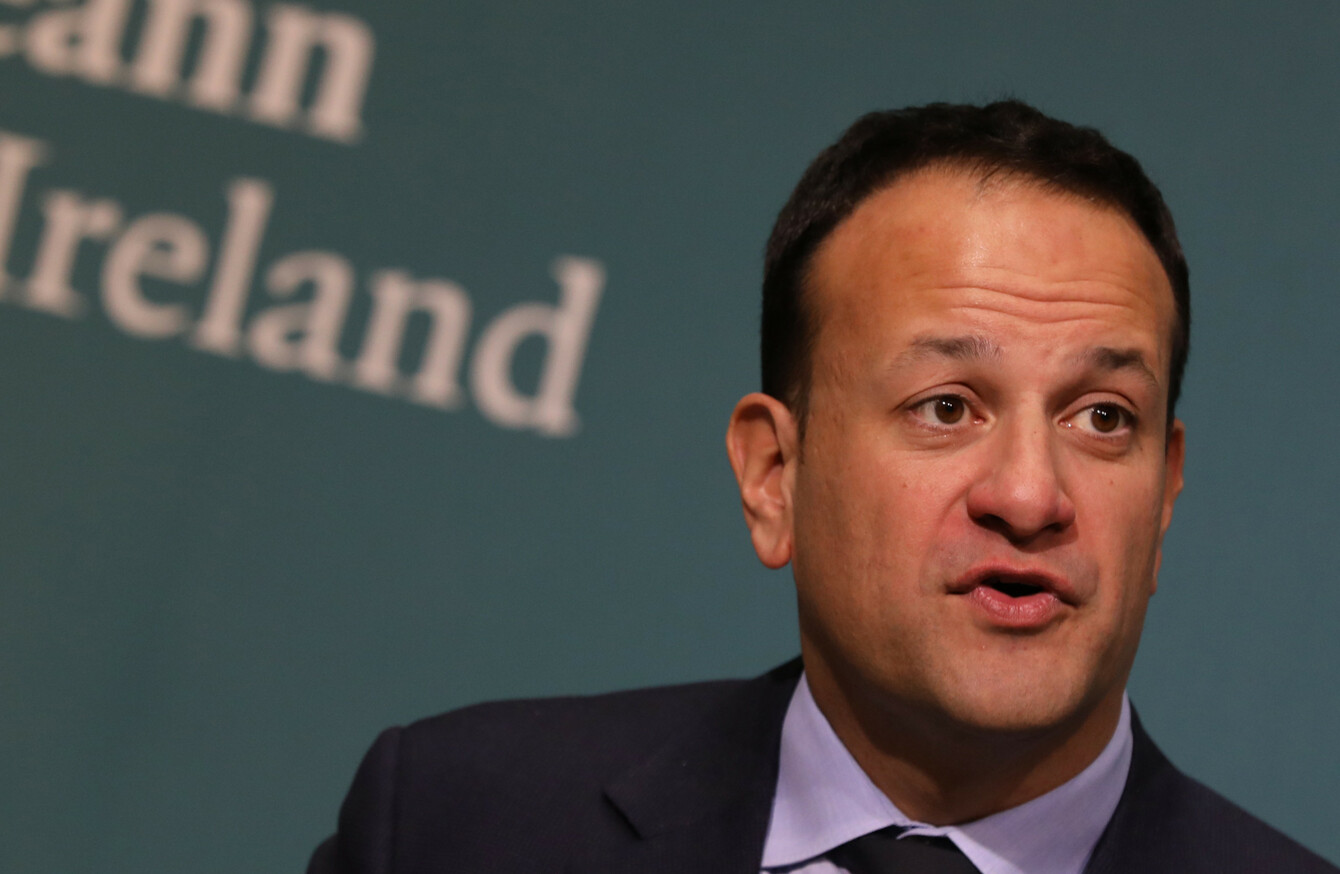 Image: Eamonn Farrell
Image: Eamonn Farrell
Updated 9am
IN A HISTORIC announcement last night, the Cabinet agreed to hold a referendum on the Eighth Amendment in May.
During the four-hour long special meeting on the issue there was division among ministers on the question of unrestricted abortion up to 12 weeks.
Addressing the media late last night, Taoiseach Leo Varadkar said the referendum will seek to replace the Eighth Amendment with a new constitutional provision specifically enabling the Oireachtas to legislate for abortion.
Varadkar confirmed that he is in favour of the recommendations allowing abortion up to the 12-week time period, stating that in reality Ireland "already has abortion, but it is unsafe."
Notably absent from the Taoiseach's side at yesterday evening's press conference was the Tánaiste Simon Coveney.
Coveney told his Cabinet colleagues yesterday that he would support the repeal of the Eighth Amendment, but would not support unrestricted access to abortion up to 12 weeks of pregnancy.
Outlining his viewpoint on the issue, the Cork TD told TheJournal.ie:
The status quo of how women are treated in crisis pregnancy cannot remain. I am united with my Cabinet colleagues in agreeing to repeal the Eighth Amendment and allow enabling legislation.
While there are differing viewpoint on the content of that legislation, particularly on 12 weeks access unrestricted, that is a matter for the Oireachtas to now debate. My views are clear on that and I expressed them at Cabinet.
One minister told TheJournal.ie that while there were no rows during the talks, there was "a lot of difficulty over the 12 weeks".
The announcement was welcomed by groups like Amnesty International, which said it was "heartened at today's government backing for legislation around a 12-week 'on request model" and the Coalition to Repeal the Eighth Amendment, which described it as "a real step forward".
The Pro Life Campaign said the announcement was "as bad as anyone could have envisaged".
Spokesperson Dr Ruth Cullen said what is being proposed "is solely about stripping unborn babies of all meaningful legal protections".
Respect
Health Minister Simon Harris will now draft a Referendum Bill, which will be published at the beginning of March.
Speaking to RTÉ's Morning Ireland today, Harris said he did not think it "came as a great surprise" that members of Cabinet had differing views on abortion.
However, he said ministers had all support the proposal to ask the people of Ireland to repeal the amendment in its entirety.
Harris said he has "nothing but respect" for people who are opposed to a repeal under any circumstances, but he said whether people agree with it or not, abortion is a reality for Irish women.
He said he can not close his eyes to the fact that more than 3,000 women travelled in 2016 for a termination.
"We can trust the women in this country. We can trust women, we can trust doctors and I believe this is how it should be dealt with," he said.
When asked about the possibility that a change in law will result in women terminating pregnancies after they are told their baby is likely to have a disability, Harris said he found it "somewhat offensive" to suggest that this is the reason Irish women were seeking abortions.
The minister said he has no wish to use citizens with Down syndrome "as some homogenous group to fit a political narrative".
#Open journalism No news is bad news Support The Journal

Your contributions will help us continue to deliver the stories that are important to you

Support us now
'Not a black and white issue'
A draft of the general scheme of legislation will also be back before Cabinet in the coming weeks. The Taoiseach said the draft legislation will only be debated in the Dáil if the referendum is approved and the amendment is repealed.
Flanked last night by the Children's Minister Katherine Zappone and Minister Simon Harris, Leo Varadkar said he had to think "long and hard" about the 12 weeksregime.
He said it was the Oireachtas Committee that highlighted the impossibility of rape victims being asked to pass tests to qualify for an abortion, stating they would be made victims a second time.
"We know that thousands of women, from every single county in Ireland, travel abroad for an abortion every year. We know that women obtain abortion pills through the post to end their pregnancies."
He said that abortion pills will not be available "over the counter", adding that only a GP from a listed register will be permitted to give such a prescription.
The Taoiseach said "abortion is not a black and white issue", pointing out that it a personal matter for many people.
Varadkar said:
However difficult, I believe the time has come for the people to make this decision. The question has to be a yes or no one. Do we reform our abortion laws or leave them as they are? For my part I will advocate a yes vote, my own views have evolved over time. Life experience does that.
The Taoiseach said a summary of the Attorney General's advice to Cabinet will be published today.
- With reporting by Michelle Hennessy.