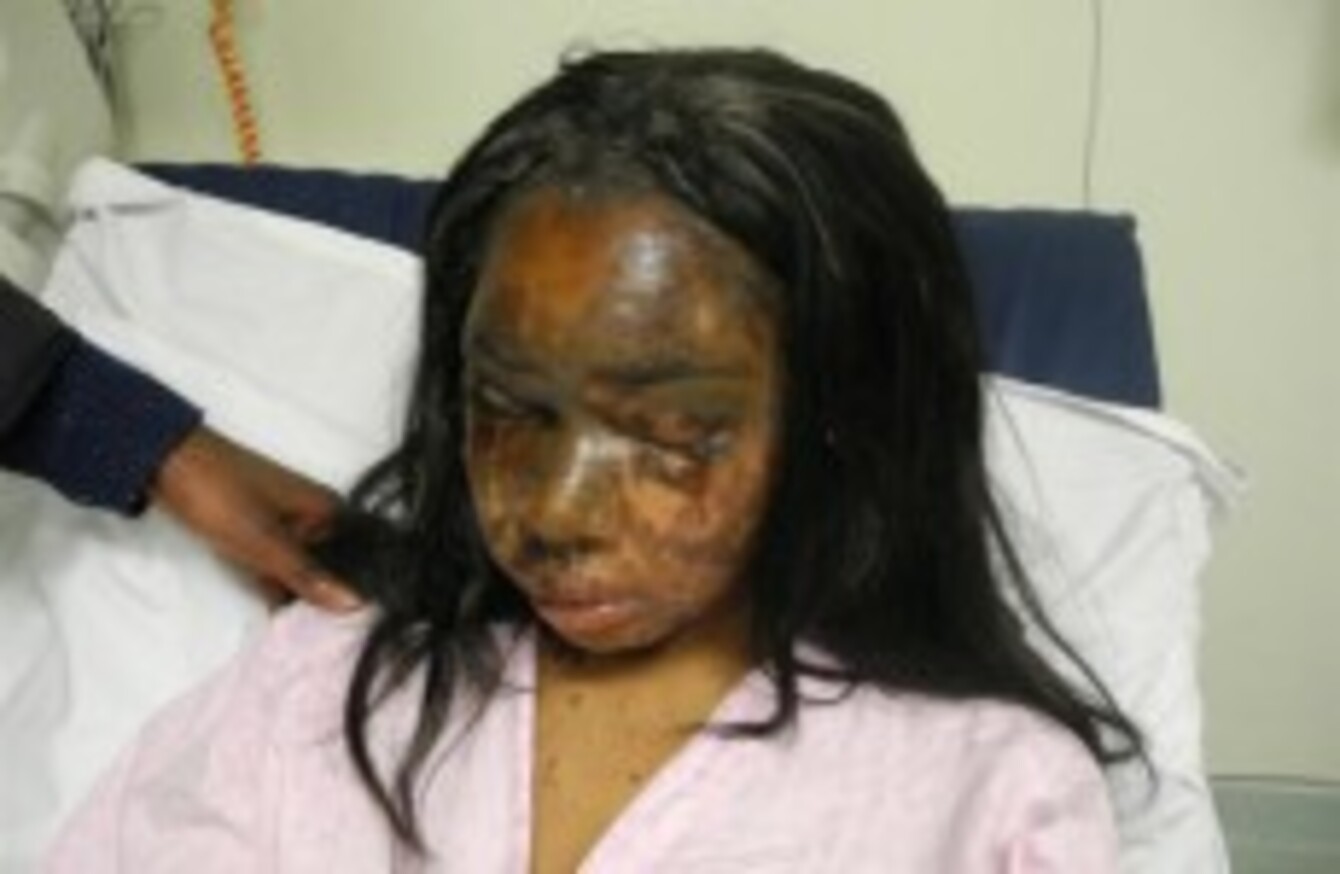 Naomi Oni after she had acid thrown in her face by Mary Konye.
Image: /PA Wire/Press Association Images
Naomi Oni after she had acid thrown in her face by Mary Konye.
Image: /PA Wire/Press Association Images
A LONDON WOMAN  has been convicted of throwing sulfuric acid over her former friend in an attack driven by jealously.
Lead investigator at the London Metropolitan Police David Whellams said that the attack was "truly horrific" and was carried out by "someone the victim considered to be a friend".
Police say that Mary Konye (21) followed her victim Naomi Oni (20) from the shop where she worked in Stratford, North London to close to her home where the attack took place.
"Konye was almost obsessively jealous of the victim's good looks and, after a previous argument between them, hatched an almost unbelievable plan to attack her with acid," according to Whellams.
Naomi Oni began her way home by public transport at about 11.30pm on 29 December 2012 before stopping for food and then catching a bus at for the final part of her journey about an hour later.
She then got off the bus in Dagenham and as she crossed a road she became aware of a presence behind her. She turned round to see a woman wearing a niqab showing just her eyes.
The woman didn't say anything and the victim began to turn her head back towards the road. The woman then suddenly threw a glass cup containing liquid over her.
The liquid began to burn the victim's skin and clothes and she immediately realised it was acid. The young woman then ran back to her home and banged hysterically on the door before getting inside and getting straight into the shower.
Oni was taken to the Royal London Hospital and then transferred to a specialist burns unit at Broomfield Hospital. She underwent a number of skin grafts and has significant scars to her face, hand and thigh.
Mary Konye who was today found guilty at London's Snaresbrook Crown Court. (Pic: Metropolitan Police/PA Wire)
Investigation
There was no CCTV footage of the attack but footage showed Konye trailing the victim from when she left work.
Konye was also spotted on CCTV loitering around the escalators at the centre where the vitcim worked some time before she finished.
Analysis of mobile phones also placed the victim and suspect in the same areas at the same times and CCTV footage showed the suspect walking with a distinctive gait like Konye.
Konye was arrested in April of last year and a handbag seen carried by the suspect on CCTV was found in her bedroom during police searches.
(Mary Konye disguised in a Muslim veil following Naomi Oni home before she attacked her. Pic: Metropolitan Police/PA Wire)
The victim and suspect had know each other since school but had a falling out in April 2011 that ended with a heated argument over the phone and Konye threatening to throw acid at Naomi.
While this appeared an unusual and specific threat, Konye knew that the victim had previously been very interested in the story of Katie Piper, a model disfigured in an acid attack. She had followed the story and watched a documentary and told Konye that would be the worst thing that could possibly happen to her.
A friend of Konye's had told police that Konye was jealous of Naomi's looks to the point of almost obsession.